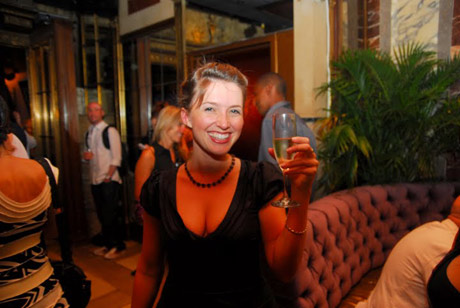 Turning around suddenly to the whimsical young lady in a shock of blonde and wrapped red dress is Annika Connor. She's standing there greeting her combustible phone, her hundreds of guests and even managing to wiggle to the beat of a Tuesday night house beat at The Gates. That may all be true but what she's really doing is part gloating but deliciously wondering how she managed to get everyone out here tonight and believe in a cause so valuable to her heart- the 'emerging artist.'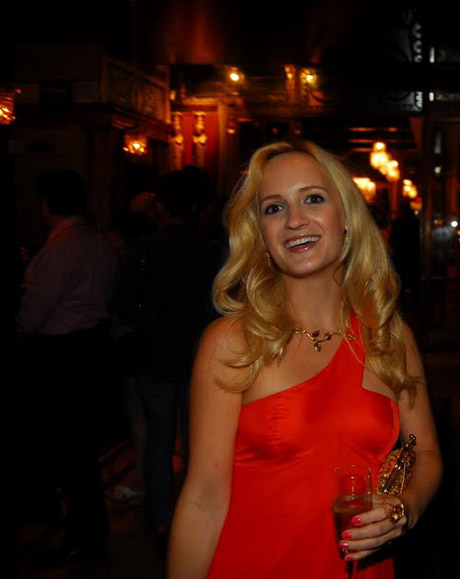 Inspired to raise awareness of prodigious talent a city like NYC is always brimming with Ms. Connor had the grand idea not so long ago to put together a book championing various talents, there work, essays and the journey of said artists
Intrigued I asked Ms.Connor what had inspired such a maddening desire and task.
Her response, as if standing at a private symposium as opposed to the rattling and crammed pre Point Break Party that was by now at 10pm in full throttle was a simple
"One is obliged to take chances to see how far those chances can go."
To be sure Ms.Connors chances had lined up rather well and in her attempts (as an artist herself ) to bring exposure and eloquence to whom she believes needs to be assuaged by the city's taste makers and artists themselves she has done remarkably well.
A pre party to the anticipation of the actual Point Suite Art Ball – September 24th (to which our publicist Sonia Anand whispers we are one of the sponsors….indeed) Ms.Connors was sure to effect dialogue and exposure of her cause.
"It's important to nurture the emerging artist, and who better than artist themselves to bring awareness."
I couldn't agree more, from there I was introduced to one particular artist Shay Kun and one of his collectors who happened to be standing right there next to him a Mr. Moran Bar Kochva of the famed Contemporaries enclave.
"Do you always walk around with the talent you have just acquired?"
"Yes, I speak as loudly as I possibly can about them."
"To maintain the value the art sitting on your wall?"
"Well yes, but simply –this kid is amazing."
A later visit to his website yielded a similar response from me.
Jostling aside and frankly amazed at how Ms. Annika Connor managed to bring such a brimming collective to The Gates I was left feeling as she once again greeted a new cohort of artists, fans, seducers (yes they were there too) how remarkable that the desire to give presence to the emerging artist had unleashed a pent up demand and desire to see such an ambition exude.
With the anticipated attendance and wonderful soiree due at hand we trust Ms.Connor will ultimately be able to facilitate the cost of publishing such a grand vision and we yield to her in her vision to bring the journey of the emerging artist firmly in tow.
For more information for the upcoming ball please click here and we will all see you there soon enough!