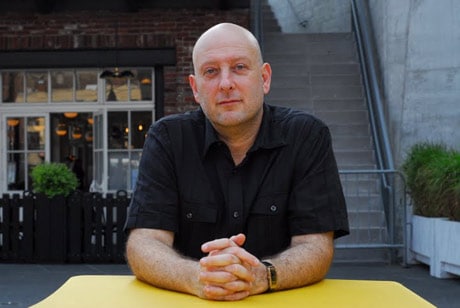 Guy Jacobson, film producer and human rights advocate is, first and foremost, a businessman endowed with the patina of a collegial professor.  More than once during our interview he asked for a blank sheet of paper and pen.  Diagrams snaked along the perforated page, and boxes endowed with the letter "V" for "victim," or "G" for "global," dotted the landscape. It was a pictorial representation of the economics of human trafficking according to Guy. Real world examples peppered his economic analysis. Occasionally, he would wipe his head, his bald pate shining in the Manhattan sun, and I began to wonder at Guy's passion for a subject he must have tired speaking of by now.
"Aren't you exhausted, going through this analysis again and again?" I asked.
His eyebrows rose to the cerulean sky, unencumbered by a hairline of any sort, and his mouth unthinkingly formed the word "no." Guy is founder of both the Redlight Children Campaign, a not for profit organization dedicated to the issues of human trafficking, and Priority Films, an independent film company whose newest production "Holly," starring Ron Livingston, has won international acclaim for its honest representation of the sex trade. Guy is not interested in self promotion; he is simply a man looking to make sense out of the counterintuitive, and his professional insight into the business of human trafficking and child exploitation is fascinating.
I met Guy at the SoHo House at 2pm.  I left at 5:30.  I never tire of people watching, and the clientele this afternoon did not disappoint. The scantily clad mingled with the over-dressed, and the suspicious smell of salt and sand permeated the air, despite the absolute lack of shoreline for miles. At first, I could not help but stifle a laugh at the seeming incongruity of discussion topics taking place, ours versus the rest. I soon realized, however, that no place suited discussion of sex and human nature than this, the SoHo roof deck, in the dead heat of summer. This was where the money was, money that all too often is employed in the most basic and bestial of human pursuits—drugs, sex and rock and roll. Or so I hear.  And here I am sitting with Guy, in deep discussion of the toxic extremes of both human sexuality and morality, in a place that equally elevates, merges and blurs both terms to a tan-lined art form. The pool teemed with it, the umbrella laden drinks sloshed to its alluring tune; sex was on the menu today, and I was eager to order.
Before embarking on a career as a filmmaker and human rights advocate, you were a successful attorney and investment banker in New York.  How did your professional background shape your view of human trafficking and child exploitation?
My personal experience with child prostitution on the streets of Cambodia has been well documented in the press.  I found myself aggressively solicited by a large group of very young girls, five years old, seven years old.  I knew I had to do something.  Coming from the legal and financial sectors, I realized that I had to identify the issue, to understand the economic and structural fundamentals.  People are an unlimited commodity. I grew to understand the business of human trafficking. I can sabotage business. I'm good at that. This is a multi-billion dollar venture.