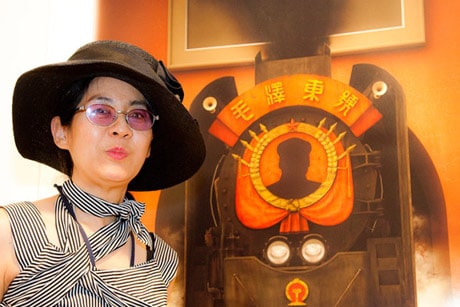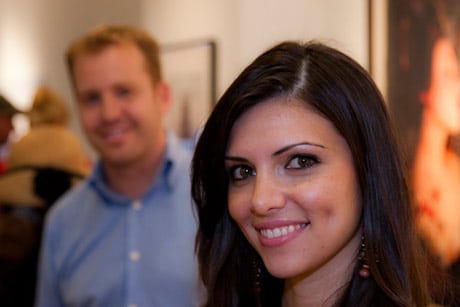 Though the recession has put pressure on New York City's dwindling studio art scene, attending gallery openings remains a favorite pastime of those looking for a 7PM activity a bit more cultured than your average happy hour. Passing By China: Contemporary Chinese Photography opening at the Eli Klein Fine Art Gallery hit all the right notes when showcasing the varied work of ten Chinese artists.
The works themselves were both varied and striking. Some were realistic, others were surreal. Some were digitally altered, others strove for verisimilitude. One particular favorite among partygoers was a series of three photos where the artist physically painted a person – face, clothes, and all – to match the text and texture of the wall behind him. A commentary on the silenced voice of the Chinese individual, perhaps?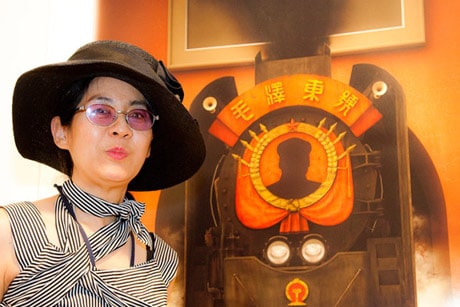 The only problem with this type of small exhibition, as compared to big exhibits like that of  Francis Bacon at the Metropolitan Museum of Art, is that there is almost no information available to the average viewer on how a piece was constructed, or why. Many attendees speculated about the possible construction of a large photograph of four pigs, stacked atop each other like building blocks. Were the pigs dead? Sedated? And what was the point? Perhaps these questions should be left up to the viewer's imagination, but recognizing this hardly quells the curiosity.
The Eli Klein gallery is a bright, beautiful two-story space curated by director Nancy Nan. Both Ms. Nan and Mr. Klein were on hand for the showing and seemed happy to converse with anyone with questions or who simply wished to discuss the art.  The well populated crowd was a mix of art students, models, art enthusiasts, and several just looking for a bit of culture after work. Despite this diversity, or perhaps because of it, people mingled effortlessly over the cheese and dessert table. It seems that this tends to happen more easily when an obvious and common topic of conversation is so readily available.
It can often be hard to predict whether or not a gallery event such as this will be a success. Luckily, Eli Klein Fine Art hit all the right notes – beautiful art with a common theme, relaxed atmosphere, generous food and drink – to ensure that guests would leave happy.
See the exhibit for yourself through August 24 at the SoHo gallery on 462 West Broadway.
Go to Scallywag's Photo Gallery.