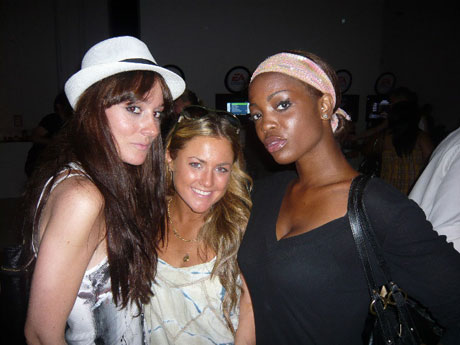 It was an assortment that one is not prone to often finding on most weekday afternoons unless they happen to be fulltime paparazzi stars, full time jet setters or the cheek boned set that vacillate most innocent bystanders. That said, Matt Levine and his entourage (yes we recognized the regulars and so did Naem working the Greenwich street door…) happened to be doing just that this Friday afternoon as we skidded our wet Marlboro lights and headed into the afternoon cavern of delight.
To be sure it was the young sexy crowd that Matt seems to have no problem finding or perhaps the crowd that has no problem finding him sashaying in almost bored (but we know that's just a cover up to throw camera junkies like us off) expressions. Slouching (please all you young models no slouching!) by the bar and then dancing wildly by the stage as Asher Roth moved in for the kill.
We stared and nodded our heads in unison before making our over to the big screen games on the wall and ogling. Us paparazzi excel at ogling if you must know. We watched as a group of individuals played tennis with an electronic stick, gesturing mini strokes while some image ten feet in front of them careened backward s and forwards.
From there it was back for more summer berry's Grand Marnier's, cheesecake (we understand Delicatessen were there to cater to the affair) and whatever us paparazzi  type can get our hands on. Speaking of which we then ran into our friend Patrick McMullan who at that very moment was training his camera on an assortment of what appeared to be gangly Dutch super models.
Further walking around the cavernous room (we must confess we do prefer the more cozy environment over at 247 Eldridge) we came to my childhood delight across some pac-men games. I must have started playing enthusiastically when I suddenly realized I was more than giving away my age.
Returning to the bar, we surveyed the scene and were glad to report that you now have a new fantastic venue to hang out on summer Friday afternoons. Stood there drinking and suddenly wondering if we should have taken pictures of those gangly Dutch super models…
Go to Scallywag's Photo Gallery.
Afternoon courtesy of SOBE water, NBC, Universal, EA Sports & Ketel One  and the Eldridge crew.
Go to Scallywag's Photo Gallery.