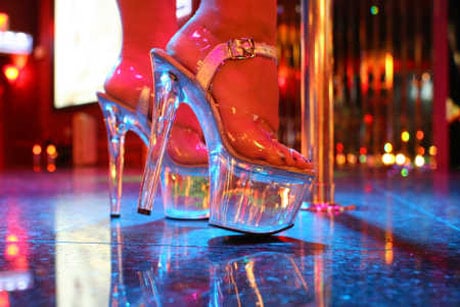 To celebrate five years in New York City, the Hustler Club opened its doors and its taps for three hours on Monday to a crowd where men outnumbered women five-to-one, even when you count the strippers. Not surprising, I suppose.  
Apparently being a successful strip club in New York City for a half decade is something to celebrate, especially when you're located in the middle of nowhere at the edge of Hell's Kitchen. When I saw that the club was on 51st Street and 12th Avenue, my first reaction was the surprise of remembering that there are twelve avenues.  Not exactly prime real estate for public-transit users, but Hustler compensates by tricking out their venue much, much nicer than your average seedy stripper joint.  
The large interior has a sizable stage and two large upstairs areas that are presumably for semi-private gatherings. For those looking for an even more, ahem, intimate experience I noticed small private rooms (that were not in use for this event) in the back near the bathrooms. Strange placement, no? Another oddity- despite the aforementioned skewed male-to-female ratio, the line for the ladies bathroom was at least three times longer than the line for men. Not sure what to infer from that either.  
Everyone in attendance seemed to be enjoying the open bar, but in order to get a drink one had to endure at least ten minutes of crushing crowds all trying to make eye contact with the struggling, overworked bartenders. Relief from the crush could be found upstairs at the picturesque faux-Grecian terrace. Though spacious enough to be considered a good party spot in its own right, most seemed to use the space to escape the indoor crowds and grab a smoke.  
And speaking of the crowd, it was certainly something to see who comes out to a party at Hustler on a Monday night. Though this is no scientific observation, most men had the look of wannabe I-Bankers sporting a grownup version of Long Island style. Sure, there were probably some men around who were genuinely successful, but most looked like they were trying to fake it in front of the pretty girls.  
As nice as it would be to be able to show you readers some pictures of the hedonistic party, alas, no photos are allowed inside the Hustler Club. Apparently some of the strippers are camera-shy, so if you want to see what all the fuss is about, you'll just have to go for yourself.