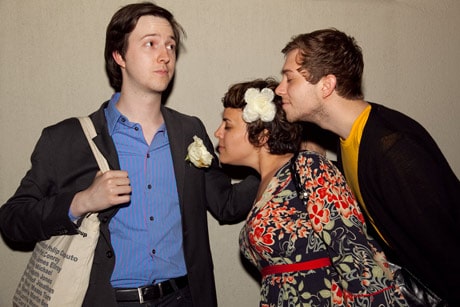 Outline: Artistic venue. Unusually fascinating performances. Laid back atmosphere. BOMB magazine's release party for their summer issue perfect fit with their cultured intellectual ethos… again.
BOMB did good work making Galapagos Art Space their own. As the eclectic deejay spun, images of past BOMB covers and features were projected grandly onto the front wall. When the intent of an event is to drum up interest in a print publication, displaying striking, head-turning images is certainly one good way to catch the attention of the uninitiated.
Another way to turn heads and drop jaws? Hire an "aerial cabaret" dancer like Lisa Natoli. Suspended by only two pieces of hanging fabric, Natoli climbed, danced, and posed elegantly while suspended at least a dozen feet off the ground. Though Natoli performed twice, she was so enthralling that after the second performance the crowd was left palpably wanting more.
The crowd itself embodied laid back chic. People moved casually around the sitting and standing areas in that goldilocks manner where the standing didn't look uncomfortable and the sitting didn't look bored.
This was my first visit to Galapagos Art Space in the DUMBO district of Brooklyn, and I have to say I was impressed. Galapagos prides itself as being a unique venue for the performing arts, and it's easy to see why it's a favorite of audiences and performers alike. With ample standing room around the bar, a large stage in front, and upstairs / downstairs seating that can comfortably accommodate large or small groups, Galapagos has just about every need covered. They're friendly to smokers as well (and who isn't a smoker these days?) with a side alleyway reserved especially for those who prefer to inhale their vices.
An additional note on the space- When I walked in, I immediately detected the faint and pleasant aroma associated with nearby water. Galapagos's seating areas are surrounded by large, black pools of water that look about twelve feet deep but are probably less than twelve inches. The effect is brilliant- I felt as thought I was in a deep, underground cavern.
Though it's fashionable to predict the demise of publishing and the death of printed media, I hope that BOMB's strategy of writing high quality interviews with fascinating people for a core audience is a sustainable one. As I read the analog copy of the summer issue on the train home, I couldn't help but notice how strange and wonderful it felt to be staring at something besides an LCD screen.