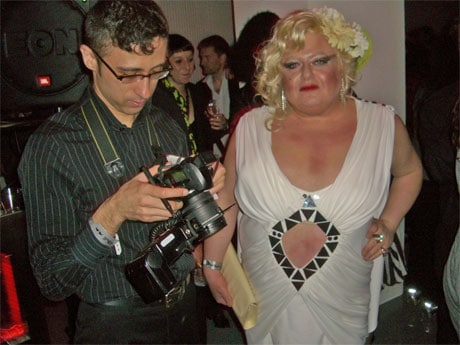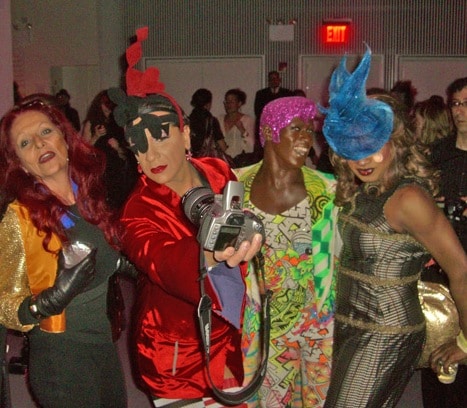 This Tuesday night saw us whisk into the very enchanted lives of a very colorful and eccentric set over at the Red Bull space on Thompson street in a prelude to the main annual benefit gala in Vienna, Austria. Augmented to support the case for awareness for 'Aids,' the coming together of a series of colorful personalities offered a lively time for all, whether of course you wore lipstick or not…
Hosted by uber personalities Patricia Field and Alan Cumming the night was a benediction to all the girls (and not girls in the literal sense mind you) that could and did drop by and who by their divine presence intrigued us, and of course flattered us. With the usual paparrazi in tow (one has to wonder when Patricia ever gets a chance to sleep) the cameras were flashing and looking for the most intriguing profiles to capture, seduce and posit on some big glossy internet page. With no shortage of takers (this is New York where one's mileage is often contingent one's being photogenic and ever in the public eye) the girls lined up for their turn for Mr. Camera man. It needn't have mattered if the camera had a handler, as long as the camera was somewhere in the periphery this alone necessitated it's value.
With canapés and 1980's pop/goth synthesized music in the background pretty boys and girls (well mostly girls, please re read above paragraph) were busy tantalizing and humoring each other. At one moment some platinum goddess with sparkly make up and cross dress appeal zoomed in on me and held my wrist in a special kind of lock.
Glam girl: "Oh, it's you. Where have you been?"
Scallywag: Mmm, do we know each other?"
Glam girl: " I think so, didn't we once fuck?"
Scallywag; "Do you suppose…?"
Glam girl: "Well we can still make it happen…'
Scallywag: "Perhaps in due course…"

Fortunately for me the music stopped and we were treated a lovely vignette of bacchanalian behavior over there in Vienna on the video wall, super stars, super models and the wonderful antics that they are all so capable of getting up to. We watched and were pleasantly intrigued, listened as Patricia rightly implored us to stand with her behind this cause. Eventually the lights went up, the canapés returning and thankfully for me Glam girl had by now moved on to the next man.