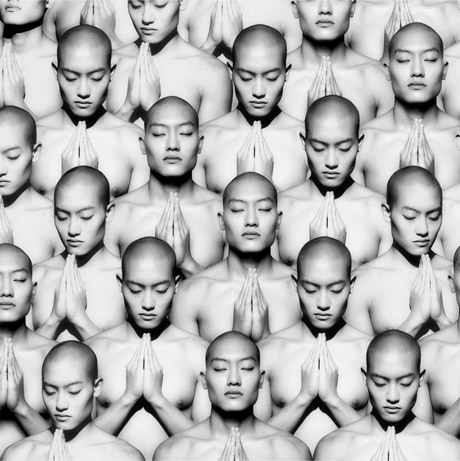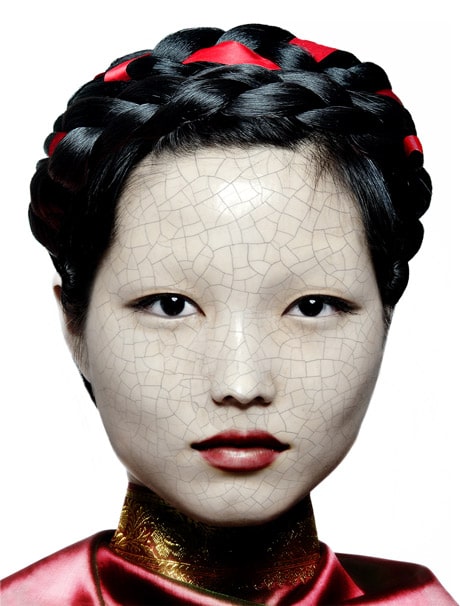 If one were to observe Drew Tal's photograph's they would walk away with the feeling of a monastic like experience. Serene, humbling and a parlor of ethnic sensibilities Tal's work on show at the Emmanuel Fremin Gallery booth at Bridge Art Fair 2009 left one in a state of bliss. Bliss tinged with the aura of a high fashion shoot…
"The ethnic face is one of the driving forces behind much of my work," asserts Tal in a similarly zen fashion. Before anything, Tal is a traveler, an explorer and ethnographer of the tapestry of cultures, customs, languages, and religions. It is through his lens that he detangles the mystical webs of diverse environments that test the boundaries of normality.
Although Tal's work is multi-ethnic and perhaps foreign to Westerners, there remains a universal core to which all can relate. His is the probing eye which serves to connect "underlying human themes and common spiritual threads." This shamanic vision is released through the unblinking eyes of his spiritually humbling subjects.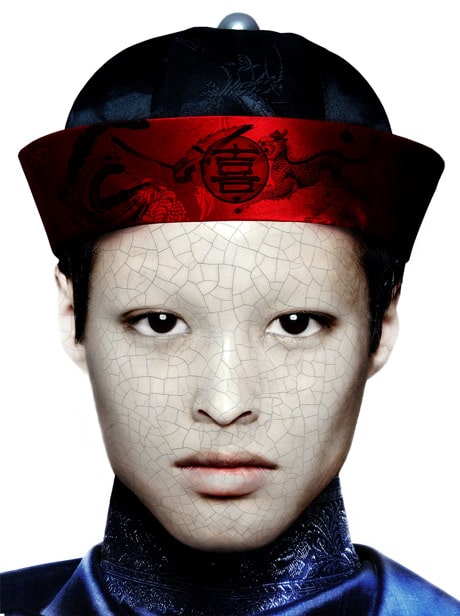 The coal-black eyes of the "Porcelain Promises" Chinese duo penetrate the viewer with an inquisitive, somewhat reserved gaze. Inspired by the tradition of ancestral paintings, a Chinese commemorative tradition in which wealthy families depicted their ancestors in fine paintings, Tal portrayed this young vulnerable couple in traditional garb, whose highly saturated red and blue pigments provide a stark contrast to their porcelain white skin, and immobile black eyes.
"When I looked at them, I knew there was something missing…then I thought of superimposing a porcelain layer on their skin," mentions Tal as he himself gazes into their soothing, invigorating eyes. This addition to the tradition is definitely not something surface-deep. It symbolizes the fragility of relationships, between lovers, generations, cultures, and nations. If one were to strip these regal figures of their identify-defining garb, two vulnerable naked individuals would be revealed, who stand waiting to be tried by the test of time. The indeterminate, unforgiving white background gives the viewer the impression that he is looking at a mirror reflection of himself and his relationships through these binary photographs.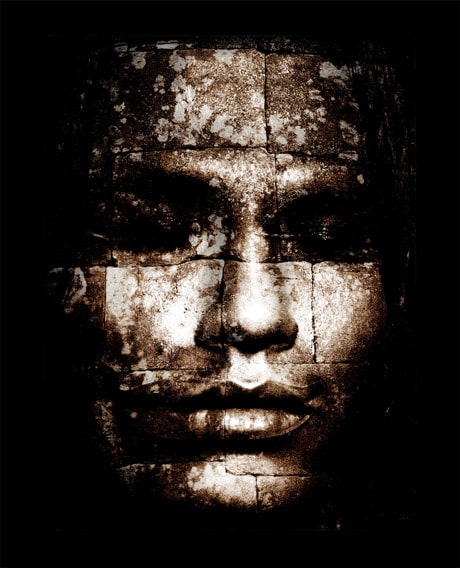 The blending of flesh and stone in "Passed Life" is reminiscent of cyclical Eastern philosophy. It reminds us all that we are in fact susceptible to the degradation of nature, a process which recycles ever-changing shapes and entities. Lost in deep meditation, the silent polymorphous subject bears the great weight of memory upon his dark eyelids. While the worn skin of the sepia stone infused with lichen patches and chippings is degrading, the soul behind the great wall is not. The allegory of an ancient past has withstood the test of time that the Porcelain duo patiently awaits.
 The monks in "Faith" exude the same savant pose embodied in the "Passed Life". The tessellation of their three quarters busts, printed onto an aluminum plate, helps to define the particularities in each pose. Although they stand within a few centimeters from each other, they are not cognizant of this close proximity. They have departed from their beautiful metallic smooth bodies to find themselves in a world of ethereal luminosity. Left on the aluminum panel are traces of penumbra defining their lightness of mind. It is here one can argue that Tal is "painting with light."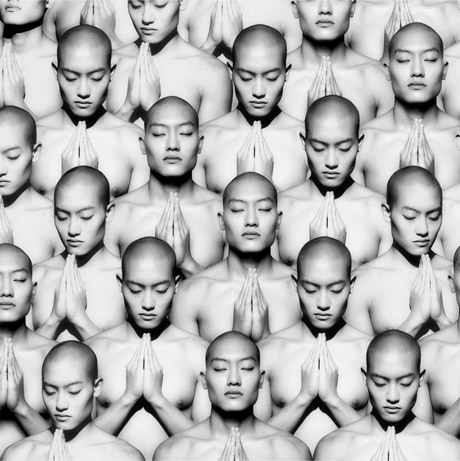 Tal's figures possess an internal dominating silence and reason that is transmitted to the viewers as they lose themselves within the historical layers of the photographs. Only a contemplative, introspective artist with an inquisitive camera lens like Tal could reflect such powerfully calming sensations. Because of the singularity of his curiosity and artistic imagination, Tal's work, much like himself, cannot be confined within a specific category. He is a cross-cultural messenger of non-relative peace and beauty, whose visual messages have rippled and entranced many eyes for years. His poignant universal images will not just come and go as trends, but will live on through the sobering stability of their timelessly relevant messages. 
The Norton Museum of Photography will be auctioning his work on March 20th for their third Bienial in Palm Beach.  
Emanuel Fremin Gallery- 646 245 32 40.