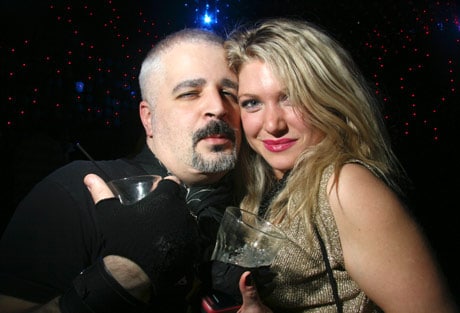 The Scallywag crew entered the narrow hallway of Chelsea Market shortly after 10pm Tuesday night. Little did we know we were like small metal balls about to enter a toy tilted wooden-maze. A series of photographs on display near the coat check were quickly replaced by a mass of people trying to get around like water in a kinked garden hose.
On the lookout for spunk and punk, we passed cheese platters, the bathroom line, and ended at the wishing well were we tossed some change. There were hundreds of people squashed in various corners of the long hallway in states of drunkenness and loud banter. Eyes flashed from person to person with a see-and-be-seen flicker; anyone worthwhile is obviously in attendance. Dress ranged from casual jeans that matched the Chelsea Market floor to a few women in elegant black and white dresses who may have been lost. Groups huddled around the "water" T-shirt stands, well-stocked bars, and gelato cart. A more open venue would have done wonders, but who can really criticize a benefit for water? Not I.
I wondered, what are people really here for? Weaving from wall to wall, I gathered: she is here to support a good cause, he to party, and all to maybe pick up a date. I watched numbers exchanged and drinks spilled. A heady giddiness flowed from the ability to simultaneously party and support a humanitarian cause.
Scott Harrison, the founder of Charity: Water, is throwing a party and making a difference. Charity: Water is a non-profit bringing clean, safe drinking water to people in developing nations. The press packet reads: "1.1 billion people on the planet don't have access to something we take for granted every day. Clean water. Unsafe water and lack of basic sanitation cause 80% of all sickness and disease, killing more people each year than all forms of violence, including war."
I spoke with Miss New York 2009, Leigh-Taylor Smith, and US Olympic Fencing Team's Tim Morehouse. In April, Tim is going to Jordan as part of Right to Play to bring sports to kids in impoverished countries. "Sports and play are also basic necessities for health and happiness." Leigh-Taylor worked in South America for an HIV/AIDS education organization: "We would have to take 20-30 second showers to conserve the water." That's fast.
It is heartening to see that the economic recession has not stopped people from giving to charities, from making a difference themselves, and from partying. Ball in hole: Charity: Water reportedly raised $30,000 that night.
We ran into the fabulous Roxy Summers on our way out.
L: What brought you here?
Roxy: I wanted to give back to a good cause.
L: Are you enjoying the event?
Roxy: Yeah, but it's not over until I find a date.
Ball hits finish.