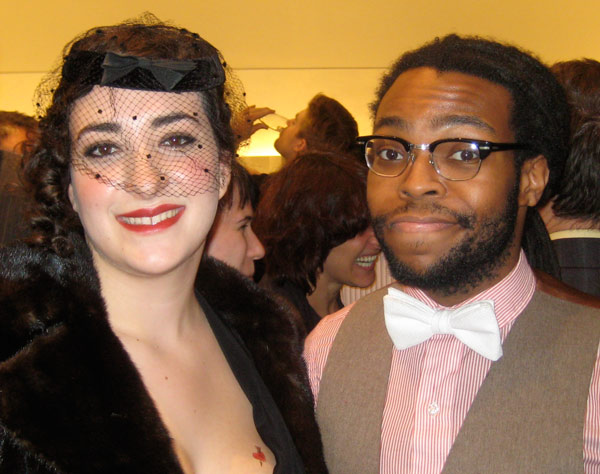 Last Thursday marked the much-anticipated launch of Loris Diran's flagship store. "My Goodness, there are a lot of people here!" remarked the glowing designer as he floated into his crowded opening party. And there were a lot of people there. The packed boutique, situated on the ultra posh corner of Bowery and 1st, was swarming with an eclectic mix of established New York eccentrics and budding fashionistas, all of whom were thrilled to celebrate Diran's success.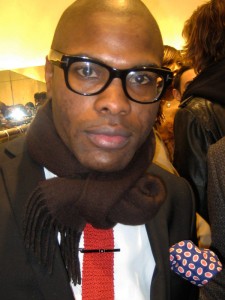 "The pieces have a strong, bold sophistication," explained Keino as I struggled to pull an impeccably tailored men's blazer off the rack. Perhaps it is this bold sophistication that attracts women's wear designer and Project Runway contestant, Malan Breton, to Diran's signature suits.  Surrounded by an entourage of fashionable friends, the unmistakable character told Scallywag that the urban-chic designer dresses him for all his red carpet events.
"I wear his suits 6 days a week!" professed Malan as he pursed his rosebud lips for a photo-op. I regret not asking what he wears on the 7th day. Something adequately dashing, no doubt.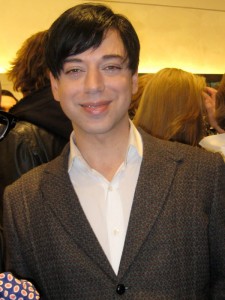 An obvious enthusiast, Malan worked the party in one of the designer's beautifully patterned heather grey suits, which perfectly complimented his pale skin and distinctive jet-black hair.
But the Bravo star wasn't the designer's only adamant supporter.  Crystal Morris, Diran's number one model, was genuinely in love with the clothes.
"It's SO comfortable!" said the striking model of the vibrant fuchsia Noelle dress she was wearing. With two adorable front pockets and a flattering, form-fitting cut, the marvelous cocktail number was not only elegant but completely practical. And after drooling clients saw the piece on Crystal's flawless frame, it will undoubtedly be a best seller.
Finally, after angering an ocean of aggressive photographers and fighting through clusters of eager clients, Scallywag reached Diran for comment. He told me that the collection was a dark take on photographer, Robert Mapplethorpe's, Flowers. But as a self-proclaimed member of the avant-garde, this scallywag confessed that she was less interested in the feminine dresses and floral halter-tops and more intrigued by the swanky pin-striped men's jackets and boxy shirts.
"To be honest, I'm really obsessed with the men's collection. For myself. I enjoy androgyny."
"Well it's the same style for the women's and men's suits. The women's pieces just have a different shape. It's women's haberdashery!"
Call me stubborn, but I still prefer the men's.
"What's your favorite piece in this collection?"
Like a true artist, Diran told me that the choice was difficult because each piece was a "labor of love."
"But if I had to choose, I'd say it's the dress on the mannequin over there."
Eyebrows arch. Dramatic pause.
'WHERE is the mannequin! Did it fall? WHERE is the mannequin!"
It wouldn't be a party without a fashion crisis. But the mannequin was fine. And Diran's delicate favorite dress remained intact.
Diran's clothes are simple but elegant; practical for the urban individual, but still appropriate for a polo match in the Hamptons. He has a sophisticated point of view and an educated eye for excellence. Needless to say, Scallywag can't wait to see what Fashion Week holds for this emerging talent.
.