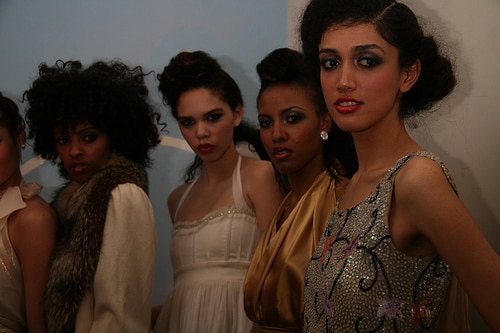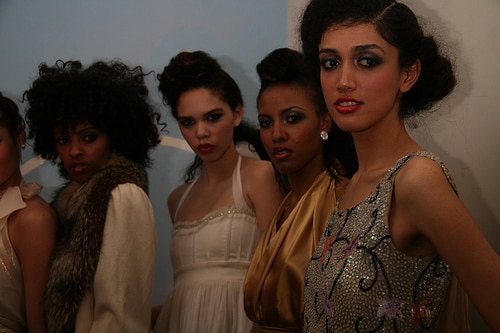 We here at SCV have been quite intrigued by the degree of deference given to celebrities, their handlers, and the overzealous camera crews rushing to project them to your television screen. Curious to see how the celebrity gambit had been holding out for the latest entrant to the fame sweeps stakes Miss Sally Shan, we sent out Max Wastler to see what he thought– Scallywag.
Packed into a bar no wider than its name, well-perfumed sardines of every shape and size squirmed amongst the Arm & Hammer veneer this past Monday night at Midtown's 212.
The now (in)famous Sally Shan was there too, this time alongside friend and Blonde Ambition Tour castoff Gili Lev, promoting Tamara Pogosian's fall 2009 collection.
212 is not the kind of place one would normally think to hold an event for fashion week. Rather it's the type of place one would look to find bored house wives and confused parents visiting from Omaha, or at best burned out patrons looking for salvation after a rough day at Bloomingdale's. Nevertheless Shan and super friend were there. To be more precise the cameras were there and by complicity so we're we…
The turnout was appalling: bald men and odiferous women. It reminded one of a mail-order bride convention, and if the liquor kept on coming it may have stayed that way.
All in attendance sweated it out in anticipation for the "presentation," a display of Pogosian's designs. Really, the presentation consisted of miffed models confused as to how they arrived at such a destination, yet we were sure like everyone else even models sometimes have to endure the inconvenience and incongruence of being.
The line probably didn't cause much of a stir, although what inspired tantalization was the degree Shan and Co were working the room. At some point you had to wonder whether you had come to watch the line, the models or the promoters themselves?
It was kind of perverse watching promoters more intent on promoting themselves more than the promotion at hand. Then again fame has few rules, just ask every one else who made it at the front rows this week, and who could blame Sally for trying too? Or could they…?
As was overheard "Never in all my years covering events, have the promoters dragged me over and forced me to take their photo with the models."
As the Scallywag entourage snaked its way out of the railcar-sized bar, paid the egregious coat check tab, and hiked it back to headquarters, I recalled the close of our previous entry on Lady Shan, the Andy Warhol adage;

Fame comes to everyone for at least fifteen minutes, but then again there are some of who are destined to be famous for eternity.
15:01, Ms. Shan. 15:02, in fact.