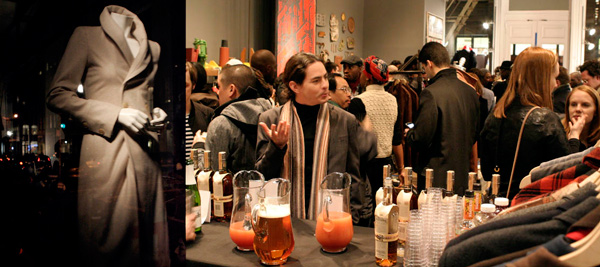 If you've ever wanted a lesson in how imagination, attention to form and utilitarian function come together you needed to attend last night's homage to Operation, the new wonderful enfant terrible of menswear. If on the other hand you were just game to admire striking beauty, the mod crowd and the sashay their cigarettes make you would have been at home too.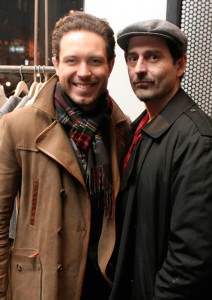 I'm standing next to Matteo Gottardi, 'Operation's' Creative Director. Standing next to him and listening intently on how if one goes away to a European country they can come back with so many wonderful ideas. Standing next to Mateo but being continuously intrigued by the piles of people clambering to get inside the Soho store.
Originally intent on being a business major, Matteo has found himself 4 years later lauded as one of the top ten most cutting edge innovators of men's and woman's designs. Intrigued by what he saw going on at a construction site one day whilst in Sweden he came to the realization that when clothes, tables are created to serve a particular utilitarian purpose ( ie the table for engineering feats, the clothes for plumbing, industrial vestiges) then one can walk away with a lively sense that every button, seam, belt, layer serves a very particular function. Appraising this function with finer material , mole skin, cashmere one can then begin to approximate today's casual wearer, today's purpose orientated customer.
"You wear the clothes, they don't wear you," he tells me surveying the beauty pageants pressing against his window panes.
Breathing in the frigid air, "I love the asymmetrical cuts, the flaps, the details, they really serve a purpose and this is what remains classic. It never goes away, it'll stand the test of time."
Also carried by Neiman Marcus and selling as a capsule with the original makers of utilitarian- Levi's jeans one can assume Matteo and his collective are doing remarkably well.
A quick jaunt found the premises found many well wishers, bourbon chasers, and maybe some party crashers. All in all a very enjoyable evening where's your's truly made some lovely friends and reversed the Bauhaus concept that form follows function, except when you come to Operation. Congratulations.
Operation; 60 Mercer st.