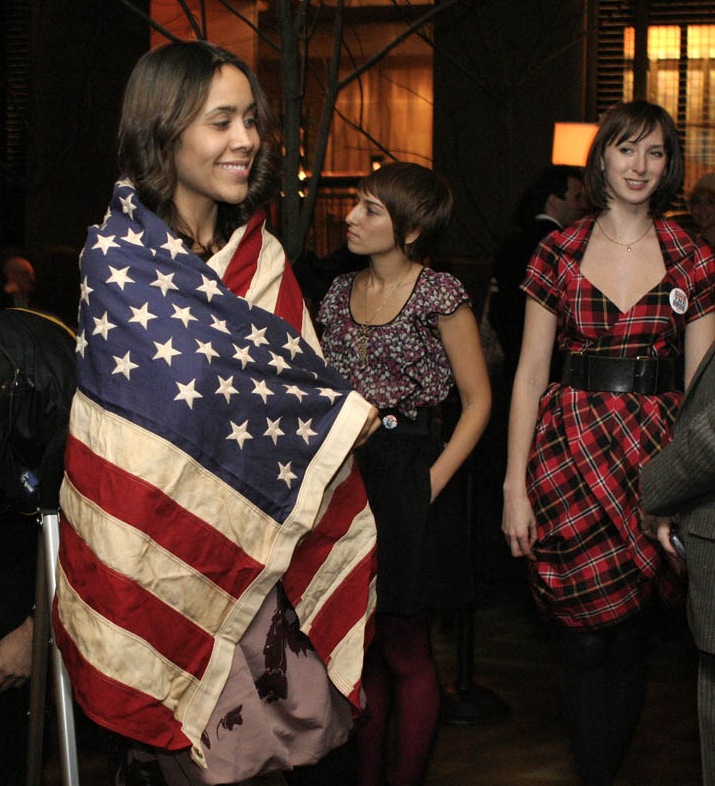 Debonair? Charismatic? Fashionable? Intelligent? Savoir faire? We've been hearing about the optimism surrounding the newly elected presidency of Barack Obama. That said, we decided to find for ourselves if a town is ready for new sensibilities.
It's a Tuesday night and for the first time in many years this Tuesday night is very different from many other Tuesdays. Or at least this is what I have been told…
We've been watching since the beginning of the day the adulation, triumph and grand hurrah surrounding the newly elect president's arrival to the nation's capitol. Watching satellite crews zoom in out, as orators and tv personalities offer their view, as motorcades suddenly pull into town. It's a scene unlike so many others, but somehow reminds one of the vigor cast upon every emperor, king, lord and patron of the social collective that has finally arrived to town.
With a nation reeling with a severe ideological hangover, heartburn and sleeping disorder since the bubble has finally burst, disillusioned by the reflection in the mirror and sorrow for the scars from last weekend's grand party and brawl it has found itself reaching desperately inside this morning's bathroom cabinet for something to make it all go away.
Enter Barack Obama.
With comparisons to JFK, endless front cover photo shoots and nuanced self reflection a nation has come to watch on a frigid winter day the testimonial that a new presidency can possibly bring and the idea that 'change' doesn't have to be just a political slogan thrust around every time you open your Tv.
Invited to participate in some of the nation's revelry, Scallywag and Vagabond (SCV) set out to one of its favorite haunts – the Tribeca Grand, where we mixed, mingled and wondered out aloud how and why one man has suddenly become a nation's latest demi god.
SCV: How do you think Obama is going to be different?
Krista: In many ways. He's down with the people.
SCV: Meaning?
Krista: It's the first election in my life that I have ever bothered showing up for, I really think this guy cares, and he's going to try and make a difference.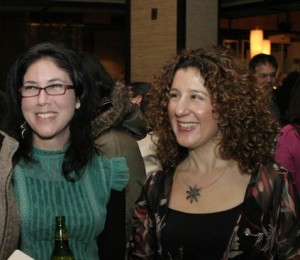 Turning to Vanessa and Jennifer,
SCV: Is 'change' for real?
Vanessa: Absolutely. Yeah, he's very genuine.
SCV: But he's a politician…
Jennifer: Maybe, but at least his 180 degrees polar from the other guy. I think going forward the town is going to open up, people are going to want to get behind him and we'll get back to being progressive.
Coming across Tribeca Grand's very own Yadira Martinez (who was so kind to us- thank you dear!)
SCV: What makes Obama ?
Yadira: He's incredibly intelligent, charismatic and yeah he's sophisticated.
SCV: Does that mean he can get to the root of our problems?
Yadira: I think it's a great start. He's got ambition, goals, and is willing to sit down and listen to all parties. And anyway, Bush couldn't even spell the word ambition.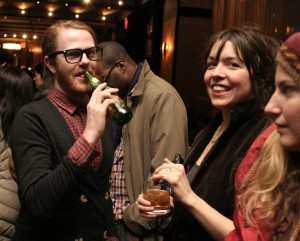 Turning to Kevin and Scarlett, two wondrous kids doing their masters in architecture,
SCV: What makes Obama charming?
Scarlett: Michelle.
SCV: What makes her charming?
Scarlett: Her walk, her poise, her dress sense, her attitude.
Kevin: She looked amazing this morning.
SCV: Why are we as a nation so excited by this presidency?
Scarlett: Because he's mobilized an entire nation, one that's never cared before. I think he's the new generation of president. Out with the old, in with the new.
SCV: Are people ready for the new?
Scarlett: I think so. I think they're starting to realize something's very wrong in America and it has to be addressed.
SCV: What is wrong with America?
Scarlett: I don't know, it's just too full of irony. But I really feel we can begin to address democracy, grass roots level.
Coming across the lovely fashion duo of Adrien and Alexandra.
SCV: Who's more interesting? Michelle or Barack?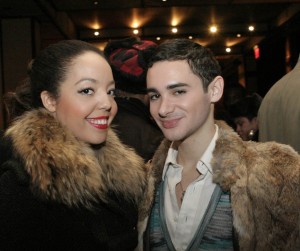 Adrien and Alexandra simultaneously : Michelle!!
SCV: Why?
Adrien: I think she's great, takes bold risks with her color scheme, wears the most amazing dresses. I mean really what was the one's name?
SCV: Laura.
Adrien: Oh my God, she dressed like a prissy school teacher.
Alexandra: I just think Michelle is going to be great for fashion. Actually Barack too, they're going to bring 'dashing' back to the scene.
After relaxing with Tribeca's signature margarita (or is it just my signature- no salt please, and on the rocks- Grand Marnier sil' vou plait…) I came across the indelible Stephanie.
SCV: What makes Obama charming?
Stephanie: He's ability to make people relax. He's very articulate, and you always feel that he's a gentleman.
SCV: I see…
Stephanie: You can't take such things for granted.
SCV: So what makes Obama a gentleman?
Stephanie: Grace.
SCV: And what's grace.
Stephanie: it's the way you carry yourself.
SCV: And how does one carry themselves?
Stephanie: Mmm. You're bad…
SCV: Aren't I ….
Finally making our way out and not wishing to tempt fate or Stephanie I walked into a frigid evening, took a long look at the cluster smoking in the corner, the giddy beat to their banter and the wrath of a wind that was just beginning to gain gust. Whatever Mr. Barack Obama's presidency holds, it should be an eventful one, and as we lie deep in the recesses of winter looking through our medicine kit one is hopeful if one man can make a nation change, but knowledgeable that every man onto himself can begin that change with him…