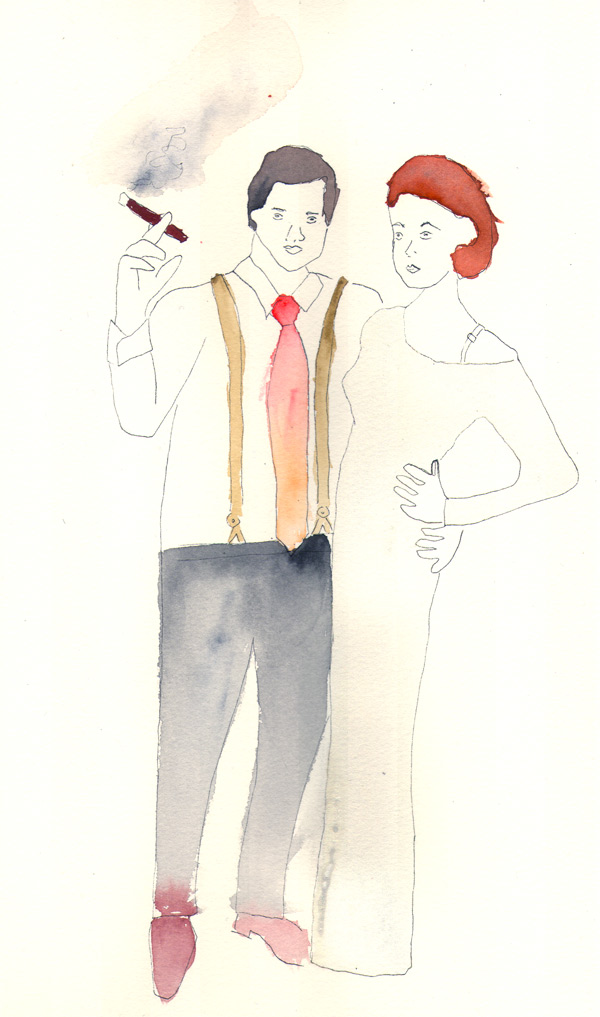 We here at SCV have always enjoyed seeing who makes it in to the New York Times wedding registry. With tea and crumpets in hand we sit here every Sunday amusing ourselves, placating ourselves, wondering amongst ourselves. As you may or may not know making in the NYT's weekly register is one heck of a feat, and in short it's meant to announce in some round about way your arrival to society, grandeur, posterity and unrivalled brilliance…. (and by extension our love and ardent desire for you).
This said, we've been wondering lately why so many of us have been desperate to making it into this very private club, what it suggests and how one is meant to live with themselves and their newly wed nuptial if they don't…….
That is until Scallywag and Vagabond decided to announce their own registry……that way you wouldn't feel left out…….read on and see which three lucky couples made it to Scallywag's registry…
Before we reveal our lovely couples we thought we'd tell you more about the prerequisites we were looking for. Like the NYT's we pay close attention to birth and breeding, (don't we all….?), where our nuptials were educated (unlike the Times we were fine with basic G.E.D's), where they live (like the Times we insisted on zip codes bordering the periphery of Central park) who their parents were (one can argue one of the tipping factors), their accomplishments (although the Times prefer the media, legal, and finance world we made an exception for our transgender couple- door man), worldly accomplishments (seeing that most couples are too young to have ever really accomplished anything we once again paid homage to what the parents had or had not accomplished).
That said we felt compelled to upstage the Times and insist that our nuptials were also photogenic (my God have you seen who they have been including lately!!), were not just protestant, Episcopalian, Catholic, Orthodox or Jewish, we decided atheists and agnostics were permissible, but like the Times we declined on Muslims, Buddhists and any sect originating from the South Western states of America. One final feature we also paid attention to was to the condition that led to the lovely nuptials meeting in the first place, a quality often omitted unless the nuptials happened to bribe the Times editor (rest assured we do not receive bribes here, although if you ever catch us at the beauty salon a complimentary back rub on you will see us well…..)
So without final undo we announce our registry, and just remember if you didn't make it in, rest assured you will be considered just as desirable and socially stationed as Britney Spears, Lindsay Lohan albeit with some degree of consternation on the public's behalf…..oh well not every one can be a hero or a scallywag.
Bobby Slowtan and Alicia Sivershower.
Bobby Slowtan and Alicia Silvershower were married this past Saturday afternoon by the Reverend Will Brittle at the corner of Gansevoort and Hudson were the couple met approximately two years ago whilst both were straggling intoxicated looking for a cab at two a.m in the morning.
Bobby, 29 noted misogynist and zealous practitioner of homeopathic medicine is standing legal council for a large pharmaceutical corporation (whose name we currently can not disclose) currently immersed in kick back schemes and unwittingly doubling the level of agent X (a top secret patented ingredient), sometimes used in the treatment of diarrhea and osteoporosis.
Alicia, 19 and a half, a promising fashion model, and ex high school cheer leader at Vanity Catholic High and ex girlfriend of bad boy rapper DIZZY BUZY (go to page 6 for more details on DB's latest misbehaviors) until her engagement to Bobby was often seen making out with the rich dudes with cash to burn at prodigious night club BEATRICE. Currently on a pine nut diet, Alicia is currently engaged in an accelerated Alcoholic Anonymous programme north of Gansevoort st.
Bobby's father, Bobby Slowtan the third, is a retired jazz performer (whose only world wide hit in the summer of 66 is 'We are here,') can often be seen hobnobbing with women half his age at trendy stalwarts like Café Habanna and the Soho Grand. Often featured in PBS interviews for his expertise on the palooka, Mr.Slowtan is now enjoying a revival of sorts.
Priscilla Slowtan, Bobby's mother, a devoted housewife and dedicated buyer of art deco china plates and fake designer handbags on Canal st is currently on prescribed medication for severe depression and anxiety.
Alicia's father, Dr.Hobnobas Silvershower is a prolific writer, having written thirteen books, of which only two have been published- "Why the Chinese don't eat take out," published by LIZARD house, and "I'll eat my food alone," also published by LIZARD.
Before entertaining a career as a writer Dr.Hobnobas was an esteemed psychologist at UPPITY DAISY, a now defunct mental institution.
Alicia's mother Teresa, recently divorced from Dr. Hobnobas is now currently involved with eminent academic from Sri Lanka, Dr. Put Pat Way. When not dedicating herself to the concerns of those less fortunate than her, Teresa attends mantadory healing sessions with her daughter just north of Gansevoort st.
As wedding guests chose to relive that experience which led to Bobby and Alicia meeting two years ago by drinking violently and copious amounts of stale Sangria and Guinness one of them was quoted as saying;
"Goes to show you never know where life will take you when you both end up throwing up in each other's lap in the back of a cab."
LEXUS BEABONNET and MASSIMO AGNELLI
Revered head door person Lexus Beabonnet and scion of Italian aristocracy Massimo Agnelli were married late yesterday evening by justice of the peace Bobby Shortfall at a private address only secured by those on Lexy's guest list.
Lexy, as she is commonly known, (age withheld) a confessed drama queen and sometimes bitch (she has been known to spit in patron's faces if they begged too assiduously to get into the nightclub – Cabin Shed, where Lexy worked the door on the clubs best nights Monday and Tuesday nights the last seven years) as well as part time catwalk model is a noted page 6 socialite. Friend and confidante to New York's privileged set, Lexy initially trained to be a ballerina but a chance meeting with Karl Lagerfield whilst holidaying in Provence, France compelled Lexy that her real cause was to be a diva and the man inside she always wanted to be.
Massimo, (age yet to be verified….) son of famed virgin olive oil maker Visconti Agnelli a staple of the jet set and Nobu sect (the eponymous Japanese restaurant where Massimo has been often heard to tip waitresses up to a thousand dollars despite the vocal and emotional tirades whilst having dinner with Lexy and her hanger ons) is a noted man of leisure and philanthropic causes (extended list only available by written permission).
Roger Smith, (Lexy's estranged father) a retired home wrecker and reformed prescription pill abuser currently serving a sixty day sentence at Rikers for failing to pay repeated efforts to collect on speeding tickets was heard to say on a delayed televised service (courtesy of Rikers ) despite his misgivings for Lexy's decision to change her sexual make up and succumb to the travesties of excess media attention was relieved that his daughter had finally chosen to settle down, and although he perceived it highly unlikely he welcomed the chance of becoming a grandfather.
Becky Smith, (Lexy's deceased mother) run down by an un identified fast approaching vehicle last September, the perpetrator yet to be found, was fondly remembered at the reception with a shrine built in her name behind the valet sponsored that evening by GUCCI, the luxury Italian fashion house.
Massimo's parents, Visconti and Lucia although both present and dressed to the nines, and speaking in halted unbearable broken English were seen to be reveling in their son's celebrations but the arrival of a certain miscreant ( obviously not on the guest list) possibly a rival gang member sent them quickly out the front door heavily escorted by their son's intifada. The exact origins of Visconti's fortunes are not exactly known, but it is believed possible bootlegging of olive oil during World War One allowed the Agnelli family to amass the great fortune it retains today.
Although a major success, with paparazzi over flowing everywhere and Hollywood luminaries such as Cher and Paris Hilton (regular patrons of CABIN SHED) seen entering and leaving from separate entry and exits the police were called in to bring an early close of the evenings affairs as Lexy unable to contain her rage or joy as it has now been suggested in today's page six when she demanded a guest who obviously didn't fit the social protocol was seeing trying to gain entry through the servant's quarters.
WILLIAM ANGLOSAXON and JUDITH ANGLOSAXON.
This past weekend joy was set in the hedge fund world when fund of fund families William Anglosaxon, chief portfolio manager at LONG TERM ABONDON and Judith Quickshaw (her maiden name) revered daughter of the eponymous titan Larry Quickshaw of the ALPHA SIGMA TRADING club based in New Haven, Conneticut joined union at the episcopalian church of Old Greenwich.
William Anglosaxon, thirty four and indirectly related to the Queen of England, widely traveled through the North east corridor and widely applauded team polo captain at the local Martha's Vineyard retreat – SAND SHOE. Educated at XAVIERS SCHOOL FOR PRIVELEGED UPPER EAST SIDE prep school before being admitted to HARVARD at the age of fifteen where he studied ethical jurisprudence before graduating magna cum laude at the age of twenty before accepting a Rhodes scholarship at Oxford where he studied elocution and civil architecture. At first contemplating a career in public service he was eventually intrigued by the loan schemes he was at the time investigating and hence decided to pursue the world of hedge fund investing where his new passions now lay.
Judith Anglosaxon, thirty two and accomplished daughter of Larry Quickshaw and often confused icon Dita von Teese is one of the few women on wall street that is highly revered and often quoted in times of extreme market turbulence. Now running her father's mammoth house of fund her trades, although kept highly secret are often leaked by rival brokerage houses hoping to cash in on an illiquidity squeeze. Like William, she attended Oxford where they met while trying to avoid their families and their imposed legacies. Prior to Oxford, Judith graduated magna cum laude from Yale's revered philosophy department.
William's father, THIRSTON a graduate of WEST POINT and a heavily decorated war veteran, and retired rear admiral was full of good spirits as he cajoled his son and showed off his military wounds. Steadily getting toasted as the evening wore on, Thirston was later of the opinion that Judith's father was an infiltrator and for a brief moment the two were seeing wildly swinging at each other, thankfully none of the punches stuck.
William's mother Pamela on the other hand, a hand model in the 1970's was seen keeping very much to herself and was seeing making paper mache in the privacy of her boudoir.
Judith's father, Larry Quickshaw, although a little frazzled was quick to write pundits off for insinuating that the fracas was the letting of tensions fly off as it has been rumored that Larry has been forced to liquidate some of his equity positions in the current economic blood bath. Educated at Princeton, and the nephew of the dean, Woodraw Quickshaw, Larry was offered unmitigated access to society and the money that he came to eventually manage on behalf of these minions.
Although present, Judith's mother Excelsior, rumored to once have held a job as a waitress, was remarkably subdued and later seeing sobbing violently when she missed catching the flowers Judith threw into the crowd.
Drinking pims, and eating a variety of canapés that ranged from tuna tatare, cobbled avocado and sparkled sawdust festivities went as planned before the couple called it a night at precisely nine in the evening so as to render a good nights sleep before returning to work the following day.