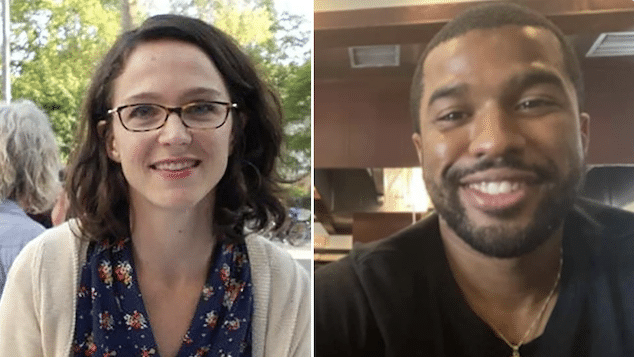 Amy St. Pierre Atlanta CDC worker id as fatal shooting victim at hands of Deion Patterson after man sought treatment at medical facility for anxiety and depression. Captured man revealed to have prior criminal arrests and had recently been relieved of duties as Coast Guard vet. 
Atlanta authorities have revealed the identity of the individual who was shot dead at the hands of a 24 year man at a medical facility after seeking treatment for an unknown condition.
Amy St. Pierre died after Deion Patterson, 24, allegedly opened gunfire Wednesday at Northside Hospital Medical Midtown, where his mother had taken him for an appointment, the Fulton County Medical Examiner's Office said.
St Pierre, 39, according to her Linkldn profile worked as a public health advisor for the Centers for Disease Control and Prevention with the outlet commiserating her death. 
The 'CDC is deeply saddened by the unexpected loss of a colleague killed today in the Midtown Atlanta shooting. Our hearts are with her family, friends, and colleagues as they remember her and grieve this tragic loss,' agency spokesman Benjamin Haynes told The Atlanta Journal-Constitution in a statement.
Four other women — ages 25, 39, 56 and 71 — were also injured by gunfire.
No known motive
Three of the victims were in critical condition at nearby Grady Memorial Hospital, Grady Health System Chief Medical Officer Dr. Robert Jansen said.
Patterson fled on foot after the shooting and it wasn't until a nearly 8 hour manhunt that the wanted man was captured. The wanted man was arrested 'without incident' at about 8 p.m. Wednesday at a condominium complex in suburban Cobb County outside Atlanta, Cobb County police Chief Stuart VanHooze said.
Authorities have yet to identity a motive for the mass shooting.
There was a mass shooting and today we know through his mother that the guy was a veteran struggling with a mental health diagnosis.

Amy St. Pierre's death was preventable.
Deion Patterson's condition could have been mitigated.

WE failed them both. https://t.co/RxsccrU1SB

— Rev. James "Major" Woodall (@iMajorWish) May 4, 2023
Veteran with mental health issues
Patterson's mother, Minyone Patterson, who is a nurse and accompanied him to the medical office, told The Associated Press that her son, a former Coast Guardsman, had 'some mental instability going on' from medication he received from the Veterans Affairs health system that he began taking Friday.
She said he had wanted Ativan to deal with anxiety and depression but that the VA wouldn't give it to him because they said it would be 'too addicting.' She said she told them he would only have taken the proper dosage 'because he listened to me in every way.'
'Those families, those families,' the mother said, crying. 'They're hurting because they wouldn't give my son his damn Ativan. Those families lost their loved ones because he had a mental break because they wouldn't listen to me.'
Patterson's gun slinging is not the first time the 24 year old has gone against the law.
In 2017, he was charged with driving under the influence, leaving the scene of a crash, improper lane change and not having insurance, The Atlanta-Journal Constitution reported, citing Clayton County court records. Those charges were reportedly dropped later that year.
In 2015, Patterson was arrested on a charge of marijuana possession and in 2017, he was arrested twice on charges of probation violation, the Henry County Sheriff's Office said.
And in 2020, he was cited for three traffic violations in Saint Louis County and Phelps County, Missouri, according to court records.
Patterson — who reportedly holds fishing and hunting licenses in Georgia — was discharged from the Coast Guard in January, according to AJC. It remained unclear why.