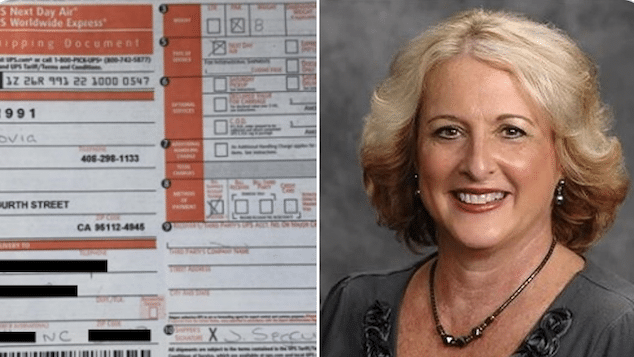 Joanne Marian Segovia San Jose Police drug dealer. Union executive indicted running drug ring importing and distributing opioids across the U.S over 8 year period. 
Good cop, bad cop. A California police union executive director has been indicted after allegedly being part of a scheme smuggling opioids, including fentanyl into the U.S, where they were distributed across the country. 
Joanne Marian Segovia, 64, who has worked for the San Jose Police Officers Association since 2003, was charged on Wednesday with attempting to unlawfully import a synthetic opioid called Valeryl fentanyl according to federal prosecutors. 
The official faces a maximum sentence of 20 years in federal prison if convicted, authorities said.
According to the 13-page complaint, Segovia used her personal and office computer and UPS account to order and distribute the opioids, with the police executive receiving at least 61 packages at her San Jose home from various countries — including China, Canada and India — between October 2015 and January 2023.
The packages reportedly were marked as food supplements, wedding party favors, makeup, chocolates and other items to disguise the drugs, prosecutors said. 
Police Executive Drug dealer double life
The packages instead contained various drugs, including deadly synthetic opioids and Tapentadol, which is normally used to treat severe pain from nerve damage caused by diabetes.
So brazen was Segovia, the police executive even had various items mailed to the police executive's San Jose office, where she then distributed the drugs across the country. 
Prosecutors also allege Segovia exchanged messages on WhatsApp between January 2020 and March 2023 with someone who was using a country code from India in which she orchestrated shipment and distribution. 
In one message sent on May 2, 2022, Segovia allegedly wrote, 'I'm so sorry, I'm on a business trip because we had 2 officers that got shot! I should be home tomorrow night so ill get them shopped as soon as I can.'
According to the complaint, Segovia took a photo of a shipment she sent to a woman in North Carolina and used the San Jose Police Officers' Association UPS account.
Homeland Security agents learned of Segovia's 'drug dealing' operation while investigating a network in India known to ship drugs into the US.
Investigators found messages from the network that mentioned 'J Segovia' with an address in San Jose and the words, '180 pills SOMA 500mg,' according to the complaint.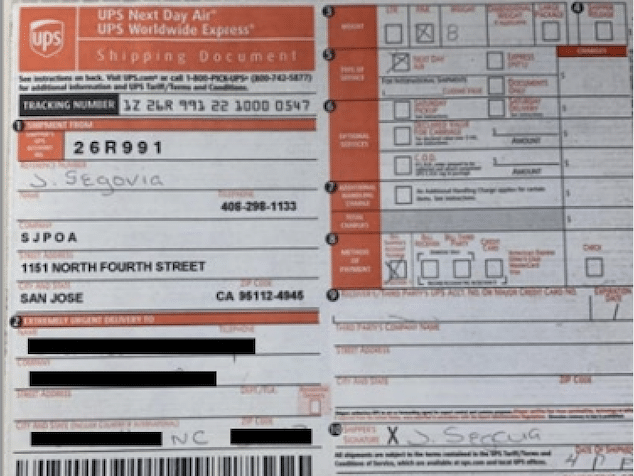 'I only ordered 'supplements' and 'nothing out of the ordinary'. 
Police union president Sean Pritchard was shocked by the charges, telling NBC Bay Area, 'She's been the grandma of the POA.'
'This is not the person we've known, the person who has worked with fallen officers' families, organized fundraisers for officers' kids — just not who we've known over a decade.'
Although she worked for the police union before being suspended, it is not thought Segovia had a history in front-line law enforcement. The union says Segovia handled front desk operations but did not make decisions for the organization.
The executive allegedly continued to order the drugs even after she was interviewed by federal agents in February 2023. At the time, Segovia told agents that she had only ordered 'supplements' and 'nothing out of the ordinary'. 
Segovia was arrested on March 13 after investigators seized a parcel in Kentucky that was addressed to her.
The package was marked as containing a 'clock' and came from China, authorities said. Inside was a disassembled clock kit containing fentanyl-laced square and round adhesive stickers.
Fentanyl leading cause of drug overdose deaths in U.S
'This is an incredibly disturbing allegation,' San Jose Mayor Matt Mahan said in a statement to KRON.
'I want to thank US Attorney [Ismail] Ramsey and his colleagues for aggressively pursuing the sources of fentanyl coming into our communities and holding drug dealers accountable.'
A recent report from the CDC indicated fentanyl now being the number one cause of overdose deaths in the U.S, surpassing heroin by a large margin.  Originally manufactured for pain treatment in cancer patients, the synthetic opioid is about 100 times more potent than morphine, and its illegal use continues to be on the rise across the United States.
Drug overdose deaths in the U.S. increased 28.5% between April 2020 and April 2021, according to the (CDC), with three out of four overdose deaths involving synthetic opioids like Fentanyl.