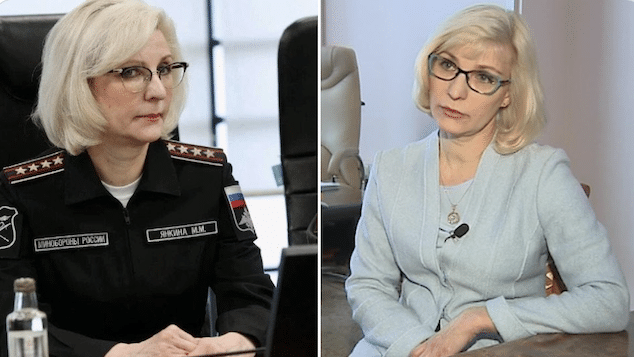 Marina Yankina suicide? Russian military official instrumental in war against Ukraine plunges 160ft to her death from high rise building. The mystery death is the latest unexplained fatality amongst high ranking officials and titans of industry since the start of the war.
Just a coincidence? A high-ranking Russian defense official was found dead Wednesday after falling from a high-rise window in an apartment building. The war official who had been instrumental against Putin's war against the Ukraine, is the latest high ranking official to have died at their own hands.
Marina Yankina, 58, was discovered circa 8am by a passerby at the entrance of a high-rise on Zamshina Street in St. Petersburg, Russian media reported.
The woman is believed to have fallen 160 feet to her death. Her personal belongings and documents were found on the 16th floor balcony in the building. 
According to a preliminary investigation, it is believed Yankina committed suicide. Nevertheless speculation was rife that the defense official who was the head of finance for the Western Military District in the Defence Ministry had been assassinated by defenestration (thrown out a window) days after General Gerasimov allegedly embezzling millions in this district and likely eliminating witnesses.
A few minutes before allegedly allegedly taking her own life, Yankina called her ex-husband and told him what she was about to do.
🚨 #Russia: Marina #Yankina, head of finance for the Western Military District in the Defence Ministry has been assassinated by defenestration (out the window) in St. Petersburg. General #Gerasimov embezzled millions in this district and is likely eliminating witnesses. pic.twitter.com/64c2c9PAnZ

— Igor Sushko (@igorsushko) February 16, 2023
Follow the money
She also asked the man to summon police to the high-rise on Zamshina Street where he lived.
While no official motive was released, local media reported that the 58-year-old was had been struggling with health problems.
Yankina was a key figure in the funding of Vladimir Putin's war in Ukraine. 
She was head of the financial support department of the Ministry of Defense for the Western Military District, which is closely involved in the invasion.
The Russian Investigative Committee confirmed Yankina's death and is leading the probe into her fatal fall the nypost reported.
Before joining the Western Military District, Yankina worked in the Federal Tax Service, and also served as deputy chairman of the Property Relations Committee of St. Petersburg.
Yankina is the latest of many prominent Russian officials and business people to have died under mysterious circumstances since the start of the war last year.  
Vladimir Makarov, former Deputy Chief at Main Directorate of Russian Ministry of Internal Affairs, was found dead. Police say it was suicide.

Makarov was fired from his position in January.

He is not the first high-ranking 🇷🇺 official to die lately:https://t.co/dLEqwhRR4y

— Anton Gerashchenko (@Gerashchenko_en) February 13, 2023
Latest fatality among top state officials and Russian oligarchs
Earlier this week, Russian Ministry of the Interior Maj. Gen. Vladimir Makarov, 72, died of an apparent suicide in a Moscow suburb.
Unconfirmed reports alleged that the general had fallen into a 'deep depression' after being fired by Putin in January.
In November, Col. Vadim Boiko, 44, deputy head of the Makarov Pacific Higher Naval School in Vladivostok, was found dead in mysterious circumstances from multiple gunshot wounds in what officials said was a suicide.
Boiko, who played a role in Putin's partial mobilization efforts, 'executed' himself with five gunshots to the chest in his commander's office after allegedly being set up to take the fall for some of the problems plaguing the invasion of Ukraine, according to his widow.
In December, sausage tycoon Pavel Antov, who criticized the invasion of Ukraine, plunged to his death from a luxury hotel in India — three days after his friend lost his life on the same trip.
On September 25, the head of Russia's oil giant Lukoil, Russian oligarch, Ravil Maganov, is reported to have fallen from a hospital window in Moscow.
Enemies of the people eliminated? 
A few days earlier, the former head of the Moscow Aviation Institute, Anatoly Gerashchenko, was killed after falling down 'several flights of stairs.'
On September 13, senior Russian official, Ivan Peshtorin, fell off a boat off the coast of Vladivostok and drowned. He was executive director of the Russian Society for the Development of the Far East and the Arctic.
In August, businessman and Putin critic Dan Rapoport reportedly jumped to his death from his apartment in Washington, D.C.
The captain of industry deaths' were the latest in a series of unexplained deaths involving Russian tycoons along with state officials since the start of the Russian invasion, many of whom have openly criticised the war, amid international sanctions and a large losses in personal wealth and large casualties on the battle field.
'This mysterious death of Marina Yankina is consistent with the Russian intelligence doctrine of 'wet affairs' – or the spilling of blood,' Rebekah Koffler, a former Defense Intelligence Agency intel officer for Russian Doctrine & Strategy, told Fox News.
Koffler explained that the doctrine dates back to the Soviet Union when the secret police would target state critics or dissidents they deemed were 'enemies of the people' and would eliminate them through violent means.
'In today's Russia Putin's critics and those unwilling to go along with his policies are routinely eliminated by assassination,' she said. 'Shots in the back of the head, poisonings, forced suicides and other intricate forms of violent death are some examples.'
'Throwing someone out of a window or having the victim throw herself or himself out of a window is a standard method,' Koffler added.
It remained unclear if Yankina was critical of Putin's invasion of Ukraine.