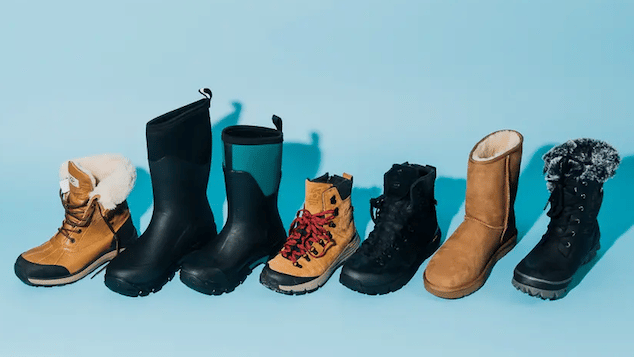 Best Winter Shoes & Boots For Men: Which style should you buy? The options for gents are solid, reliable, dapper & trendy.
In recent years, shoes have become an important part of every man's life. This is because shoes have gotten to a point where each shoe speaks the character of the man wearing it. In fact, the men's shoe industry has increased in revenue for this sole reason. Even with plenty of shoes already available for men, the winter category is still somewhat hard to grasp. It's not that there are limited winter-friendly options, it's just that, unlike the other shoe categories, you have to dig a little deep if you need some quality and fashionable winter-friendly options. But you need not have to worry about this, as in this article, we have listed some of the warm winter shoes available for men so that if you are a complete beginner in this category, this could be your one-stop guide.
Snow Boots
Snow boots are well known for the amount of warmth they provide to your feet during winter. These shoes should be your only option if you live in a region where winter gets unbearably cold. Though finding snow boots that have style can be quite difficult, your normal, not so stylish snow boots can easily be matched with almost all winter outfits and make you look good. And if you are planning to buy snow boots, I recommend you check them out from Nortiv8 website. Since Nortiv8 specializes in making shoes for mountain-based adventures, you can be assured the snow boots from them will be made out of tough and quality materials, hence making sure they last you a very long time. Additionally, snow boots from Nortiv8 are also stylish looking when compared to other vendors.
Chelsea Boots
Chelsea boots are one of the most famous types of ankle boots in the market. They are thick and made out of strong and good quality materials, making them one of the best winter-friendly boots on this list. Chelsea boots are intended more as a casual wear shoe, but if you want, you can always match some semi-formal and formal outfits too.
Oxford Shoes
Oxford Shoes have become the go-to option for formal attire among men. These shoes are classy in looks and come in a few different styles that are differentiated by the design of the stitching. This difference in design makes the shoe usable for more than just formal wear and hence become appealing to youngsters as well. Keep in mind that if you planning on buying Oxfords for winter, we recommend you stick to leather as they are naturally thick and hence, help a little better.
Sneakers
Even after so many years since their launch, the sneakers are still considered one of the best shoe options available for both men and women, to be worn with a majority of outfits across various occasions. Due to these shoes being immensely famous among the youth, many vendors have ensured that such a shoe is winter-ready, making sneakers one of the few all-season shoes. In addition, if you are a minimalist or someone who travels a lot and needs one shoe for all purposes, then sneakers could be your best option.
Military Boots
Military boots, as the name suggests, are used primarily by people in the military profession. This means one thing. These shoes are made out of tough materials and can protect your feet from almost all types of accidents you might face. When it comes to providing warmth, a winter military boot is second only to snow boots. Additionally, these shoes are also stylish in looks, which makes them an ideal choice to be worn with casual outfits, if you want top-notch protection for your feet. Thus, be it for mountain-based adventures or just for casual purposes, this shoe has you covered during winter.
Derby Boots
In a picture, the Derby shoes look almost identical to the Oxford shoes, especially for someone who doesn't know much about men's shoes. But if you look closely, you can find two subtle differences, which is what separates these shoes. In simple words, the laces in Oxfords are closed, which is stitched and they have no flaps, whereas, in the Derby shoes, the laces are open, which is not stitched and have the presence of flaps. If this feels too much, just know that Derby shoes are considered casual shoes whereas the Oxfords are formal shoes. Even though an oxford variety like the Wingtip Oxford Shoe can be worn with casual clothes, they come nowhere near to Derby and casual clothes combo. Here too, similar to Oxford boots, if you prefer wearing Derby shoes during winter for an extended period of time we once again recommend you buy a pair made out of quality leather.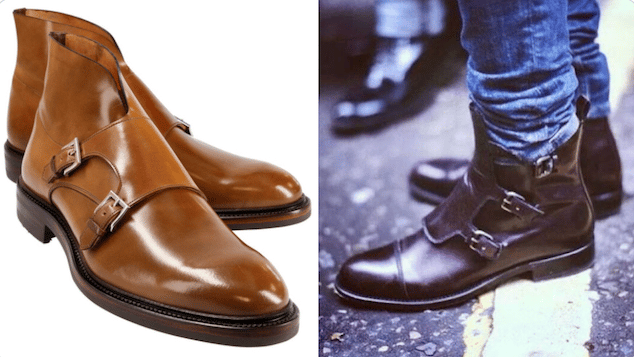 Monk Strap Boots
Monk strap boots are unique in this list. They are named so because these boots instead of your traditional shoe laces have straps that hold the shoe in place. Thus, if you are bored of the traditional laces and need something different, that offers a casual look, make sure you look at the winter-friendly monk strap boots.
Final Thoughts
In conclusion, after having researched, all the shoes on this list are made sure they are trending and hence no matter which one you pick, you need not have to worry about the shoe going out of trend for at least the next 5 years. But that doesn't mean these are the only trendy winter-friendly shoes for men. If you find a shoe that you like that is not on this list, then as long you love the way it looks, don't worry about the trend and just buy it.