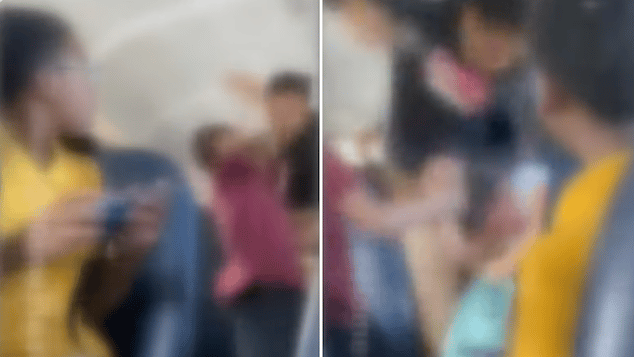 Homestead school bus attack: 15 year old Homestead black boy who punched 9 year old white girl on Florida bus charged with criminal battery after elder boy out of two was initially just issued civil citation. 
A 15-year-old Florida boy captured on cellphone viciously beating a 9-year-old girl on a school bus has been charged with criminal battery, officials announced on Tuesday.
The video which soon went viral, shows the much larger 'black' teen and another 'black' boy mercilessly pummeling the 9 year old white girl, a third-grade student at Coconut Palm K-9 Academy in Homestead, last Wednesday as she cowered helplessly and sought to fend them off her attackers a crowded bus.
Alarmingly, no one intervened during the almost 30 seconds of the attack that was recorded by a classmate, including a nearby adult aide and the bus driver, video shows. 
The school's police officer investigated the incident and decided to issue the 15-year-old boy a civil citation, which Miami-Dade State Attorney Katherine Fernandez Rundle said was not enough after further review.
'We believe that, based on the evidence and the circumstances, the use of a civil citation was incompatible with the level of violence displayed by the 15-year-old against his much younger and smaller victim,' Fernandez Rundle said Tuesday. 'As a result, we have filed criminal battery charges with our juvenile courts.'
Ongoing bullying
The teenager has not been identified due to his age.
The victim's mother told Local 10 News last week that she intended to press charges.
'My goal is not to incriminate any other children,' the mother said Thursday. 'My goal is to make sure they have the security for the kids to make sure this doesn't continue to happen.'
The mother said school officials, overwhelmed by violence in and around the school, advised her to enroll her three children in another school
Her two older kids were also bullying victims during their brief time at the school but counselors and administrators did nothing to address her complaints, she said.