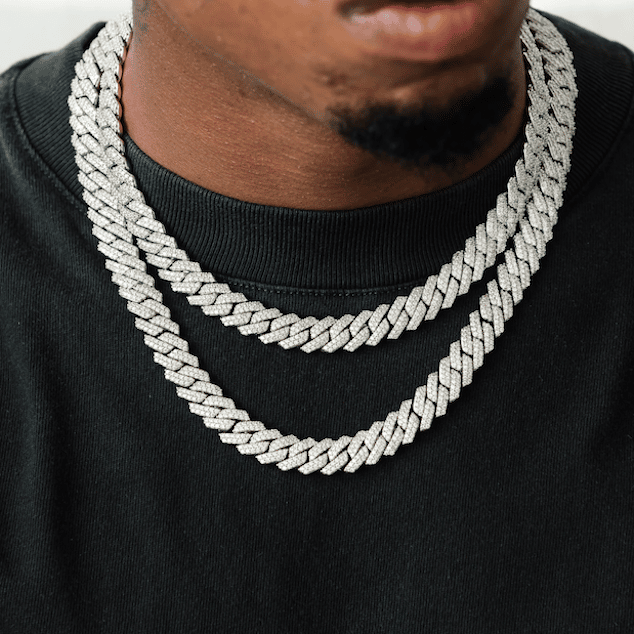 The allure of Cuban Link Chains and why celebrities seek out the much loved cultural staple. 
If you've seen a rap video, music award show, or a professional athlete press conference, you've noticed a common thing—pricey jewelry. These individuals have worked hard and want to showcase their wealth in the form of accessories. Some people wear rings, pendants, studs, and bracelets.
However, another piece you'll likely see is a Cuban link chain. Most people weren't aware of it before, but it's hard to find someone who isn't wearing one these days. But what are they, and why do celebrities love them so much? We'll explain more below.
What Is a Cuban Link Chain?
A Cuban link chain is a piece of jewelry that dominates today's world. It originated in Miami around the 70s and has continued to blossom into a cultural staple. One of the reasons it stands out is its interlocking oval rings, so it looks like a well-knotted rope. But it's also made with great attention to detail, so they are among the sturdiest chains available.
Cuban link chains come in multiple finishes, such as gold, rose gold, or silver. And they come in different sizes, which is why you'll see some celebrities with chokers—chains that fit tightly around their neck—and others that go down to their chest.
Why Are They so Popular Among Celebrities?
Everyone always wants to know why celebrities love the Cuban link chain so much. It's easy; it looks good and showcases their wealthy status. 
Gucci Mane got a HUGE cuban link chain from his wife Keyshia Ka'oir for Christmas 🥶❄️ pic.twitter.com/3WpfGMCEfq

— Rap All-Stars 🏆 (@RapAllStars) December 25, 2020
If you could afford pricey jewelry that made your ensemble better, would you? Some people would say yes because the world equates status to monetary possessions. So if you have a Cuban link chain, outsiders would be like, 'wow, they're wearing a Cuban, so they must be wealthy.'
Think about it like this—how many times have you seen hip-hop artists talking about their chain's length and size? For some time, it seemed like there was a competition amongst rappers to see who had the most extensive chain. For example, Gucci Mane has one of the biggest Cuban link chains ever recorded, weighing 22 pounds, with 540 karats of diamonds.
Are Cuban Link Chains Pricey?
Long story short, yes, a Cuban link chain is expensive, especially the ones that celebrities wear. Most of them are associated with gold, meaning the more used in the chain, the pricier it will be. Of course, there are other metal finishes, but the number of karats used will always be one of the determining factors of the final cost.
Furthermore, the size and length will also impact the cost. So let's take the Gucci Mane example from above—besides the information listed, that chain was roughly 32 inches long. In total, it cost about $2.5 million to make. Although most Cuban links don't cost that much, most celebrities will pay upwards of $50,000 for one.
View this post on Instagram
It's not because they're celebrities, but because of where and how the chains are made. Most opt to have them handmade by a specialist to include a personal touch, which takes hours of labor and materials. And if they're getting a bigger chain, the process can take even longer.
Can An "Average Joe" Afford to wear the luxury item? 
If you're considering buying one for yourself, all the talk about Cuban link chain costs might scare you. Although they can be pricey, anyone can wear one, and no, you don't have to pay enormous sums to get a stylish chain.
There are many affordable options for buying a Cuban link chain. Since they're in high demand, they need to be readily available. So there are places you can shop online to get a stylish chain to fit your budget. This doesn't mean you'll be buying a knock-off Cuban link; it means that you don't have to break the bank upgrading your wardrobe (unless money is no option).
However, you'll also need to be aware of places selling low-quality Cuban link chains. It can be challenging to do unless you're going to buy it in person. You don't want to end up spending money on a chain that makes your neck green after wearing it. So it's best to research diligently, ask questions, and read customer reviews to determine the best place to buy a Cuban link chain. 
The Popularity of Cuban Link Chains Will Continue Rising
Celebrities wear Cuban link chains and have been doing so for years. The history associated with them and how they enhance a person's appeal makes them a go-to option for many. The sleek design and durability are unmatched and will only add to the legend as time goes on. And who knows, maybe you might find yourself with one around your neck in the future.