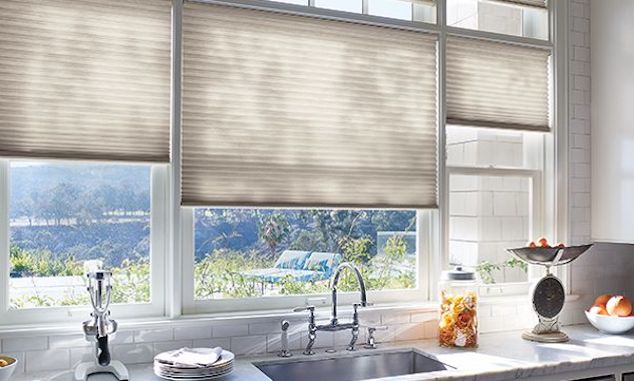 What to keep in mind when picking kitchen window treatments: from the window location, lighting, home decor along with ongoing maintenance. 
The kitchen is among the most trafficked spaces in any home. As such, giving the room some love is essential, ensuring you feel comfortable. One of the main decor concerns of a kitchen is the window treatments. You should keep aesthetic appeal and functionality in mind as you choose an ideal option. The best kitchen window treatments deliver proper lighting control, privacy, and keep your interiors safer from the harmful UV light. Nonetheless, picking the right kitchen window treatments can be overwhelming, with a lot of options to choose from, including designs and materials. Here are some considerations to help you choose the best kitchen window treatment:
Window location
Your kitchen window location can help you eliminate options based on safety and ease of maintenance. For example, if your window is over the stove, then you should avoid outside mount or long curtains that may be a fire risk. If it is near the sink, you are better off with an option that is easy to clean and is water resistant. It is all about practicality as you consider the location; you want a functional window treatment that doesn't make your kitchen unsafe or a hassle to maintain in top shape.
Lighting
How much light do you need? Windows help you to take advantage of natural lighting, saving on energy bills. As you consider the best treatment, lighting can help you narrow down the options. For instance, it wouldn't help if you pick an opaque option if the window is smaller, as that only limits the light that gets in the kitchen. Apart from the lighting, also consider UV exposure's impact. How much natural light is getting in, and how directly does it hit the floor, kitchen furniture, and other areas? UV causes significant damage. As you pick the best kitchen window treatments, it helps if you factor in and invest in a solution that limits such exposure.
Décor
You don't want kitchen window treatments that stick out like a sore thumb. Consider the rest of the décor and pick an option that complements it or make your window the focal point of the room. For example, a natural bamboo window treatment is ideal if your kitchen features a boho accent. If the space is more black and white, then splashing a pop of color with options such as patterned fabric shades works well. You don't have to compromise your unique taste and style. With an extensive selection, you'll find window treatments matching your exquisite taste and style.
Maintenance
While easily overlooked, maintenance can't be emphasized enough. With lots of odor, grime, and oils in the kitchen, the last thing you want is kitchen window treatments that demand a lot of work to keep clean. Some options like water resistant or immersible fabric curtains are easier to maintain, as you can take them down, clean, and re-hang. Pick an option that matches your situation, mostly considering how busy the kitchen usually is, since it determines the maintenance needed.
Don't rush the process; picking the best kitchen window treatment requires thorough consideration. This ensures that you invest in a solution you'll enjoy for many dinners to come.