VPN protocols and why SSTP (Secure Socket Tunneling Protocol) might be the better option for your Internet needs. 
When it comes to protecting your online privacy and access geo-blocked content, VPN can be a lifesaver. With hundreds of available VPN options, you can choose the one based on the unique features, the number of servers, price, and security features. For instance, when it comes to unblocking foreign content, Surfshark for Netflix is the best option, while ExpressVPN is best for ascertaining user's security and privacy. 
VPN services use various protocols to protect, encrypt, and tunnel user's data. You can also choose a VPN based on the preferred protocol. SSTP or Secure Socket Tunneling Protocol is considered one of the most effective ones as it can help you get past the geo-restriction barriers and surf anonymously. 
What is Tunneling 101? 
If you want to understand the working and the basis of SSTP, you have to understand that tunneling is as SSTP is all about the tunneling characteristic of a VPN service. Tunneling protects your sensitive information, search history, IP address, a location from being spied on, stolen, and hacking. 
A VPN accomplishes the tunneling feature by encapsulating, including covering the data you are sending with additional information and encrypting via providing extra security to the users. 
Encapsulation and encryptions are the best defenses provided by a VPN service that can help the user to protect their data and shielding private information from any threat.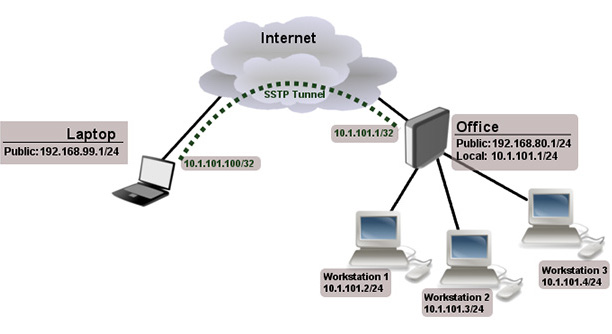 How do SSTP works?
Like various other VPN protocols, SSTP encrypts and encapsulates the user's data. The encapsulation is pretty similar to PPTP as it wraps one form of data into another state so no one can identify it. 
After the encapsulation, this wrapped data is sent through secure servers to the internet; SSTP uses Port 443 to send the information to the internet. It provides a simple yet effective form of encapsulation and uses Secure Socket Layer (SSL) for encryption.
Advantages of SSTP
Here are some of the benefits of the SSTP protocol, which makes it one of the most influential and standard VPN protocols. 
It provides exceptional encryption making sure that user's privacy is protected from cybercriminals and hackers. 




Port 443 used by SSTP for encapsulation can get through multiple firewalls as companies have difficulty clocking it. 




It offers complete anonymity resulting in immediate access to geo-blocked content. 




It can make VPN traffic appear standard HTTPS traffic online, ensuring that no one can detect the VPN activity. 




As Microsoft created it, it is easy to use and set up on Windows devices.




It works exceptionally well with Linux and Apple. 




It gets updated regularly, and the support for the protocol is pretty good, making sure that it is working properly.



Disadvantages of SSTP
Like any other VPN protocol, SSTP also has some flaws, and the VPN users need to know about it to make an informed decision. 

SSTP protocol is not ideal got P2P activity such as torrenting and online gaming. 




Advance encryption can slow down torrenting and gaming. 




The protocol is vulnerable to certain attacks, including the POODLE (Padding Oracle on Downgraded Legacy Encryption) attack.




Other entities can backdoor your information compromising your security and privacy as it is a proprietary Microsoft protocol.



Devices supported by SSTP
SSTP support smartphones (android devices & iPhones), tablets, PCs, and Windows desktops. It can be easily integrated with different operating systems, and some routers can efficiently run SSP and other protocols. 
Furthermore, Linux and Mac devices are also compatible to run the SSTP protocol. It becomes incredibly challenging to run a SSTP VPN with a non-window device.
Set up a VPN with SSTP
It is possible to set up a VPN with SSTP without a VPN provider, especially in the case is a Windows device. You can manually configure the device, connect it to a network, select a VPN internet connection, and select a server. 

In this case, you will also need to install and create SSL, generate a client, and ensure accurate security measures are in place. Though we can agree that the process is pretty complicated, you can opt for a premium VPN service. Here is how you can set up an SSTP VPN via a VPN service
Subscribe to the free trial or a premium account of a VPN. 




Create an account.




Download the VPN on the desired device. 




Click through the installer created by the VPN provider. 




Open the VPN client and sign into the account using your login credentials. 




Select the interface. 




Start using the SSTP VPN.



Closing
There is no doubt that SSTP is one of the strongest VPN protocols if the users trust Microsoft. Suppose you plan to use your VPN on a Windows device and are not interested in activities supported by high-bandwidth activities, including torrenting and gaming. In that case, SSTP is a perfect protocol for you. If you want a VPN with SSTP, you can easily install and run one of our recommended choice ExpressVPN according to the provided steps.