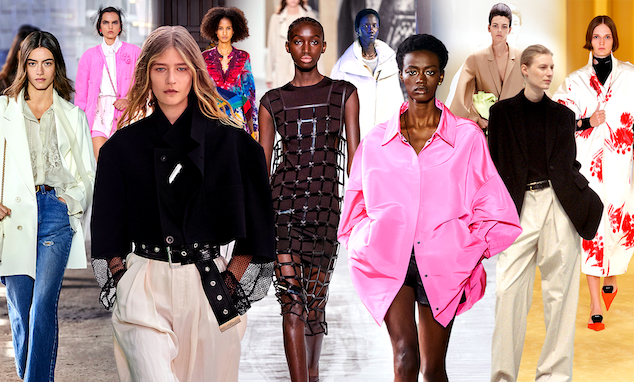 Emerging Fashion Trends for Spring/Summer 2021: What to look out for, what's coming back and where to wear choice items once social isolation lets up. 
Even though the past year was very turbulent for all involving self-isolation and limited social interaction, it doesn't mean that the fashion industry stops. People will still follow the latest fashion trends even when they are not going out at parties or in bars. 
This year started promising, and so does the fashion industry. There are a couple of unique trends that are revived from the past and they are definitely the best way to make a statement.
In today's article, we will focus on the spring/summer fashion trends just so you can update your wardrobe with a couple of fresh new pieces that will make you stand out.
Let's find out what you should consider wearing this year.
   1. Oversized Shoulder pad Jackets

Yes, the 80s trend is back and it will take the world by a storm. What was considered an outdated trend a few years ago, now will create a long line silhouette and enable you to play with shapes.
Just because such jackets have big shoulder pads, it makes a statement for your upper part of the body and since it comes down to your waist, it elongates your legs. The best way to combine a shoulder pad jacket is by wearing straight-leg trousers or leather shorts for a sleek and modern style. 
Don't be afraid to add a bit of color. Fashion experts predict that we will see a lot of neutral, charcoal, and blue jackets this year.
   2. Head Scarf

Hold on to your hats just because they might be a thing of the past. The new 50s and 60s trend is back in a big way and it involves headscarves to protect your hair and adding a finishing touch to your outfit. 
In order to make a statement, you should choose a silky design with intricate patterns or flowers, or keep it simple with bold neutral colors. If you want to wear this trend like it should be worn, you should tie a knot under your chin for a full-on babushka look. It is the best way to channel your inner Grace Kelly.
  3. Sorbet Pastel Tones

We all know that fashion is not only about the shape of the pieces you wear, but also about how you combine colors. We saw a lot of sorbet pastel tones in the past year and this trend will continue with its popularity for this year.
Such pastel colors are the perfect option for summer and the best thing is that they suit a variety of skin tones. You can go either with cool mint green with an oversized coat or soft lavender to spice things up.
  4. Lemon-colored Bags

Bags are such an important accessory in everyone's wardrobe, and this year you can spice things up a bit by involving a vibrant yellow color bag. Even though this is a timeless trend, the combination of colors is changing. 
This year we will see a lot of neutral-colored outfits with striking yellow bags to accent the look.
  5. Folk-Inspired Outerwear

Did you throw away all of your grandma's pieces? – If you did, you'll regret it when you see what has the fashion industry prepared for us this year. 
Experts predict that we will see a ton of folk-inspired coats at the end of this year when temperatures will start to go down. Since this trend involves complicated pieces with many details, it is best if you combine them with a simple shirt underneath. 
It definitely looks great on every body type and we strongly suggest that you try it. You can also go for an intricate tapestry on each piece with monochrome black or brown ensemble. Hopefully we can gather again soon in Spring, once COVID-19 measures slow down and you can try these fashion choices on picnics, social events or maybe on the TwinSpires Kentucky Derby.
Final Words
These are some of the fashion trends you should follow this year. Some of them require a bit of bravery, but after you try them on, you'll build your confidence. Since things are moving quickly, we can even expect smaller short-lived trends along the way.