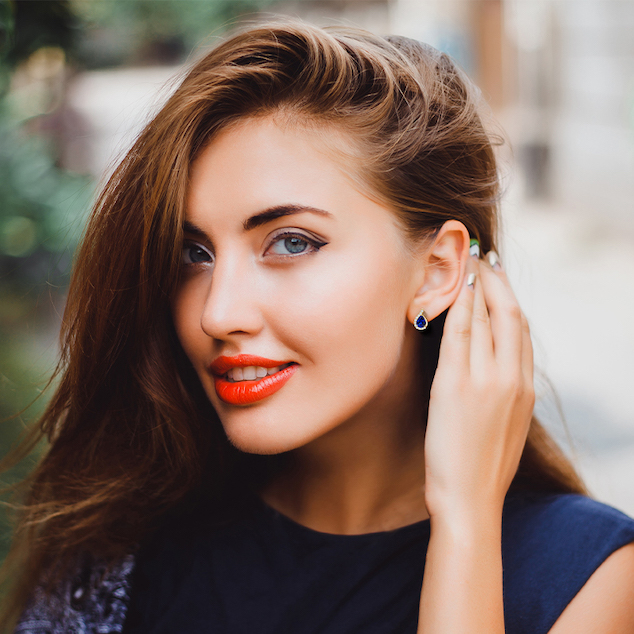 5 Earring Styles Every Woman Must Own: A woman's key to complimenting her wardrobe, outfit often comes down to her choice of earring, for which outfit, occasion or mood awaits. 
Every woman knows that earrings are more than just a mere accessory. Not only does the correct pair of earrings add an instant touch of sparkle to any outfit, but it also enhances the grace and beauty of women. When it comes to earrings, there are so many different and elaborate styles available today. And while it is always good to have a jewelry box filled with a well-rounded collection, a few earring styles are a must-have in every wardrobe.
Wondering what they are and how to go about this? To help you build your collection of fine jewelry, we've rounded up a list of five earring styles every woman must own.
1. Stud Earrings

Stud earrings perfectly encapsulate the phrase, "less is more". Though studs are small in size, they effortlessly accentuate the facial features most attractively – making them an absolute must-have. Due to their minimal yet stylish appeal, stud earrings look good with any outfit and make great work accessories. While a pair of diamond stud earrings continue to remain a quintessential staple, those looking to add some elevated styles to their earring collection should consider choosing designs with a halo or even stud earrings embellished with colored gemstones. If you are searching for more earrings, you can visit Gthic. 
2. Hoop Earrings
The appeal of hoop earrings lies in their distinct look and versatility. Ranging from simple to embellished and small to big, hoops are available in so many styles and sizes. And there is a style to suit every woman's style sense. If you are looking for effortlessly chic styles to wear every day, plain metal hoops, J-hoops, and huggie hoops are good options. But if you want them to make a dramatic and glamorous statement, consider the more elaborate styles like geometric or diamond-encrusted ones. Now you see why they are a must-have?
3. Drop Earrings
Drop earrings are similar to stud earrings, but these earrings drop just below the earlobe, as the name suggests. They look regal and are apt when you want to look your dressy best. What's keeping you waiting? Go ahead and add that perfect pair of drop earrings to our fine jewelry collection right away.
4. Dangle Earrings
Dangle earrings render a classy and playful touch to your look and are hence an evergreen earring style. Like the drop earrings, these earrings hang down below the earlobe but are longer and have a dangle element. Be it a simple dress or a flowy evening gown, count on dangle earrings to be your go-to accessory for a flawless, feminine look. 
5. Earring Jackets
Compared to the other earring styles mentioned so far, earring jackets have become popular only in recent years. But due to their extremely versatile and stylish appeal, they have become a must-have style. Earring jackets are the easiest way to transform your existing pair of stud earrings into bolder pieces. You can add a sparkling halo around the center stone with earring jackets or use them to lend an additional design element – either way, these versatile add-on accessories are fun.