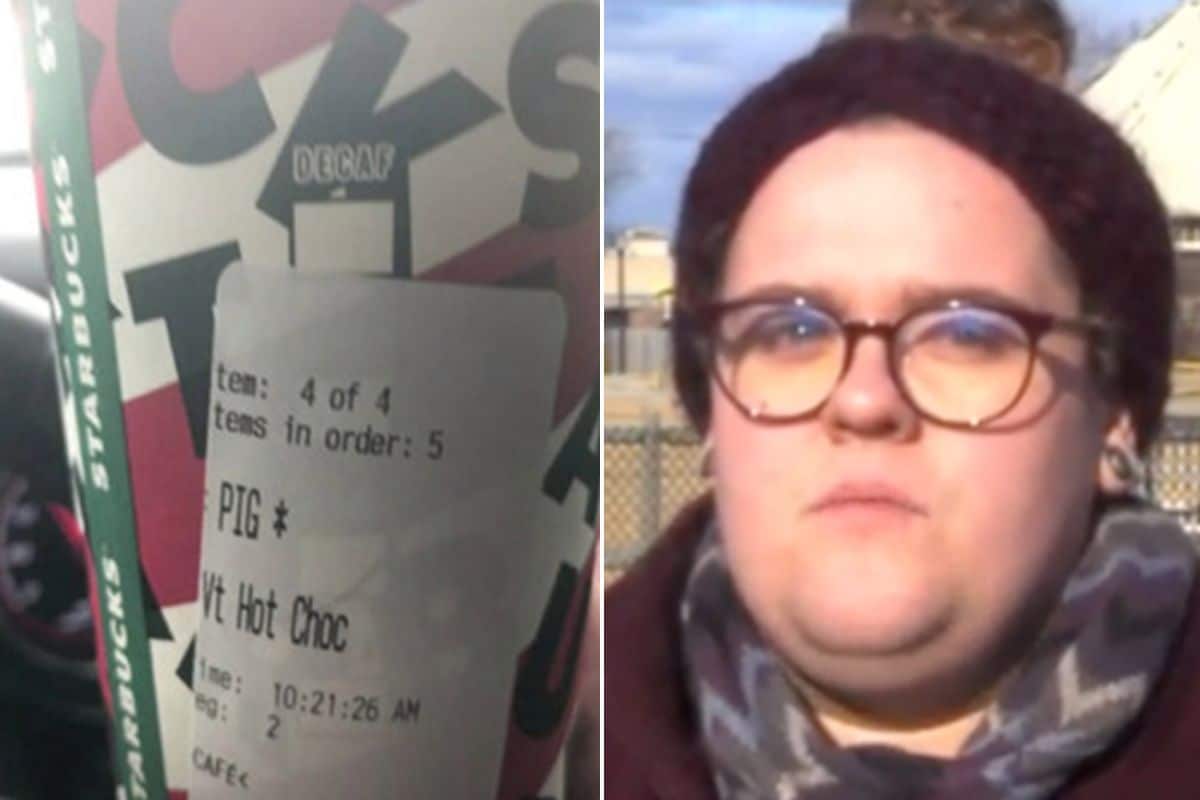 Lola Price Glenpool Starbucks manager at Oklahoma branch insists she was unfairly fired over Pigs coffee cup scandal and made to be a scapegoat. 
Because America still loves its police force. Or does it?
A manager of the Oklahoma Starbucks where a cop received an order labeled 'Pig' insists she's been made a scapegoat after being 'wrongfully' fired cause the coffee chain was 'looking for someone to take the blame.'
Lola Price, who worked at the Glenpool location, said she wasn't the one who wrote the disparaging remark on all five coffees ordered by a local officer on Thanksgiving, KTUL reports.
'I was terminated from my position because, Starbucks was looking for someone to take the blame for this and to save some face from their company,' the chagrined woman said.
Price said that she tried to make the situation right with the officer before he left the store.
'He laughed it off, said it was cool,' Price said. 'I handed him his blueberry muffin and I went back off the floor to continue doing my shift manager duties.'
But Lola a carefree shift manager was in for a very rude surprise…
wow this latest starbucks vs cops thing has gone from *pig* on a cup

to a barista claiming the cop made it all up

to a girl claiming her father is an abusive racist

to people thinking *pig* on a cup leads to cops getting murdered

to me wishing social media didn't exist

— Blonde Lady Cop (@BlondeinKevlar) December 1, 2019
Smells like another Starbucks Public Relations Disaster: 
Matters soon devolved after Kiefer Police Chief chimed in, expressing his disconcert.
Posted Kiefer Chief of Police Johnny O'Mara, on Facebook: 'What irks me is the absolute and total disrespect for a police officer who, instead of being home with family and enjoying a meal and a football game, is patrolling his little town.'
Hmm. Would you like another blueberry muffin with that? What if we warm it up in the microwave?
O'Mara's post went viral, prompting Starbucks corporate officials involvement and firing the employee who printed the labels —along with the Police Chief's purported own daughter chiming in and saying her father was 'absolutely' a pig as well as a racist and deadbeat husband and father and all round general degenerate. 
Responded executive heads seeking to ward off yet another public relations disaster: 'The Starbucks partner who wrote this offensive word on a cup used poor judgement and is no longer a partner after this violation of company policy.'
The statement, however, doesn't make any mention of Price's termination.
She said she received a call Thursday evening from her supervisors informing her that she was being fired.
'They, to make it seem like they were right on top of everything, which they are … they terminated me from my position with no cause,' Price told KTUL. This despite it was a barista having written on the cups and since let go of.
Sorry it appears we're all out of muffins today. Have you tried other locations or simply other vendors? In God, and State, and Starbucks do we believe in?
The coffee chain has to date declined to respond to media overtures for comment. And of course there were these sample comments flying off the twitter echo chamber too.
Americans there are plenty of good coffee shops around. How about we start going to them. Any one who calls are Police Pigs . We as Americans should support our Man In Blue.Know more Starbucks for us

— Michal Susi (@MichalSusi) December 3, 2019
@Starbucks what is going on with your employee culture? Just saw the Oklahoma "PIG" story. As a frequent customer I am starting to get concerned with what your brand represents.

— Shane Loveless (@FishhawkShane) December 3, 2019