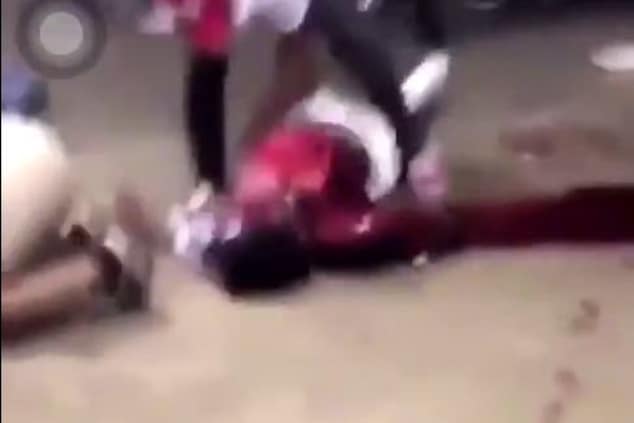 Texas A&M Commerce Homecoming mass shooting motive unknown as gunman kills two injures 14. Manhunt on the way for unknown suspect.
Another day, another mass shooting in America.
An unknown gunman has killed at least two students and injured 14 more after opening fire at an off campus university homecoming party in Texas. A manhunt is now underway for the shooter who remains at large CBS DFW local reports. 
Emergency services were called to The Party Venue in Greenville, near Dallas, where an estimated 750 Texas A&M University-Commerce students were celebrating coming back to school.  
Video taken in the wake of the attack shows (since removed by Twitter) scenes of chaos, with multiple students on the floor dead or injured, while others try desperately to help their dying friends. 
Of disconcert, efforts to find the shooter have been complicated by witnesses reluctance to cooperate with law enforcement and conflicting statements, cnn reports.
Update: Texas A&M gunman arrested. Motive still unknown
Texas A&M shooting fatal victim: Was he targeted?
Carnage leaves 2 dead, 14 injured:
During a press conference, Chief Deputy Buddy Oxford said the shooting began around 15 minutes after deputies arrived outside the venue, responding to reports of illegal parking circa 11. 45p.m local time.
Deputies heard gunshots coming from the back of the building but could not tell whether the shots were fired from inside or outside, Oxford said.  
Officers found the two men who had been killed inside the building and 14 others needing treatment for various injuries.  
Of those injured, 12 were shot, Hunt County Sheriff Randy Meeks told reporters. Other victims suffered cuts and other injuries from escaping through windows. About four or five of those injured were students at the university, he said.
Hunt County Police said three air ambulances took victims to a local trauma hospital and other victims were taken to three other hospitals nearby.
The conditions of all the wounded were not released, but reports indicated some of them were critically wounded. Of note, social media indicated one of the fatalities as that of Pleasant Grove, Texas man, Kevin Berry- also going by the name of Choppaboy Wess.
Developing: Mass Shooting at Texas A&M Commerce College Homecoming. Scene is secure but murder is still at large as of 1:28am. At least 3 killed 20+ injured. Will Update when we can.

What a nightmare, when will it be enough… pic.twitter.com/2QHcx5rBTX

— Terrence Daniels (Captain Planet) (@Terrence_STR) October 27, 2019
Texas A&M gunman motive: Targeted killing?
It was initially thought a .227 caliber rifle was used during the shooting. Meeks later said a handgun being used. Authorities had yet to determine the motive. 
Police believe the gunman walked in the back door of the party. The initial investigation suggests the shooter was not a partygoer but that he likely got to the party before deputies arrived in response to an unrelated complaint. 
One witness account described the shooter targeting his first victim before randomly opening fire with his handgun, the sheriff said.
'The amount of people that were there, the overcrowdedness of it — it gave the opportunity for this shooter to be able to accomplish whatever he wanted to be able to accomplish,' Meeks said. 'When you have this many people in one place, it's an easy target for somebody.'
Told party attendee, Markeice Ford via WFAA: 'I came from the restroom and out of nowhere, just six, seven gunshots just go off, boom, boom. Boom!'
'It just kept going, like it wasn't going to stop.'
He said he saw three bodies laid out in the middle of the floor and had blood all over his clothes.
'I don't really know what to think,' Ford continued.
University officials said that the party was not an officially sanctioned homecoming event and had been organized by a group called 'Good Fellows', some of whose members are students at Texas A&M University-Commerce. 
Texas A&M Commerce shooter killed 2 people but witnesses are refusing to talk… That is suspicious

Police say witnesses aren't helping them find a gunman who killed two people https://t.co/0RY2AZi0BV

— 🆉🅴🅿🅱🅻🅰🅲🅺🆂🆃🅰🆁 (@zepblackstar) October 27, 2019
Texas A&M gunman suspect identity unknown:
Authorities said the gunman was able to 'easily' flee during the commotion, while criticizing witnesses who had failed to offer detailed description of the male suspect or any suspect vehicle.
'It appalls me that, as many folks that were there, [they] have not been able to give us a better description of the shooter,' Meeks said.
The sheriff pleaded with party attendees to provide any information they might have about the gunman.
'We need to get him off the street as soon as possible, and we have very, very little to go on right now,' he said.
Anyone with information about the shooting is asked to call the Hunt County Sheriff's Office at 903-453-6800 or Crime Stoppers at 903-457-2929.
Texas A&M-Commerce is a public university, and the third-largest institution of the A&M University system.
Greenville is a city of 27,000 located 50 miles northeast of Dallas.