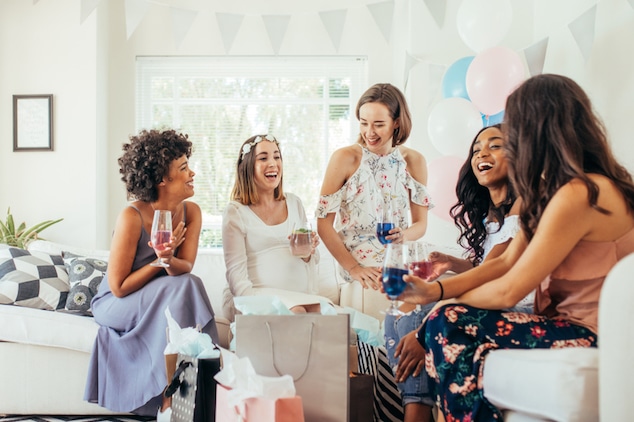 How to throw an amazing baby shower: Pointers and tips when hosting for an upcoming baby shower for an expectant mother, themes and logistics to keep in mind. 
Got someone in your life who is expecting? Are you the one who is going to throw them a fun and memorable baby shower? Are you eager to make the day the best that it can be, but aren't sure where to start? Whether this is the first baby shower you've organized or your fifteenth, there's always some pointers and tips that can take your hosting skills to the next level. Want to know how to throw an amazing baby shower? Read on.
Create Hand-Made Special Touches
If you're the mom-to-be, you'll love how versatile yarn designed for your baby can be. These yarns are guaranteed to be delicate and durable enough for a baby's sensitive skin. You will also appreciate the soft colors and pretty patterns that you can find in Bernat Baby Blanket yarn and other Bernat baby yarns, too. To really embrace the look and feel of a baby shower, incorporate these soft materials in the party favors and décor.
Impress your guests and leave them with a memento of the day by preparing party favors that reflect the spirit of the day. If you're crafty with yarn, you can make small crochet amigurumui figurines that your guests will surely love.
Decide on a Theme for the Day
In today's more progressive world, there's less pressure to plan baby events around gender. You don't have to stick to the traditional "dinosaurs and trucks" theme for boys or "pink princesses" for girls. Of course, everything comes down to preference. Mom-to-be is the kind of person who wants nothing more than a "blue" themed baby shower for her expected baby boy, and that's alright too.
Your party's theme can be as simple as a color scheme that you showcase through the decorations, table settings, and gifts for the guest of honor and the guests. A theme can also be a little bit more elaborate, which can be useful when it comes time to pick other important party details like games, music, or entertainment. 
Take a look at the following baby shower themes, maybe there's something that would work for your event.
Modern safari

Elephants and hippos

Grimm's fairy tales

Stars and planets (based on "Twinkle, Twinkle, Little Star")

Unicorns and rainbows

Tropical paradise

The jungle and the wild (take this a step further with the theme "wild child" and you can incorporate some blast from the past hippie décor, too)

Natural elegance (nothing wrong with keeping things simple, use as many natural elements like flowers and fruits as you want)

Sailors and all things nautical

Hollywood: Lights, camera, action, and baby!

Don't Forget the Logistics
With a vision, theme, and color scheme picked out for this baby shower, the only things that remain are the finer details. Do you know where the shower will be held? Typically, the person throwing the shower offers their home for the location of the party, but you can skirt this tradition and pick another venue that works.
You'll also need to finalize the guest list, which can be done with the help of other friends and family of the mommy-to-be. With guest list and venue established, you can plan the snacks and food accordingly. Catering the event can be a big relief, but for those who enjoy cooking and preparing food, home-baked and prepared items can be just as delicious and nice to look at.