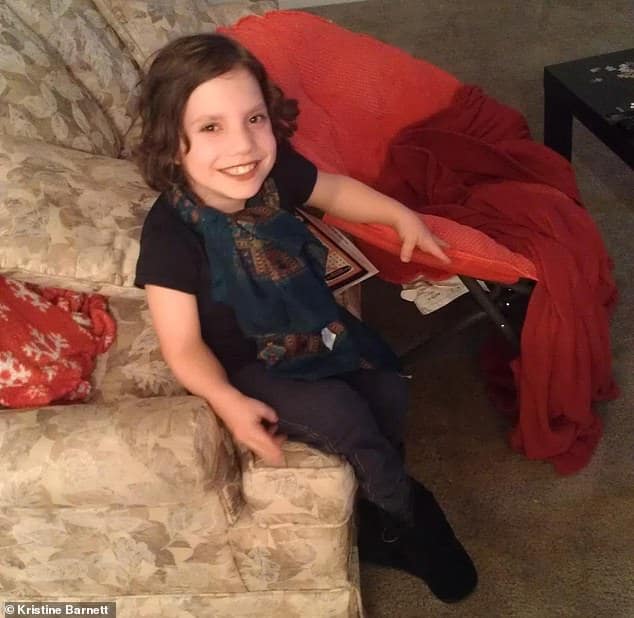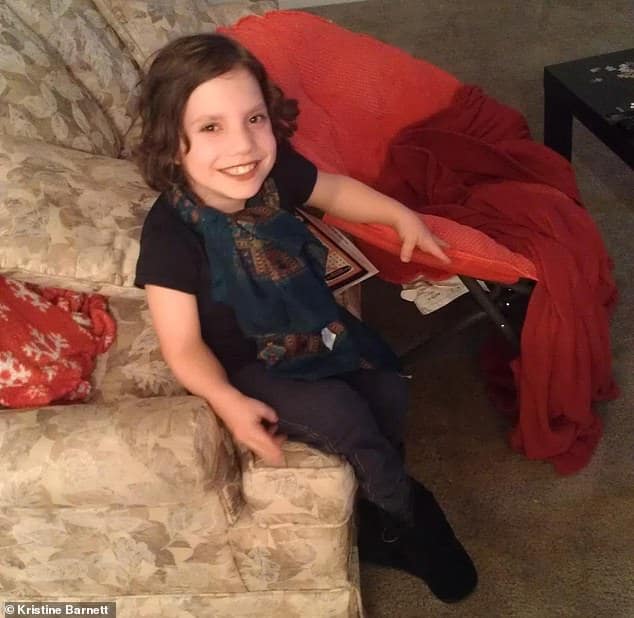 Indiana couple, Kristine and Michael Barnett accused of abandoning adopted Ukrainian girl, Natalia, who they claim to be an imposter and not the 6 year old child in 2010. 
A former Indiana couple have been accused of changing their adopted daughter's age from 8 to 22, and then abandoning the adopted Ukrainian girl suffering from dwarfism and moving the rest of the family to Canada, prosecutors said.
Michael Barnett, 43, and his now ex-wife, Kristine Elizabeth Barnett, 45, were charged on two counts of felony neglect of a dependent. 
Following accusations against both Barnett parents, warrants were issued for Michael and Kristine Barnett, with both appearing in Tippecanoe County Superior court last Tuesday.
Each was released the following day after posting a $5,000 surety bond and $500 cash, court records show.
The alleged neglect covers a timespan ending Feb. 28, 2016, when the girl moved out of Tippecanoe County. Exactly 15 days later, a different couple petitioned to become guardians for the girl. WISH-TV has determined the Barnetts filed an objection and the case references an age issue.
The petition was dismissed almost two years later in January 2018 when the second couple changed their minds, but there's no mention of why.
According to Katherine Barnett, it was Natalia who had stopped their daily communications, having vanished and ceasing to return her calls.
Barnett told DailyMailTV she feared Natalia had stopped taking her medication and was probably posing as a child again for another unsuspecting family.
But that be the beginning of the twists and turns that has since led to a number of agencies involved.
A case of moral failure? Indiana couple charged with abandoning adopted Ukrainian dwarf daughter face jail
Adoptive parents change daughter's age from 9 to 22 years old: 
In September, 2014, the county sheriff's office became involved when Natalia Barnett told authorities that Michael and Kristine adopted her in November 2010, according to a probable cause affidavit.
According to the court document, Natalia has a form of dwarfism and hospital records from June 2010 showed her age was approximately 8 years old.
However, hospital records from June 2012 showed she was about 11, the affidavit says. That same year, prosecutors say Michael and Kristine legally changed Natalia's age to 22, and the following year they moved to Canada, leaving her alone in an apartment in Lafayette in Tippecanoe County.
Natalia told authorities during that September 2014 interview that she is originally from Ukraine and came to the United States in 2008 through an adoption program, the court documents state.
She told authorities that she had not seen her adoptive parents since they moved to Canada circa 2013.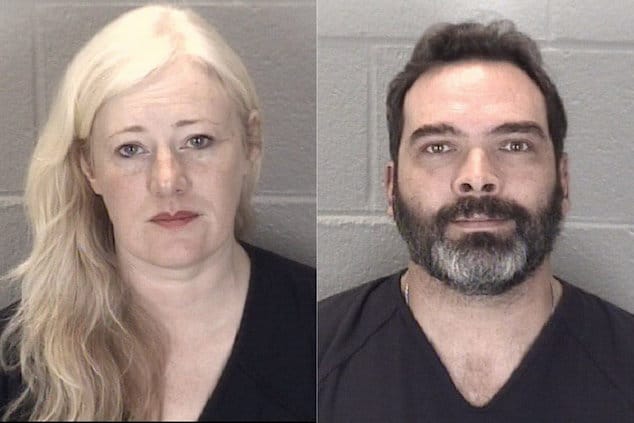 Not the callous individuals the press has painted us to be:
Earlier this month, authorities spoke with Michael who confirmed that he and Kristine had Natalia's age changed in 2012 even though doctors had determined she was a minor.
'Michael Barnett admitted Kristine Barnett told Natalia to tell others Natalia looked young but was actually 22,' the affidavit states.
In June of 2012 the Barnetts successfully applied to Marion County Superior Court in Indianapolis to have Natalia's age 'corrected' so she could receive the appropriate psychiatric treatment for an adult.
Following a bout of incidents which included Natalia allegedly threatening to kill her adoptive parents, the Barnett family took the girl to a state-run psychiatric unit to get help. During treatment, the girl allegedly confessed to being much older, and re-affirmed wanting to kill her family.
WLFI got a doctor's report that says the Barnett's daughter is actually an adult. The letter says the girl has 'made a career of perpetuating her age façade,' and she has 'continued to fool those who have the best intentions.'
In documents seen by DailyMailTV, Judge Gerald S. Zore accepted the couple's allegations were 'true' and revised Natalia's date of birth to September 4, 1989 – changing her age from eight to 22.
At this stage, Kristine Barnett points out, Natalia was considered an adult by the state of Indiana and was legally responsible for herself and was now eligible for psychiatric care.
Michael also told investigators that he and Kristine paid the rent for the apartment in Lafayette but 'did not financially support Natalia after leaving' for Canada, the document states. The affidavit alleges that the neglect went on from July 2013 to February 2016, when Natalia moved out of the Tippecanoe County area.
The court document does not say how Natalia was able to care for herself after she was abandoned in Indiana.
in September 2014, the Barnetts stopped paying for Natalia's Lafayette, Indiana rental. The reason for this may be because the girl was evicted in May of that same year, according to WISH-TV.
Concerned neighbors intervened and looked after Natalia, according to court papers
In 2016, Natalia moved away from Tippecanoe County to enroll in tuition-free classes at a high school for adults and older youth called Excel Center, according to WLFI.
To date the Tippecanoe County sheriff's office had declined to comment on the case.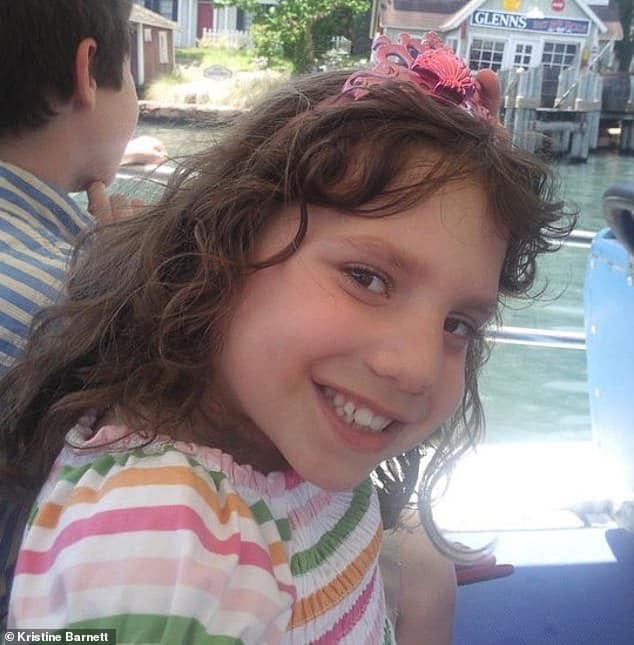 Victims of fraud? 
According to Michael's lawyer, Terrance Kinnard, his client believes he and Kristine are the victims of fraud and were led to believe that they were adopting a child when Natalia was actually a young adult between the ages of 18 and 22 who was presenting herself as a minor.
Kinnard also denied that his client abandoned Natalia, telling NBC News that Michael and Kristine moved to Canada to pursue an opportunity for their son and paid the rent at the Lafayette apartment upfront so Natalia would have a place to stay.
Authorities in Tippecanoe County became involved after Natalia presented herself as a child to another couple and asked them for help, Kinnard said.
Kristine claimed in an interview with WISH-TV in Indianapolis that Natalia was diagnosed as both a psychopath and sociopath, and that when she and Michael adopted her she was actually an adult and not a child as they believed.
Kristine called the adoption a 'scam' while declining to offer details. According to WISH-TV, Michael and Kristine filed for divorce in 2014, shortly after moving to Canada. The divorce was finalized last year.
Is Natalia Barnett an imposter?
Nevertheless a report via the dailymail on Monday appeared to offer new details in the case.
In the account, Kristine Barnett claims the true victims are her and her family who she says were terrorized for years by the 'mysterious impostor' who threatened to stab them in their sleep, pushed her towards an electric fence and poured bleach in her coffee.
'The movie 'Orphan' is exactly what happened the former adoptive mother said.
'She would make statements and draw pictures saying she wanted to kill family members, roll them up in a blanket and put them in the backyard,' she told DailyMailTV.
Are the charges false?
The mother in this case told News 8 in a September 13 report not knowing about charges against her and her former husband until the outlet told her.
In a September 15 Facebook post, Kristine said she was shocked over the allegations against her.
'I am sick and devastated from the idea of any of these charges and maintain that they are false charges,' she said.
Continued the post, referencing an alleged erroneous Washington Post article announcing her 'recent' arrest: 'Friends and family you decide if what you are reading is real or fake for yourselves. I am having to come in here to confirm I am not arrested and my attorney states and has confirmed there is no warrant for my arrest.'
'The media is painting me to be a child abuser but there is no child here,' told Barnett via the Dailymail come Monday.
'Natalia was a woman. She had periods. She had adult teeth. She never grew a single inch, which would happen even with a child with dwarfism.
'The doctors all confirmed she was suffering a severe psychological illness only diagnosed in adults.
'She was jumping out of moving cars. She was smearing blood on mirrors. She was doing things you could never imagine a little child doing.'
Of note, Kristine is an author whose family previously made headlines as her son, Jacob, who has autism became what many considered a math prodigy. Jacob's story was featured in national media, including on "60 Minutes" in 2012.
As for Natalia, neither the Barnetts, their attorneys, nor seemingly anyone else involved in this baffling case, appears to know her whereabouts. That is – until one astute reader reached out to scallywagandvagabond.com and pointed out to images of Natalia appearing on Indiana local, Cynthia Antwon Mans' Facebook page (see image below).
Overtures for comment by the Indiana native had yet to be returned to scallywagandvagabond.com.
And despite the possibility she is now 30 years old, Natalia's full court records will remain sealed until a court decides otherwise because adoption cases are treated as confidential.
Michael Barnett is due to appear at a hearing in Tippecanoe Superior Court in Lafayette on September 24.