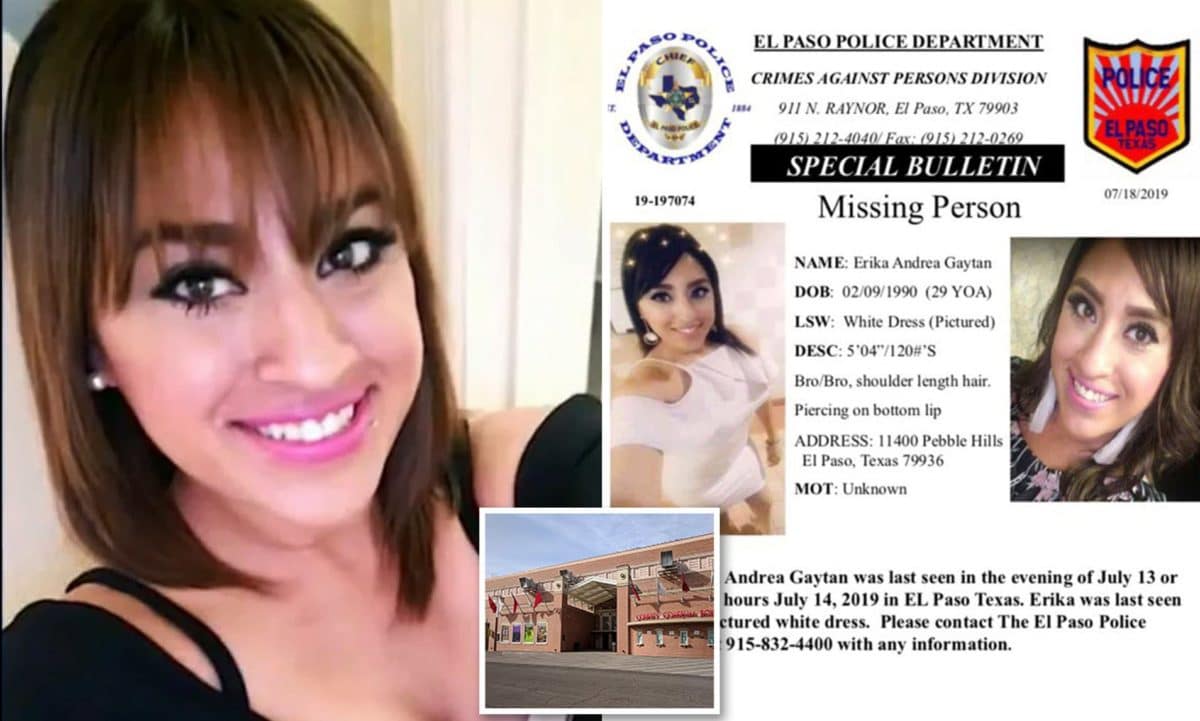 Erika Andrea Gaytan a missing El Paso, Texas woman is declared endangered by authorities after the mom of a 7 year old boy is no where to be found after a week. 
El Paso, Texas, police have issued a missing-person alert for a 29-year-old mother who hasn't been seen since she went on a date to a concert last weekend, with authorities come Thursday saying the woman was 'endangered.'
The warning follows Erika Andrea Gaytan making several Facebook posts from the July 13 'El Reencuentro Norteno' concert at the El Paso County Coliseum, where she was last seen leaving late that night or early the next morning, investigators said.
Gayta is described as being 5 feet 4 inches tall with brown eyes, brown hair and a piercing on her bottom lip, KFOX14 reported.
Police released a photo of Gaytan wearing a white dress and smiling on the night she disappeared.
The unidentified man who was on the date with her told police he left her at the Coliseum, where Gaytan subsequently called an Uber, KVIA reported.
It is unclear if police consider the man a suspect. 
29-year-old Erika Andrea Gaytan was last seen @ the El Paso County Coliseum in El Paso, Texas on the evening in July 13th or in the early morning hours of July 14th wearing a white dress. She is 5'4, 120 pounds, and Hispanic w/ brown hair, brown eyes, and a piercing on her lower pic.twitter.com/jqZ1a4obRu

— Missing Persons Planet (@Home4theMissing) July 19, 2019
Erika Gaytan's family say it's unlike her not to reply:
Family told KFOX it's not like her to not reply.
'The last time I spoke to her was, she texted me, she told me,' 'Can you send me a picture of my son in the movies?' So, I went ahead, 9:30 p.m. That was the last text I got', the father of Gaytan's 7-year-old son, Viktor Renovato said.
Renovato said his son doesn't know his mother is missing yet.
'It's been seven days. No mom. No nothing,' the father reiterated. 'He knows something is going on, and it's heartbreaking. It's a devastating week.'
Adding, 'She's a really good mother. She's been with my son, whatever he's needed. My son loves her. So, she's a really good person. The friendliest person that I could have met'.
Gaytan's friends told KFOX14 she posted to social media several times during the concert with her last posts showing the stage at the concert and a selfie in the bathroom. 
Police to date have declined saying if they suspect foul play with the investigation ongoing and there with no new updates at present.
Anyone with information on Gaytan's whereabouts is urged to contact El Paso police at 915-832-4400.
This is where 29-year-old Erika Gaytan was last seen late Saturday night. @EPPOLICE say she could be in danger.

Anyone with information is asked to call police at 915-832-4400. @KFOX14 @CBS4Local pic.twitter.com/5R0tQP0kF5

— Mills Hayes (@MillsKFOX_CBS) July 19, 2019