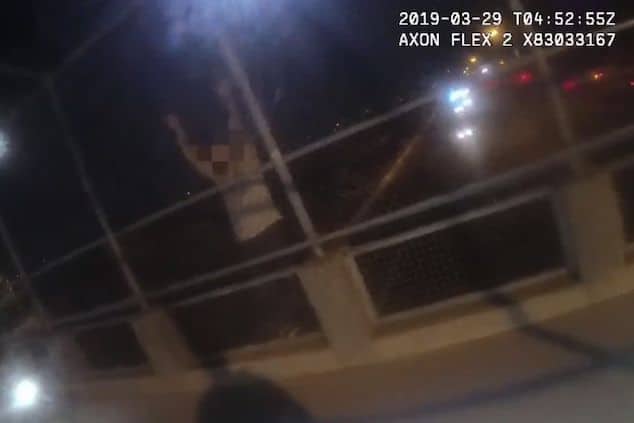 Video: Arizona, Chandler Police Officer Aaron Little saves suicidal man life after threatening to jump off bridge spanning Price Freeway with offer of a hug. 
A police officer with the Chandler Police Department in Arizona has been hailed a hero after saving a man attempting to jump off a bridge by offering him nothing more than simply to give him a hug.
Rather than snatch the man up, or tackle him, Chandler Police Officer Aaron Little chose to offer the suicidal man a hug.
'I'm not going to do anything to you,' Officer Little can be heard saying on his body camera. 'Come give me that hug.'
The incident took place on March 28, however, footage from Little's body cam wasn't made public until this week. The cop kept his cool the entire time, offering an embrace and nothing more.
'I'll hug you, man. I don't care,' said Officer Little. 'I just want to talk to you. I swear.'
Noted the post from the Chandler Police Dept: 'In the early evening of Thursday, March 28, 2019, a 26-year-old male climbed the protective railing of a pedestrian bridge that spans the Price Freeway with the intent to jump. Officer A. Little arrived at the bridge and, after developing a rapport with the male, Officer Little was able to convince him to climb off the railing and back to the safety of the bridge.'
'I need you to come over here with me,' Little, who has been with CPD for five years can be heard initially saying.
'I don't know why,' the suicidal man can be heard saying as he appeared to be climbing lower.
'Don't you want that hug?' Little asked. 'Then come up here. I will give you that hug.'
The video shows the man clinging to the fence as Little continues talking calmly to him.
'Please climb up over that fence, buddy,' he said. 'Please. It's just me and you, man. That's it.'
He did climb back over, and Little gave him that promised hug.
Experts with the local EMPACT Suicide Prevention Center praised Little for his calm and casual behavior, as did the Chandler Police Department — which called the incident 'extraordinary.'
'The officer didn't seem shocked by what the individual was doing, and maintained his distance from him,' Erica Chestnut-Ramirez, Director of Crisis at EMPACT, told KSAZ-TV. 'Being sympathetic, non-judgemental [and] calm.'