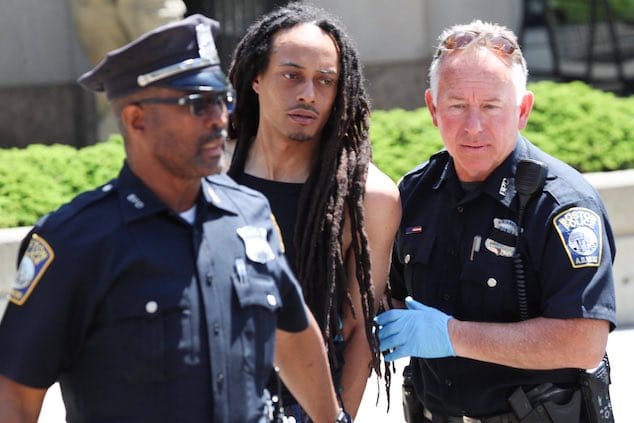 Luckinson Oruma Boston taxi driver and father of five shot dead (9 times) by Phillip Foy after refusing to pick up fare in broad daylight. 
A man has been arrested after gunning down a Boston taxi driver nine times after the cabbie refused to drive him to a town about 30 miles (50 kilometers) from where he hailed the driver.
The victim, 60-year-old Luckinson Oruma, died at a hospital after the shooting in broad daylight Tuesday outside a hotel in downtown Boston, circa 11.00am. 
Phillip Foy of Pawtucket, Rhode Island, pleaded not guilty Wednesday at his arraignment on charges including murder and armed carjacking 7 News Boston reported.
Prosecutor John Verner said Foy demanded a ride to Mansfield, about a 30-mile (50-kilometer) drive from Boston's Back Bay region. When Oruma declined, Verner said Foy told the driver: 'You're gonna move this cab, or I'm gonna move you.'
Adding, 'Mr. Oruma fell to the ground and the defendant stood over him and fired a few more times, while he was down.'
This morning, a Pawtucket man will face a judge in Boston. Phillip Foy is accused of shooting and killing taxi driver, Luckinson Oruma in broad daylight yesterday morning.

This morning, hear more from Oruma's family members on Eyewitness News This Morning on @wpri12. pic.twitter.com/FFmcn1VELz

— Alexandra Leslie (@AlexandraLeslie) June 5, 2019
NEW: Slain Boston cab driver was shot 9 times yesterday in the Back Bay, prosecutors say.

Phillip Foy has pleaded not guilty to killing Luckinson Oruma: https://t.co/8Bcs0VaTuN

— WBUR (@WBUR) June 5, 2019
Luckinson Oruma's alleged killer described as coward by gathered friends and family: 
Joe Litvack, treasurer of Independent Taxi, in a statement said the company is devastated by the loss of Oruma, a Nigerian emigre who he described as a devoted father of five, husband and employee.
'It's terrible for everyone and I imagine his family, I mean you do not expect your loved one to walk out the door and not come back,' he told via 7 News Boston.
Foy later admitted to shooting the father of five during a fight that broke out when he was refused a ride to Mansfield, according to court documents.
Police say Foy stole the cab but was arrested a short time later.
Police say they recovered the black semi-automatic handgun used in the shooting.
Foy is due back in court on July 9.
A GoFundme page to assist the victim's family following the fatal shooting as of Wednesday afternoon had raised, $6,949 of a $20,000 goal. 
Accused cabbie killer Phillip Foy held without bail…family member of victim yelled out "coward" after arraignment #7news pic.twitter.com/L0RxpLM8gt

— Steve Cooper (@scooperon7) June 5, 2019
UPDATE: Philip Foy of Pawtucket being arraigned now in fatal shooting yesterday in the Back Bay. Accused of killing 60 year old cab driver, Luckinson Oruma. @NBC10Boston has an exclusive photo of Foy as he was being arrested from our @pictureboston. pic.twitter.com/3CZXTatT0v

— Daniel Gadbois (@DanNBCBoston) June 5, 2019