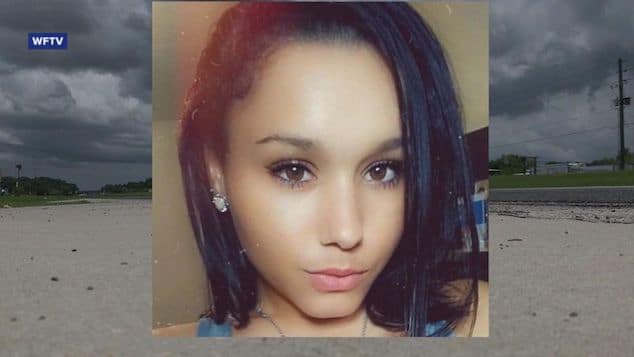 Florida woman, Kara Fay Hanvey of Sebrin believed to be the fatal victim of a possible hit and run. But did she also sustain injuries immediately prior to being run over and how?
Florida authorities have told of suspecting foul play after a 22-year-old woman was found dead along a highway early Sunday with signs of 'minor trauma' and 'an apparent broken' leg.
Officers found the body of Kara Fay Hanvey of Sebrin laying on her back in the grass median of U.S. Highway 92 in Lakeland – about 60 miles southwest of Orlando – around 6:40 a.m. Sunday, the Polk County Sheriff's Office said in a press release.
The sheriff's office said there were signs of minor trauma to the 22 year old woman's body and an apparent broken leg.
An autopsy determined Hanvey had been struck by a vehicle in what is now increasingly being considered to be a possible hit and run. The sheriff's office said there were 'other suspicious circumstances surrounding her death,' including her belongings found nearby along the westbound shoulder. No witnesses were located.
What happened immediately prior to Florida mom of two being presumably fatally struck by car?
Adding further disconcert, Emergency Communications Center received a 911 call at about 6:40 a.m. Sunday.
The Sheriff's Office released a recording of the call, in which a man said he noticed the woman while driving past. The caller said the woman seemed to have bruises on her face. It remained unclear how those injuries were sustained and if they occurred immediately prior to the hit and run which sheriffs say ultimately killed her.
Authorities are asking anyone who was in the area between 5:30 a.m. and 6:30 a.m. or is acquainted with the victim to call the sheriff's office at 863-298-6200.
A GoFundme has since been set up for the woman's funeral expenses. Less than $900 of a $10K target had been collected.