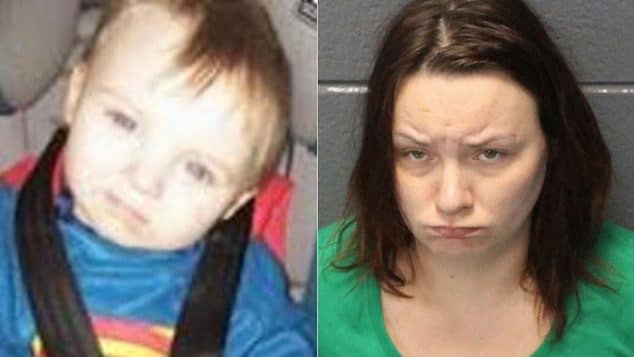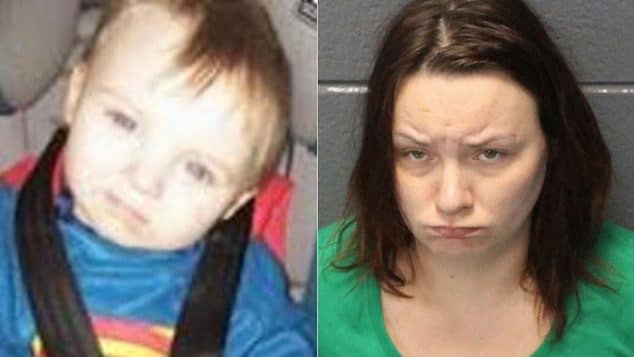 Virginia mother, Julia Tomlin is arrested in relation to her missing two year old son, Noah Tomlin who authorities now believe to be dead.
Virginia authorities have arrested a 34 year old woman who they believe is attributable to her two year old son 'reportedly' going missing earlier this week- with police having expressed concern the child is dead.
Noah Tomlin was reported missing in Hampton, Va., by his mother, Julia Tomlin who told cops she last saw her son around 1 a.m. Monday when she put him to bed. It wasn't until 11.30am that morning the mother called cops about her son's disappearance.
Tomlin, 34, who served jail time in relation to a 2010 child abuse case involving her then 12-month-old daughter, was arrested Friday in the boy's disappearance, Hampton Police Sgt. R. C. Williams said.
She was charged with three counts of child neglect, the cop said during a press corps meeting.
'Unfortunately to date, Noah has not been found,' Williams said. 'However, based on the highly coordinated investigation we currently believe him to be deceased.'
Police said Noah was wearing a white and green pajama shirt and a diaper at the time of his disappearance, WTKR-TV reported.
Hampton Police @ChiefTerrySult says Noah Tomlin's mother, Julia, was arrested tonight and charged in connection to his disappearance. Chief Sult says they have reason to believe Noah is no longer alive. They are still searching for him. Full details on @WAVY_News 10 at 11. pic.twitter.com/VDQILd5Vhd

— Katie Collett (@KatieCollettTV) June 29, 2019
BREAKING: 34 year old Julia Tomlin has been arrested and charged with 3 counts of felony child neglect. Noah still has not been found. However at this point police believe him to be deceased. 😞@WAVY_News pic.twitter.com/ZV2A44kORF

— Tamara Scott (@TamaraScottWAVY) June 29, 2019
Hampton Virginia mom history of child abuse:
Tomlin went to jail in 2010 after injuring her baby daughter.
She was accused of sitting the child on a hot kitchen stove, causing severe burns.
At the time the Tomlin remained in jail for five months.
Police went to a landfill as part of the search for Noah, the Hampton Daily Press reported Friday.
The search has also involved the FBI. Police have yet to locate the whereabouts or remains of the missing boy. 
News 3 is learning more about Noah's mother – Julia Tomlin. Through court documents, we have learned in 2010 she spent 5 months behind bars after pleading guilty to felony child neglect. Her then 1-year-old daughter was severely burned on a kitchen stove. https://t.co/E0ZQxydmmA

— Samantha German (@samantha_german) June 28, 2019