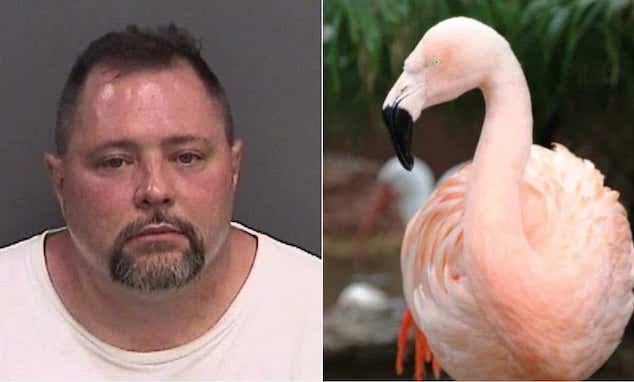 Joseph Corrao, Florida man accused of killing Pinky the Dancing Flamingo is reportedly killed by a pick up truck as he awaited trial on charges of animal cruelty.
What goes round comes round some would say. A Florida man who gained notoriety for allegedly killing Pinky the dancing Busch Gardens flamingo has been hit by a pickup truck and killed.
Joseph Anthony Corrao was run over June 5 near his Orlando home and died in a nearby hospital, according to the Tampa Bay Times.
The 48-year-old alleged bird-beater was awaiting trial for killing Pinky in 2016 during a visit to the Tampa theme park with his mom and daughter, whom he told police he was trying to impress.
Corrao was charged with animal cruelty after grabbing the colorful bird from its pen and slamming it to the ground. The preserve reported the bird had been grabbed with such force that one of its legs was nearly ripped off.
Joseph Corrao sensing he had become 'social pariah' of the year reportedly expressed regret for his action, stating he didn't mean to kill the frail animal.
The man's 'senseless' actions led to him at the time being the recipient wide revolt and disgust.
Corrao spent five days in jail after attacking Pinky, who was known for her Flamenco dancing skills. A Change.org petition called 'Justice for Pinky' gathered hundreds of signatures after the attack.
The driver of the Ford F-150 that killed Corrao during the early morning June 5 crash was not injured.
And then there were these responses on social media (below) at the time of the attack and following news of Joseph Corrao's untimely death. See what you think?
Because the world is always in search of justice in a universe where morality is a non existent but man made concept….
Why did Joseph Anthony Corrao slam Pinky the flamingo to her death?
I ask @AGPamBondi to not let Joseph Anthony Corrao slip though the cracks. He is a monster who deserves to be prosecuted as a 4th Degree

— olaf (@FarmStuffz) August 3, 2016
What the fuck is wrong with people? Joseph Anthony Corrao, you're a piece-of-shit scumbag. I hope you pay for what you did. L @BuschGardens

— Tom & Lorenzo (@tomandlorenzo) August 3, 2016
#flamingo PINK FLAMINGO bashed by REDNECK Joseph Anthony Corrao. Why did you do it Joe? Should somebody take YOU down, JOE?

— Heine Smeck (@HeineSmeck) August 3, 2016
Just saying, if someone picked up Joseph Anthony Corrao and threw him to the ground, breaking his neck, no tears would be shed #RIPPinky

— Matty (@Matteoyoucrazy) August 6, 2016
When you #kill a #flamingo because you want to look tough, #MotherNature engages the help of her sister: #Karma.

And she's a bitch.#Pinky #JosephCorrao #DeathByTruck #Floridahttps://t.co/58Vjzy9Qt4

— Saskia Steinhorst (@scruffy65) June 26, 2019