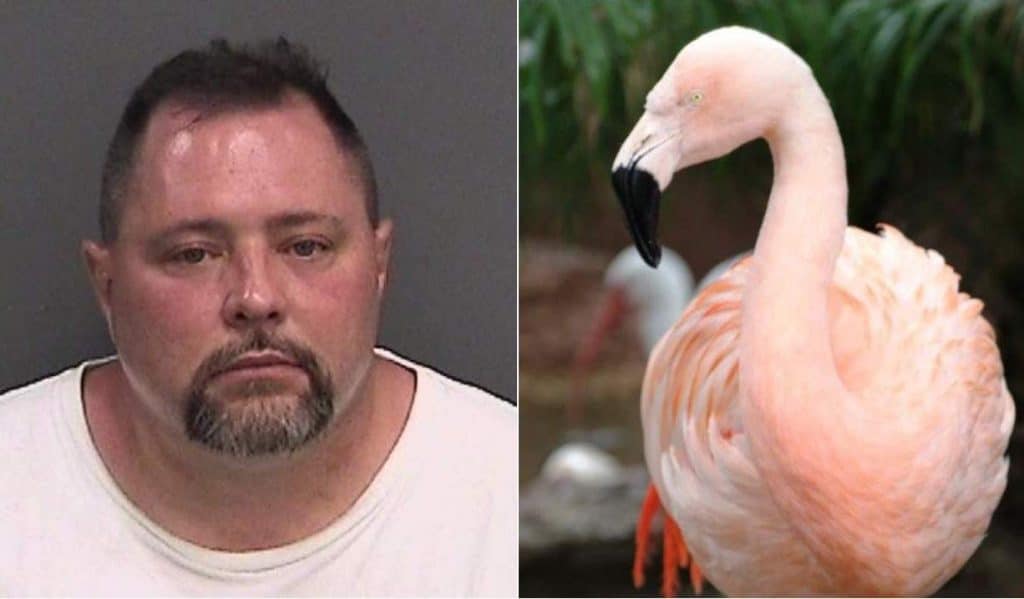 What led to Joseph Anthony Corrao picking up and violently throwing a much loved Pink Flamingo rendering it to being euthanized?
Joseph Anthony Corrao a 45 year old Orlando man has been arrested after picking up and throwing a much loved Pink Flamingo to the ground leading to officials being forced to euthanize the bird.
So severe were the Busch Gardens Chilean flamingo's injuries, park officials told of being forced into cutting short Pinky's life. The incident led to Corrao being charged with aggravated animal cruelty, a third-degree felony, according to Hillsborough County court records.
Read a park statement: 'Pinky was a beloved member of the Busch Gardens Tampa Bay family and made many appearances on behalf of the park's conservation and education efforts,'
'She will be sorely missed.'
Tampa police arrested Joseph Anthony Corrao on a charge of felony animal cruelty.
He was visiting Busch Gardens with family around 6:45 p.m., according to police, when witnesses said they saw him reach into the flamingo pen at the Jambo Junction animal viewing area, pick the bird up and throw it to the ground in a rage.
Told the Tampa Bay Times: 'According to witnesses, he threw the bird to the ground with such force that the bird's foot was nearly severed,'
The day before the incident, Corrao posted to Facebook on Monday about his planned trip to a Tampa Bay Rays game with his two sons. He said they had box seats.
'all u can drink and eat free,' he wrote. 'i will be tepsy tonight.'
The post led to Corrao's friends telling him to 'behave himself' and to 'make a good impression for your kids.'
Responded Joseph Corrao: 'I've never been to jail in Tampa.'
The reality is according to Florida Department of Corrections records, Joseph Anthony Corrao had been to prison — for a total of about three years. He was convicted of aggravated assault on a person 65 years or older, felony DUI, and fleeing from a law enforcement officer.
The man had only been released from prison about a year ago.
Pinky was an 'ambassador animal' for Busch Gardens, said theme park enthusiast and writer Bill Androckitis. She was famous for doing a Flamenco dance and going to public events.
Androckitis said the pen set up for flamingos at Jambo Junction allows them to walk up to people.
'But usually if you put your hand out, they'll run away,' he said.
A bird like Pinky likely isn't as afraid of people — she's around them more often than most birds.
'Likely, it wasn't an issue for her to be approached,' he said. 'But I just can't, I don't understand. To do that to any animal in the wild or in Busch Gardens is a despicable thing.'
Corrao was first detained by park security and then arrested by Tampa police.
During a court appearance Wednesday, Judge John Conrad said it was Corrao's mother who yelled for him to drop the bird after he picked it up, WTVT-TV reports.
'You reached your hand inside the animal pen, it's alleged you picked up a flamingo that was in there, which you had no legal right to do, apparently your mother yelled for you to put the bird down, and according to multiple witnesses – one, two, three, four, five different witnesses – you threw the bird down with such force that the bird's foot was nearly severed,' the judge told Corrao.
Reiterated the judge: 'It actually borders on depraved,'
'Mr. Corrao, I don't know if you have other issues. I don't know who does that, I really don't. I don't relate to that on any level.'
Following the assailant's Wednesday morning appearance, Judge John Conrad upped Corrao's bail from $2,000 to $5,000.
He was being held Wednesday in the Hillsborough County jail.
Joseph Anthony Corrao faces up to five years in prison and a fine of up to $10,000 if convicted.