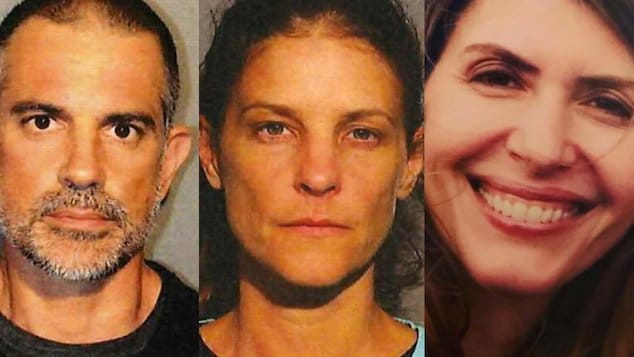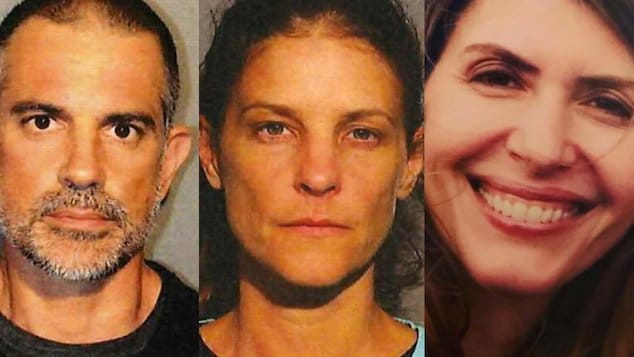 Jennifer Dulos dead? Estranged husband of missing Connecticut mom caught dumping bloodied items in 30 locations- Argentinian girlfriend makes bail as questions remain.
The estranged husband of a missing Connecticut mother has been caught on camera dumping old license plates and trash bags filled with items splattered with her blood at more than 30 locations. 
Fotis Dulos, 51 and his girlfriend Michelle Troconis, 44, both of Farmington made their first appearance in front of a judge at Norwalk Courthouse on Monday after being charged with evidence tampering and hindering prosecution in relation to the disappearance of Jennifer Dulos, who was last seen May 24.
Troconis' bond was set at $500,000 and was released upon posting bail in the afternoon. Dulos, whose bond was also set at $500,000, remained in custody.  
Fotis Dulos arrives at Norwalk Superior Court. @wtnh pic.twitter.com/0T2J9H096u

— George Roelofsen (@GeorgeRoelofsen) June 3, 2019
BREAKING: #JenniferDulos' estranged husband Fotis Dulos and his girlfriend Michelle Traconis arrested. Charged with tampering with evidence and hindering prosecution. pic.twitter.com/zDjQo9NKqm

— Spencer Allan Brooks (@SpencerSays) June 2, 2019
Did Fotis Dulos & girlfriend Michelle Troconis kill Jennifer Dulos? Cover-up? 
Police state a man and woman who matched the description of Dulos and Troconis were seen in a Ford pickup truck that was dumping items 'at over thirty locations' on a four mile stretch near Hartford on the day of Jennifer's disappearance.  
The recovered items were license plates registered to Dulos, bloody clothing and blood-stained kitchen sponges, which were later confirmed to be a match to Jennifer's, according to the arrest warrant cited by the dailymail. 
The warrant also reveals that blood stains were found in Jennifer's garage and there was an attempt to clean up the crime scene at her home in New Canaan.  
The arrest warrant stated video showing a Caucasian male who matched Dulos' physical description emerging from the Ford pickup and placing 'multiple garbage bags into various trash receptacles'. 
One video clip showed what appeared to be a women… matching Michelle's description 'leaning out of the passenger seat of the Ford pickup and either placing something on the ground or picking up an item'.  
Police obtained Dulos' cell phone and records indicate that on the day Jennifer disappeared, he traveled from his home to a property his business owns around 1.30pm, home around 4.20pm, back to the property at 5.20pm and then back home once more at 5.30pm. 
Then at 7.10pm, the phone was tracked to Hartford, where the bloodied items were later recovered.  
Police said in the arrest warrant that neither Dulos nor Troconis were cooperating in their investigation at the time. 
Both entered no pleas during heir respective court arraignments on Monday. Their next hearing has been set for July 11 in Stamford.
Bond was set at $500,000 for both on the condition that they surrender their passports and agree to GPS monitoring. 
The judge said they were to have no contact with the 'victim' Jennifer's family.
MISSING MOM: Court paperwork says blood was found in garage/ inside New Canaan home of Jennifer Dulos. Police have video of what appears to be both, Fotis Dulos and Michelle Troconis, placing multiple garbage bags into trash bins in Hartford. @WFSBnews #missingmom pic.twitter.com/mHP1aZZ85y

— Courtney Zieller (@courtneyzieller) June 3, 2019
.@CT_STATE_POLICE Major Crime Squad unit just drove into the Jefferson Crossing subdivision. This is where Jennifer Dulos' (#NewCanaan mother who's been missing for 10 days) estranged husband, Fotis Dulos resides

Fotis & his GF, Michelle Troconis, were arrested over the weekend pic.twitter.com/6hYJJa66yJ

— Carolina Cruz (@CCruzNews) June 3, 2019
Fotis Dulos described as hot-headed & volatile who'd abused estranged wife, Jennifer Dulos:
A source with knowledge of the family told the dailymail over the weekend that the millionaire real estate developer husband was described as 'hot-headed, volatile and prone to over-reacting'.
'A lot of people don't like him because he was so volatile with them, yelling, getting into disagreements and screaming matches,' the source revealed.
'If people were going to a party, or a landscaper was doing some work, and they parked on his road, he would totally over-react and call the cops. He's also a reckless driver, very hot-headed.
'The family always had a lot of nannies and they were always very attractive. He owns a lot of property in the area.'
Hours after Fotis and his Venezuelan girlfriend's arrest Saturday, members of the New Canaan community held a vigil for Jennifer at St Mark's Episcopal Church, WABC-TV reported.
Residents who knew Jennifer said the missing mother of five children is a warm, caring person who is also a devoted mom.
Come Sunday morning, Connecticut police had conducted a large-scale search of a second property owned by Fotis.
Some 20 state police units, including at least six K9 units, combed over another property owned by Fotis' company, The Fore Group, in Farmington.
The search seemed to be focused on the back of the property, which abuts a heavily wooded area.
The home, set off from the roadway with a private drive, is a $2.8million estate with five bathrooms and eight bathrooms, spanning 10,100 square feet, according to Zillow.
Police activity continued over the weekend at Fotis' home on Jefferson Crossing.
To date no sign of the missing Connecticut mother's body has been recovered as it is thought the missing woman who had a child custody court hearing days prior to her 'abrupt disappearance,' may have run into foul play.
On Friday, Connecticut police obtained DNA samples from Fotis while they searched his $4.3million, 14,000-square-foot home on Jefferson Crossing for clues.
Investigators served a search warrant to Fotis and spent Friday and Saturday morning looking for evidence at his massive Farmington property near Hartford, according to the Hartford Courant.
The search of that property was suspended on Saturday afternoon and resumed on Sunday, along with police being spotted at the 80 Mountain Spring estate.
Some 20 state police units including at least six K9 units began searching a second property owned by Fotis Dulos' company, The Fore Group, in Farmington on Sunday morning
Jennifer Dulos, a 50-year-old writer, has been living with her children in a rented home in New Canaan, Connecticut for the past two years, after she filed for divorce from her husband in 2017.
The mother-of-five is locked in a what has been described as a 'vicious' custody battle with Fotis. She was 'afraid' of her partner and feared he would harm her in retaliation for ending the marriage.
Fotis and Jennifer have twin boys, a twin boy and girl, and a daughter. The children are between the ages of eight and 13.
It is believed that Fotis' new love interest, Troconis and her daughter moved into his multimillion-dollar mansion soon after his wife and five children moved out in 2017.
The 44-year-old had been living in Miami, Florida, before moving to Connecticut.
Troconis is an event coordinator for Outsourced Marketing Group, according to her LinkedIn profile. She was previously marketing director for the Cerro Castor ski resort in the Tierra del Fuego province of Argentina for nine years.
In 2004, Troconis was briefly a host and producer for an EPSN show, 'Snow Time' – where she interviewed personalities and athletes connected to the ski world.
She also had a stint as a therapeutic riding instructor for children and adults with disabilities at a riding school in Dubai and worked in public relations for the Ghantoot Racing & Polo Club in Abu Dhabi.
She holds a degree in psychology from the Universidad Central de Venezuela. 
Police are treating the investigation as both a missing person case as well as a criminal matter.
Whose ex Narc husband has threatened them?? Hasnt paid support to try and break them? Emotionally abused their children? We have all lived through this. Narcissists need to be treated gravely serious from the start! #JenniferDulos

— Evelyn M (@EvelynSaves) June 1, 2019
I suspect that Jennifer Dulos is your typical privileged Fairfield county woman that has never truly worked a day in her life and utilized the family court system to destroy her husband. Sounds like both of them are pieces of shit.

— David Ross (@DavidRoss19753) May 31, 2019
#JenniferDulos was fearful of her "volatile" husband and court documents note that Dulos said he had "sick revenge fantasies" when applying for custody of their five children – who are under armed guard with their grandmother during the search.#domesticviolence https://t.co/huCHk1SNQN

— Victoria Brownworth #PrideMonth (@VABVOX) May 29, 2019