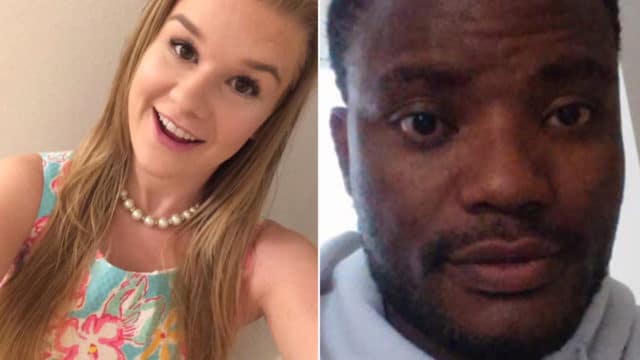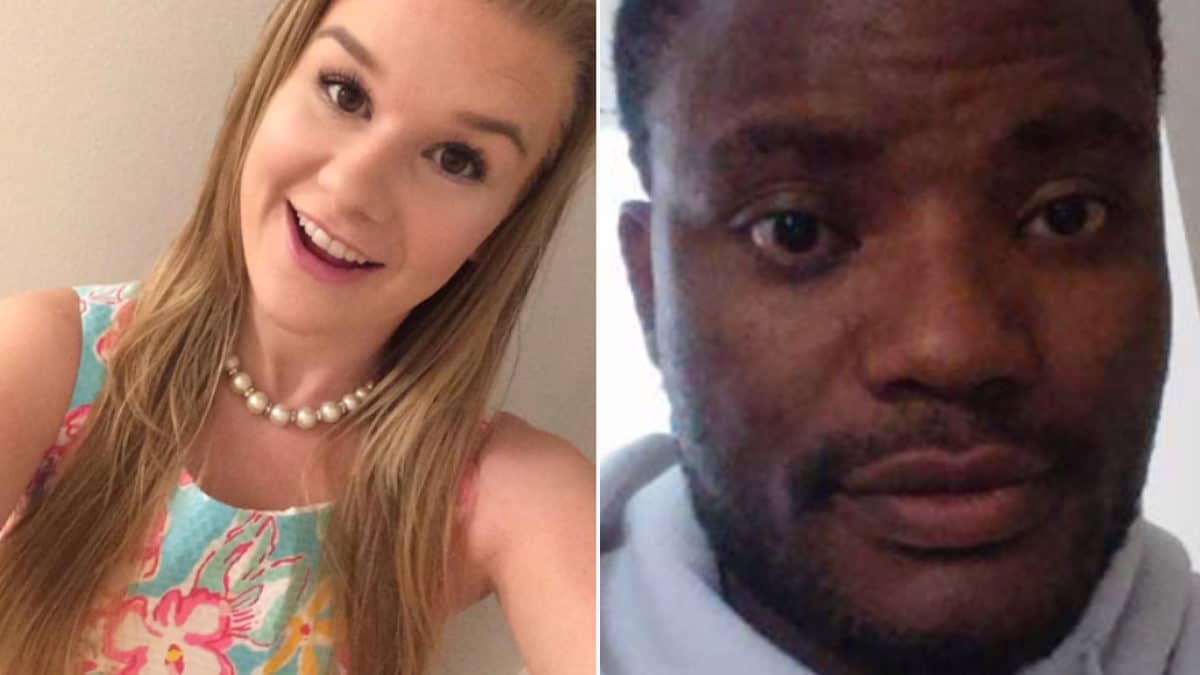 Ayoola Ajayi arrested in the murder of missing Utah college student, Mackenzie Lueck. Thought to have met on dating app. 
A former U.S. Army information technology specialist has been arrested after allegedly killing missing Utah college student, Mackenzie Lueck and burning her body. The man's arrest on Friday follows officials saying the missing sorority sister being confirmed dead following the identification of body 'tissue' samples.
Ayoola Adisa Ajayi, 31, a Nigerian emigre was arrested on charges of aggravated murder, aggravated kidnapping, desecration of a body and obstruction of justice, police said at a Friday press conference.
The motive for the killing to date remained unclear investigators said.
'The arrested person's neighbors informed detectives that they observed him burning something in his backyard with gasoline on the dates of June 18 and June 19,' Salt Lake City Police Chief Mike Brown said. 'The search warrant resulted in the findings of a fresh dig area on his property which is the same area that the arrested individual was reported burning something.'
'A forensic excavation of the burn area was conducted, which resulted in the finding of several charred items that were consistent with personal items of Mackenzie Lueck,' he added.
'Other charred material was located which has now forensically been determined to be female human tissue. A DNA profile of that human tissue was obtained during forensic testing by the Utah state lab. That DNA profile was compared and is consistent with the DNA profile obtained through further forensic testing of personal items of Mackenzie Lueck.'
Lueck's last text communications were with Ajayi, officials said.
'A.J' as he was also known was arrested a day after police obtained a search warrant and spending many hours at Ajayi's home on Thursday. According to CBS News, ammunition was found in the house during the search. Other unspecified items were also removed.
Authorities were spotted with shovels. Police are also reportedly looking for a mattress and box spring that was given away last week.
Home Owner listed JUST THE BOX SPRING ONLY 24 hours ago on Facebook Marketplace !!!

This implies he either gave just the mattress away from his Let Go ad or he dropped it somewhere !

But the box spring was listed YESTERDAY & the LET GO AD HAD IT 5 days ago .

Interesting . pic.twitter.com/UULPN7AhqK

— Margaret Crowder (@alwaysM) June 27, 2019
.@slcpd Police say this is the yard they found burned female remains. Neighbors reported smelling burning flesh around June 18th according to investigators. Ayoola Ajayi is in custody.@abc4utah pic.twitter.com/lUlpQv56i9

— Jason Nguyen (@FollowWIN) June 28, 2019
Murder suspect had sought the building of soundproof room with hooks:
Come Friday, Ajayi, as well as another man, were seen outside an apartment complex around 9:30 a.m., walking toward the SWAT team with their hands over their heads, KSL reported. It was unclear whether the other man was still in custody.
CBS cited property documents that said Ajayi is 31, divorced and not having a criminal record in the state of Utah.
Meanwhile, local contractor Brian Wolf told FOX News that Ajayi reached out to him in April to request a secret, soundproof room in his basement.
'He slowly added on other requests, like building a secret door and adding hooks to the wall,' Wolf said, adding that the man had requested he come to the home and give him an estimate for the cost of the work.
The homeowner wanted the construction done as soon as possible, 'before his girlfriend got back into town,' Wolf told FOX.
Wolf said he turned down the offer, claiming he was too busy — while saying he was really just 'weirded out.'
Mackenzie Lueck's remains have been found, according to police, in the backyard of a home. 31-year-old Ayoola Ajayi will face aggravated murder, kidnapping, and other charges. Mackenzie disappeared 11 days ago after taking Lyft to a park. https://t.co/k4T13eWxQ5 pic.twitter.com/zOUPqWwJwz

— Lindsey Mastis (@LindseyMastis) June 28, 2019
Charges coming for Ayoola "AJ" Ajayi, age 31, to come. Author of book Forge Identity on Amazon talks about murder and burning. Owner of Air bnb where SLCPD and FBI have found human tissue of #MacKenzieLueck. pic.twitter.com/oMH7oryjEh

— Raili (@truecrimeraili) June 28, 2019
Mackenzie Lueck had expressed interest in dating older men according to app profile:
Lueck, who is from El Segundo, California, vanished within hours of arriving at the Salt Lake City airport on June 17 from a trip home for her grandmother's funeral.
The college senior called a Lyft from the airport to Hatch Park in North Salt Lake, where the ride-share driver saw her jump into another vehicle just before 3 a.m. with an unknown individual, authorities said.
Investigators had also been digging into Lueck's dating apps after receiving tips that she was interested in older men and casually seeing several people.
Who is Ayoola A. Ajayi? Suspect charged with murder in MacKenzie Lueck case: https://t.co/QCgqZxXQwW pic.twitter.com/slXYCZvNp2

— WSB-TV (@wsbtv) June 28, 2019
Former roommate of Ayoola Ajayi said he had volatile temper that led to him moving out:
A Linkedin page for Ajayi described him as an Utah State University grad, and having worked for Dell, Goldman Sachs, Microsoft, Comcast and the U.S. Army, where he was an information technology specialist from 2014 to 2016.
He was discharged from the Utah Army National Guard in June 2015 after six months of service, the National Guard's public affairs officer told KSL.
Ajayi was also a member of the 214th Forward Support Company in Tooele, Utah, Gibb told the outlet. As he did not go through basic training and did not receive any certificates or awards, he was ineligible to deploy with the Army National Guard, Gibb added.
He was discharged because he did not meet 'medical procurement standards,' Gibb said.
Sakari Moore who'd roomed with the man earlier this year at a Utah residence told the Salt Lake Tribune he met Ajayi in South Carolina during basic training in the Army. He said 'A.J.' was a 'bright guy,' but also a guy who was concerned about appearances and prone to losing his temper.
'I was nervous because the polarity in his emotions [was] just switching very quickly,' Moore said, explaining why he moved out.
The arrested man is thought to have done some modeling work — along with having a page on ModelManagement.com.
Eerily, he self-published a fictional book last August called "Forge Identity" that follows a young man named Ezekiel who witnesses an angry mob burning his neighbor — and then another loved one, alive. Ezekiel must decide whether to become embroiled in a life of crime, or make his escape.
Mackenzie Lueck's Charred Remains Found in Backyard of Suspected Killer Ayoola Ajayihttps://t.co/oOjFKcWiWc

— Jack Posobiec 🇺🇸 (@JackPosobiec) June 28, 2019
Ayoola Ajayi booked in kidnapping and murder of Mackenzie Lueck https://t.co/hkWLz3bjro pic.twitter.com/nVHOgC6spK

— Jack Posobiec 🇺🇸 (@JackPosobiec) June 28, 2019