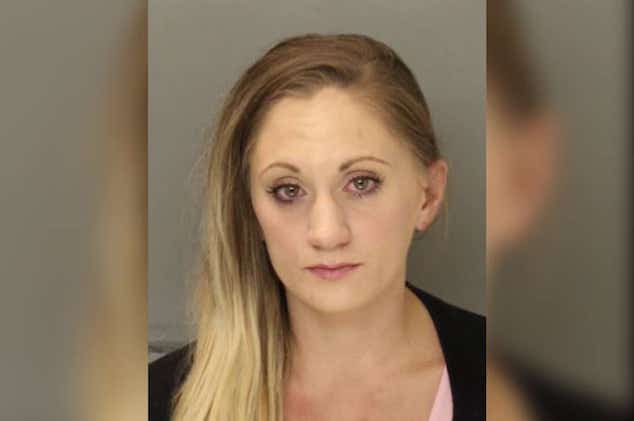 Pennsylvania woman, Samantha Jones avoids jail time after drug laced breast milk kills her 

11-week-old baby son. On a volatile cocktail of drugs, including methadone used to treat addiction to pain killers. 
A Pennsylvania mother whose drug laced breast milk killed her 11-week-old son has avoided jail time courtesy of a plea deal with prosecutors.
Under terms of the plea agreement, a judge sentenced Samantha Whitney Jones, 31, to three years' probation and 100 hours of community service.
The Bucks County District Attorney's office says an autopsy found the baby died in April 2018 from a combination of methadone, amphetamine and methamphetamine.
Leading up to her son's death, Jones had been primarily breastfeeding the baby only to switch to formula three days prior to the child's death because he wasn't getting enough milk.
According to an affidavit cited by The Morning Call, Jones told cops she'd been 'too tired' to make the baby a bottle when he awoke crying and instead breast fed him. A few hours later, the baby was pale and died at a hospital.
Jones told police she had been prescribed methadone because of a painkiller addiction.
It remained unclear why the mother had only just switched to formula and whether health officials had stipulated the drug addicted mother refrain from breastfeeding.
Of note, buckscountycouriertimes reported Jones's arrest coming a year after she was charged with endangering welfare of children and a drug-related DUI.
New Britain police alleged in a July 14, 2017, criminal complaint that Jones was spotted the month prior passed out behind the wheel with a baby in the car. A blood test later showed wheel under the influence of the same drugs found in her now-deceased son's system with the addition of the anxiety medication Clonazepam.
The most serious charges in the case were dropped and she was sentenced to a period of house arrest with the condition she continue drug treatment, according to court records.
At the time of her 2017 arrest, Jones was pregnant. It remained unclear if the woman attended counseling….