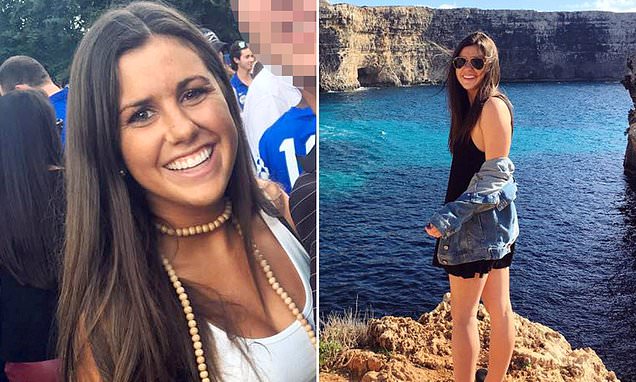 Reilly Hamilton selfie:

 22 year old college graduate survives a five story fall from a 5 story Manhattan rooftop while taking photos over a weekend of hard partying. 
A 22 year old woman has survived after falling from a Manhattan rooftop while taking photos Saturday. 
Reilly Hamilton, plummeted five stories from her apartment on East 25th Street near Third Avenue at Kip's Bay while taking selfie snapshots at around 8 p.m., cops said.
The fall led Hamilton being severely injured, incurring a fractured pelvis, broken right ankle and broken right arm.
Told a neighbor via the nypost who witnessed Reilly fall, 'She was taking pictures, and she fell, and apparently she hit the AC unit and landed in the trash area, which is like, horrendous. Horrible. I'm just completely shocked.'
Another neighbor said that Hamilton landed in a cramped garbage area behind their building, and that paramedics had to carry her through the neighbor's apartment to get her out.
'She was screaming. She was just like, 'It hurts!' ' the neighbor said, also declining to give a name. 'She's lucky to be alive.'
Hamilton's friends were trying to console her, saying, 'We're here for you,' as she was being tended to by paramedics, the neighbor added.
Hamilton was taken to Bellevue Hospital in critical condition and underwent surgery Sunday.
Reilly Hamilton and roommates unrelenting partying:
She and her two roommates had access to the roof, according to neighbors, who noted that the women like to party.
'They actually made a lot of noise up there. We were always telling them, 'Please keep it down, keep it down.' They threw a lot of parties,' the un-named neighbor said.
And they had been partying hard on the day of the fall, another resident said.
'The place is one nonstop party,' he griped, referring to the women's apartment. 'It's a bunch of recent college grads who basically transplanted their sorority up here and kept the party going.
A neighbor in the building who didn't want to identify himself told the nydailynews that he heard 'a massive party' for the past two days.
'One [party] had been going all weekend long — just loud music, loud voices, all day and all night. I'd hear it every time I walked out of my apartment.'
'I went to work and they were partying. Even when I got back at 6 am, they were partying.'
Hamilton, a Charleston, W.Va., native, is a member of the Delta Delta Delta sorority and graduated from the University of Kentucky in Lexington last year.
Hamilton graduated from Kentucky with a communications degree, according to social media.
She currently works in human resources for a digital technology company, her LinkedIn page says.
'They've lived here for seven months already. They moved in at like the end of the summer. It's horrible,' the un-named neighbor reiterated.
The fall comes less than a month after Fordham senior Sydney Monfries, 22, plunged 40 feet to her death inside the Bronx campus' Keating Hall clock tower.
Monfries scaled the stairs of the off-limits tower to snap photos in what has become a tradition for seniors, but she tripped and tumbled to its base and later died of her injuries.
Nationally, several people have died so far this year from falling while seeking social-media-worthy snaps, (and the seeming validation that such pics provide) including an Israeli teen who fell 600 feet to his death in Yosemite National Park in April and a tipsy couple that plummeted to their deaths at the national park in January.