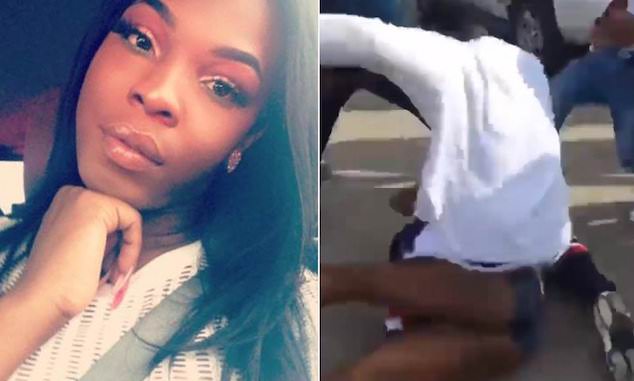 Muhlaysia Booker dead. Dallas black transgender woman who was filmed surviving group assault shot dead over the weekend. Possible hate crime? 
A Dallas transgender woman has died after being fatally shot over the weekend. Her body was recovered in the early morning hours of Saturday in an alley. The murder comes just over a month after surviving a group assault- which was widely shared on social media.
Dallas police said Muhlaysia Booker, 23, was found lying face down in the street during a Sunday press conference. Police conceded having no leads.
Assistant Chief Avery Moore told The Dallas Morning News that investigators do not have enough information to say if whether the killing was motivated by hate or retaliation.
'We recognize that hate crimes, if you will, are a serious topic,' he said. 'We at the Dallas Police Department take them serious.'
Of note- police declined to say whether Booker had reported receiving threats before the shooting.
Muhlaysia Booker dead: Murder latest statistic in transgender slayings.
Booker's death follows the slayings of at least 26 transgender Americans in 2018, the majority of whom were black transgender women, according to the Human Rights Campaign. 
Booker's shooting death comes a month after she was attacked in what Dallas Police are now investigating was a premeditated hate crime.
The assault led to Booker suffered a concussion and broken wrist from repeated punches and kicks. The group assault began after a minor traffic incident, according to police. 
One suspect was arrested two days after and indicted on aggravated assault before being released from jail after posting bond. 
The beating incident at the time led to Dallas Mayor Mike Rawlings condemning the violence in a statement.
'I am extremely angry about what appears to be mob violence against this woman,' the statement read. 'Those who did this do not represent how Dallasites feel about our thriving LGBTQ community. We will not stand for this kind of behavior.'
More than a quarter of transgender people have faced a bias-driven assault, according to the National Center for Transgender Equality, with higher rates for transgender women and transgender people of color. 
Rest in power Muhlaysia Booker. This world is not safe for Black trans women and trans femmes. We have to continue to fight for a world free of racism, transmisogyny, cissexism, and patriarchal violence. We must build another world through solidarity. #SayHerName #MuhlaysiaBooker https://t.co/Jr0AykyZZY

— DSA NTX Queer Socialists 🌹🏳️‍🌈 (@dsgays) May 19, 2019
Muhlaysia Booker, a Black trans woman who was filmed fighting back against attackers last month was shot and killed yesterday. I could not be more heartbroken. Rest in power. #SayHerName

— 🐝Tourmaline🐝 (@tourmaliiine) May 20, 2019
Dallas Police say they take hate crimes very seriously and they are unacceptable. They were initially investigating April 12 assault caught on video as a possible hate time but can't say if this fatal shooting of #MuhlaysiaBooker was a hate crime at this time.

— Lynnanne Nguyen (@LynnanneFOX4) May 19, 2019