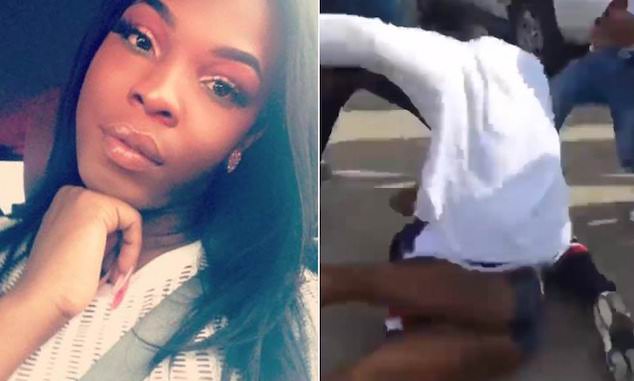 Suspect Edward Thomas arrested after Dallas transgender woman, Muhlaysia Booker attacked at street intersection. No hate crime charges.
A suspect has been arrested following a 'brutal' attack on a transgender woman in Dallas, Texas, Friday evening just on 6pm.
IBT reported Edward Thomas, 29 being arrested Sunday evening in connection with 'his role in the aggravated assault' of Dallas transgender woman, Muhlaysia Booker and charged with aggravated assault causing serious bodily injury. The suspect was booked into the Dallas County Jail with bail yet to be set.
Noted a press release from the Dallas police department, 'On April 12, 2019 at about 11:23 p.m. [12:23 a.m. EDT Saturday], officers responded to an injured person call at a Dallas area hospital. Upon arrival, officers spoke with the victim, a Transgender female, who had been assaulted by known suspects'.
Captured video showed the victim wearing pink wig, addressing the crowd, standing in the middle of an intersection shortly before the attack. Booker was surrounded by a big crowd, as she walked around the area. The camera soon cut to the moment an African-American man in white shirt and shorts threw her to the ground and started punching and beating her.
Soon, other men joined in and continued to kick her as she screamed in pain. As Booker tried to shield her face, the first attacker dragged her by her clothes to a different part of the road while continuing hitting her. Women around the area begged the man to stop attacking the victim. After the man and the rest of the mob stopped attacking the woman, she was carried by others to a car parked near the area.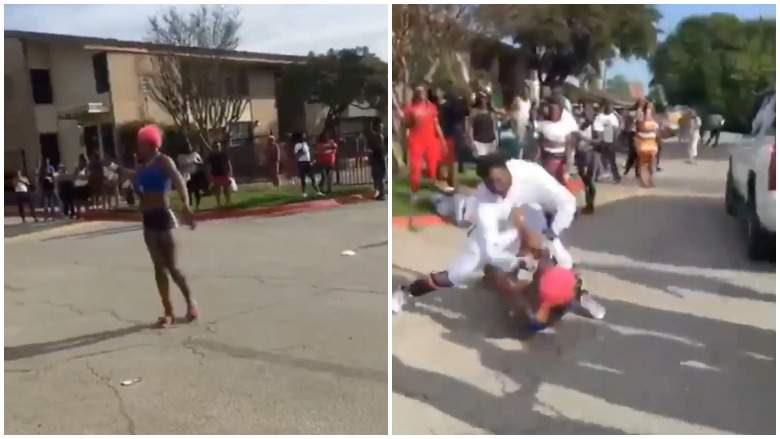 Muhlaysia Booker: Subjected to homophobic slurs.
The press release further stated that Booker told the police the attackers were using homophobic slurs. 'The Department is investigating this offense and reviewing all available evidence to determine if it will be classified as a hate crime,' the release said.
The video was uploaded by a social media user named Taj Mahal – who posted, 'This Is A Hate Crime And Everyone Who Participated Will Be Prosecuted!'
Of note, Booker said she'd been involved in a minor traffic accident prior to the attack.
'The guy just got out and started stomping on her and kicking her and fighting her,' Booker's grandmother told NBC Dallas-Fort Worth. 'I was like, 'Over a car?''
'All I tell them you know is I love them. I love them for whoever they are. And I'm not God, I'm not the judge, I'm not the jury. So all I pray is for these people to find it in their hearts to accept people just like God does,' she added.
Booker sustained facial fractures in the attack and had her right arm in a sling.
Booker thanked her followers on Facebook after the attack: 'I LOVE YALL SOOO MUCH THANK YOU SO MUCH ITS A BLESSING BEING LUCKY ENOUGH TO WITNESS THE LOVE AND RESPECT IM GETTING AND THANK YOU TO ALL MY GENUINE FRIENDS THAT BEEN WITH ME THROUGH THIS JOURNEY AND KNOWING THE REAL ME KNOWING NOBODY DESERVES THAT I APPRECIATE IT SO MUCH BUT JUST WAIT ON IT.'
According to her Facebook page, Booker works as an entertainer at Dallas Cabaret and attended Louisiana State University. A GoFundMe page was also launched to assist Booker with medical bills.
Dallas Police are currently reviewing whether hate crime charges are to now follow.
Told a police spokesperson via ABC: 'The Department is investigating this offense and reviewing all available evidence to determine if it will be classified as a hate crime.'
NEW— Dallas Police arrested Edward Thomas, 29, Sunday night for his role in the beating of a transgender woman. He is charged with aggravated assault causing serious bodily injury. Police are investigating the mob-like attack as a possible hate crime. pic.twitter.com/Mi0Aw9zMi6

— Shannon Murray (@ShannonMFox4) April 15, 2019
She was jumped and attacked by a mob of people in South Dallas.

Not only that, this transgender woman told police homophobic slurs were said during the assault.

AT 10 on @wfaa, through a family member, Muhlaysia Booker says she's recovering and is 'thanking God she's alive.' pic.twitter.com/actETHPiTi

— Matt Howerton (@HowertonNews) April 14, 2019