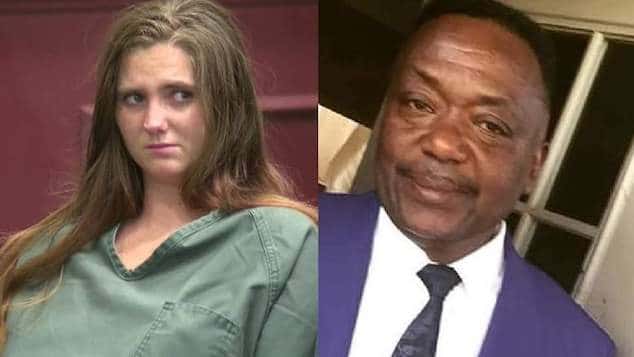 Clayton County, Georgia, road rage: Hannah Payne 

charged w/ killing motorist,

Kenneth Herring, 

fleeing fender bender after gun discharging during scuffle after giving chase.
Was it murder or self defense? A Clayton County, Georgia, woman who allegedly shot and killed an elderly 'black' motorist to stop him from leaving a fender bender has been charged with murder without malice.
Appearing in court on Wednesday, Hannah Payne, 21, of Fayetteville heard charges read against her involving the Tuesday shooting death of 62-year-old Kenneth Herring, according to WSB-TV.
She is accused of chasing Herring when she witnessed him hit another car on Highway 85, blocking him with her own vehicle after having pursued him for more than a mile before alighting out of her vehicle with a gun drawn. The two argued before Payne shot Herring in the stomach after her gun discharging during an ensuing scuffle. 
Police describing the woman as the aggressor- claiming Payne crossed the line when she confronted the elderly driver- especially since the damage in the crash left minor damages.
Of note, Fox Atlanta reported Payne licensed to carry a weapon and in possession of a 9mm handgun.
Hannah Payne a Good Samaritan trying to do good? 
Having fired at her victim, witnesses say Payne blamed Herring for firing the fatal bullet. 'All of a sudden you hear a 'Pow!' and she got on her phone immediately and was like, 'He pulled the trigger,'' witness Nicole Jackson said, according to WSB-TV.
The witness also said Payne changing clothes before officers arrived. 'She had a bad girl vest on, but after she shot him, she ran in the car, changed clothes, she put a pink little sweater on,' Jackson said. 
Payne's attorney Matt Tucker told WSB-TV that his client was a 'good Samaritan trying to stop a person on a hit-and-run' — but police say Herring who had been driving a pick up truck only left minor damage in the crash. 
Herring's estranged wife, Christine Herring, insisted that Payne was a danger to the community.
'Why would you get out? That means you weren't in no danger if you got out of your car to go to his car,' Herring told WSB-TV.
Adding, 'I think she needs to go to jail because she committed murder. You need to go to jail.'
Payne is being held at the county jail without bond and is due back in court on May 28 for a preliminary hearing.