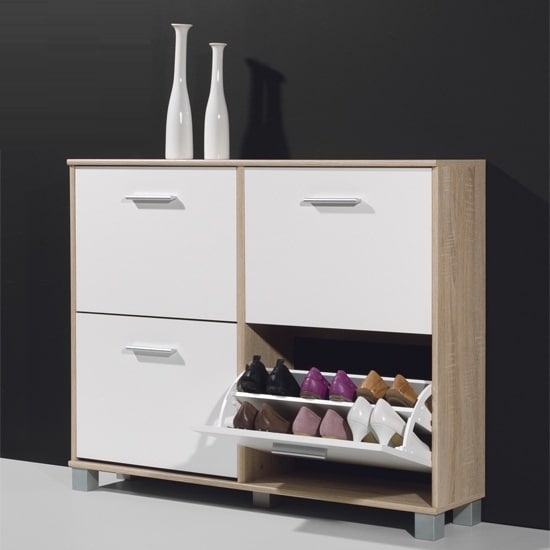 Smart Ways To Store Your Shoes So They're Not In The Way: Furniture additions and thoughtful spacing arrangements that surprise and delight in the home. 
What's the first thing that everyone does upon reaching home after going about the day's business? Take off their shoes! Getting your trotters to relax and roam free is one of the simple pleasures of life. But what happens to the footwear? Do you find that it often lays there on the floor, ignored until it is remembered the next time it is needed? And when the pairs of shoes pile up, is it an extremely unwelcome sight to come home to?
If your answer to these questions is yes, this article is for you! Below, we delve into some handy tips you can apply to avoid your or your family's shoes from getting in the way.
Buy a

shoe storage cabinet

. These are a subtle but invaluable addition to any house, and after you get yours, you'll find yourself wondering how on earth you managed without one. If you currently use your floor to store your shoes along with other items, investing in a dedicated cabinet or cupboard to keep them in will not only de-clutter your entryway but also help prevent their sweaty stench from taking over your hallways. Not to mention, they can double as console tables to place decorative items on and enhance your entryway.                                                                                  

Tall, wall mounted mirrored cabinets can come in handy if your entryway or hallway is narrow. These help to add dimension without being too large and provide a neat place to put away your shoes. You don't need to compromise on aesthetics to keep your house clean, since these can be bought in wooden or glossy finishes as well, to match any theme and decor requirements.                                                                 

If you don't find shoe cupboards appealing, an open shoe rack might be just the thing for you. These can be on the floor or mounted on a wall and can be adjusted to hold different shoes of different sizes.

Clever Ways To Store Your Shoes: Fabric coat hangers for shoes.                                                                                                                         

Another interesting way to prevent the footwear from taking over your halls is to hang them from coat hooks. When space is an issue, coat hooks provide the perfect, space-saving solution by enabling you to hang up your shoes. Mounting rows of hooks along the bottom of a wall makes them accessible, and of course, does not encroach on any valuable floor space.
Hanging shoe organisers made of fabric is also highly convenient as these allow for hidden shoe storage. They can be hung in a closet, behind a door or even in an unused corner. They come in single or double columns and can hold up to 14 pairs of shoes.

For those who are proud of their shoe collection, a few floating shelves fixed in a closet or entryway are an excellent way to show them off, either to yourself or to guests. Affixing them along one wall, in a corner or on top of the coat rack will help make your footwear look tidy and presentable.
Whichever way you decide to use to keep your shoes out of sight, head on over to the Furniture in Fashion website to find exactly what you need at unsurpassable prices.