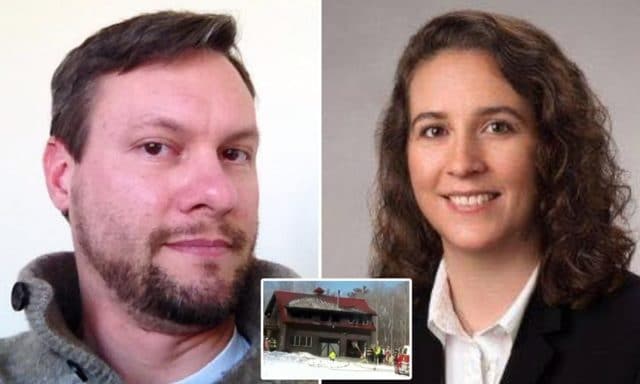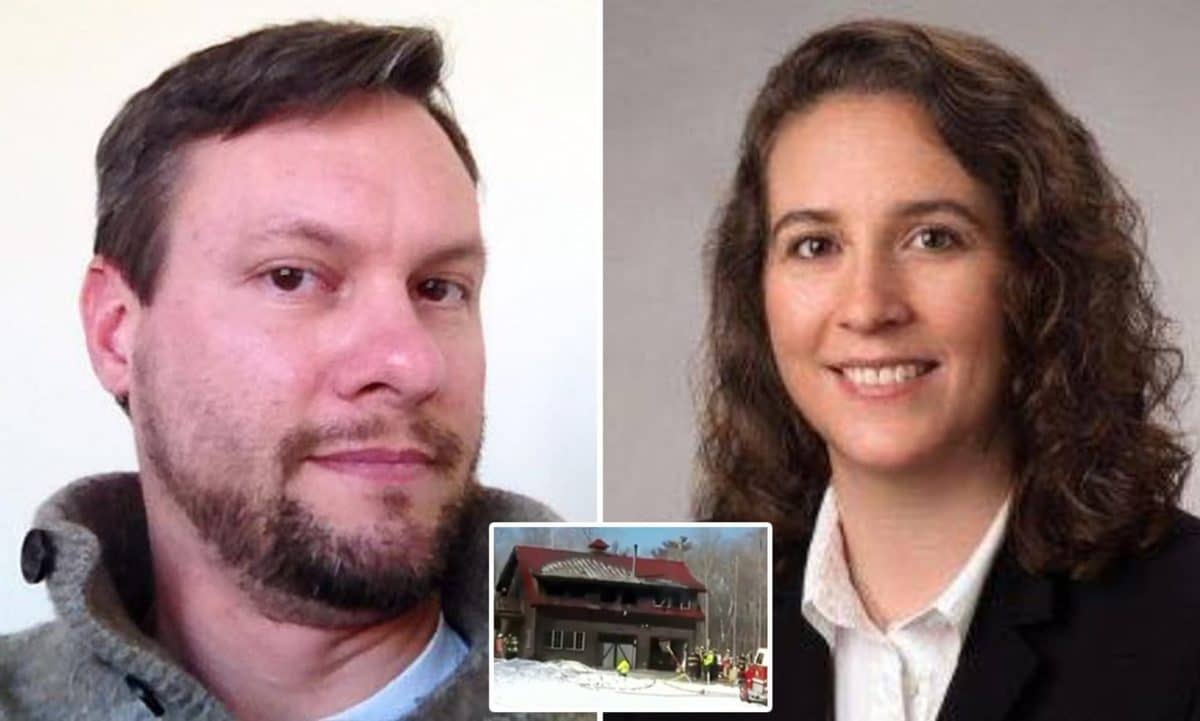 Sheffield murder suicide: What led to Luke Karpinski a Massachusetts patent lawyer killing his wife, Justine Wilber along with their three children then self at their Dalton residence? 
A Massachusetts lawyer is thought to have killed his high school sweetheart wife and their three children before setting their Sheffield, Berkshire home alight before taking his own life, authorities say.  
Justine Wilber and her husband Luke Karpinski, both 41, died on Wednesday in the blaze along with their seven-year-old twins Alex and Zoe and a three-year-old Marek.
The case is being investigated as a murder-suicide by police. CBS Boston reports Karpinski stabbed his wife Justine, who was found on the first floor of their Dalton home. 
Karpinski was found on the second floor along with their three young children after reportedly using gasoline to start the blaze. The two family dogs also died. 
Told District Attorney Andrea Harrington on Thursday during a press conference: 'At this time, the evidence indicates that Luke Karpinski was the assailant.
'The scene is secure and there is no reason to believe that the public is endangered at this time.' 
'The Wilbur family was very much a part of the town, whether it was through church, or Crane and Co., whatever facet of the community they were involved,' said Dalton Select Board Chairman John Bartels Jr., who has lived in the town of just under 7,000 residents his entire life. 'They were well-known.'
Luke Karpinski and Justine Wilber end up living the American dream- but what went wrong? 
Wilber was a 'high flying' patent attorney working for the law firm, Hoffman Warnick in Albany, New York, while her husband was believed to be a patent analyst for the federal government.
The couple were high school sweethearts, attending Wahconah Regional High. Teachers there described them as 'two outstanding student citizens'. 
Told retired Principal Tom Callahan via The Berkshire Eagle: 'I remember them very well. My memory of them is just two outstanding student citizens. It was a heck of a group of kids in that graduating class.
'That was a happy class. We had a good time with them. It's just, obviously, a tragedy. I feel just awful for them, their whole family.'
The couple started dating as seniors in 1996 and were high achievers who went off to college after graduating. Wilbur's sister, Kristen said they started their careers in Alexandria, Virginia before returning to Massachusetts around seven years later. 
Before becoming an attorney, Justine was a scientist focusing on cancer research, reports say. 
Karpinski and Wilbur purchased the lot that the home was later built on in June 2016 for $105,000, records show.
Federal records show that a Luke E. Karpinski was employed as a Patent Examiner at the Patent and Trademark Office in Sheffield, with a salary of $109,116 in 2017.    
Media reports told of fire crews responding the house fire circa 7.50am on Wednesday, finding one body initially and then four others during a secondary search.
On Thursday, Harrington said that Wilbur's body was the first to be found, on the ground floor, and that the other four bodies were found together on the upper floor. 
The home was fully engulfed when fire crews arrived, taking nearly an hour to extinguish and allow for the searches. 
Speaking Wednesday Wilbur's sister Kristen said: 'They were smart, intelligent, good people — and good parents. And the kids were so cute. 'It's very sad. My father passed away five years ago, so that just leaves me and my mother.'
DA Harrington would not specify the causes of death or answer reporters' questions at an initial press conference, saying only that the investigation was 'complicated.'
'This is an ongoing, extensive investigation with multiple local and state agencies, including the State Police,' Harrington said, according to the Berkshire Edge.
Multiple agencies are now involved in the investigation including forensic scientists from the State Police Crime Lab.