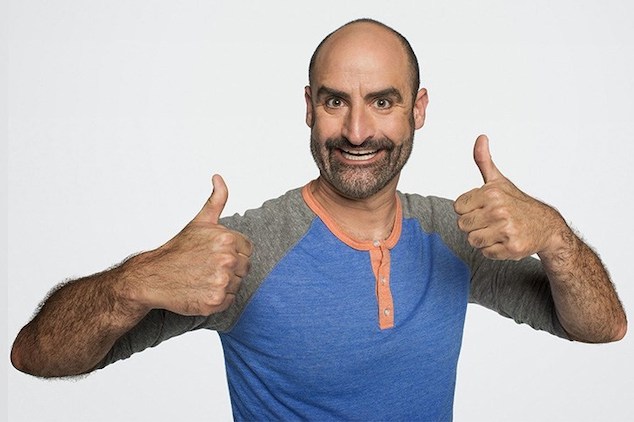 Brody Stevens suicide: What led to an acclaimed stand up comedian and actor hanging himself at his Los Angeles home? 
A well acclaimed stand up comedian and actor who previously documented his struggles with depression and bipolar disease on Friday committed suicide at his Los Angeles home.
In a released statement, the LAPD said Brody Stevens, 48, died after hanging himself.
The man's body was found just before 1pm, Friday.
'Brody was an inspiring voice who was a friend to many in the comedy community,' a spokesperson for the entertainer told The Blast.
'He pushed creative boundaries and his passion for his work and his love of baseball were contagious.
'He was beloved by many and will be greatly missed. We respectfully ask for privacy at this time.'
Stevens was a staple at comedy festivals and stand-up clubs in and around the Los Angeles area. 
He also appeared in films including The Hangover and Due Date as well as television shows like Comedy Central's Kroll Show and Chelsea Lately.
But perhaps in a bid to garner an understanding of what ultimately led to Brody taking his own life- a documentary series the entertainer made in 2012 chronicling his struggling with bipolar disorder offers clues.
Brody created the show, "Brody Stevens: Enjoy It!"  alongside Zach Galifianakis. It first aired on HBO GO in 2012 before Comedy Central picked it up the following year.
The show's premise was about a man who tries to put his life back together after a public breakdown.
In 2011, Stevens was arrested and hospitalized after he tweeted that he stopped taking anti-anxiety medication and that he had put a gun to his mouth.
Stevens was known to frequently say '818 'til I die' – a reference to the area code for San Fernando Valley, where he grew up.
Stevens suicide comes a day after taking to social media and having tweeted: 'I'm ready to get back on the festival circuit.'
And then there were these last social media posts Brody posted in recent days (see below) that sheds further light into the entertainer's state of mind….. because tragedy is the moment you don't know whether to laugh or cry.
Brody Stevens was a master. Can't believe this news. Depression is a demon that's taken too many great people and as much as it feels right to tell depressed people to reach out to friends and family it's so much more complicated. Just check on and love your friends and family. pic.twitter.com/WpnrYAAS92

— Travon Free (@Travon) February 23, 2019
Brody Stevens last periscope video. If you are struggling with mental health reach out PLEASE! Try something new, challenge yourself, JUST don't give up. #brodystevens #818tillidie #comedystore #mentalhealth #PositivePush pic.twitter.com/7HDfkZuFdm

— Jason (@GucciGazm) February 23, 2019