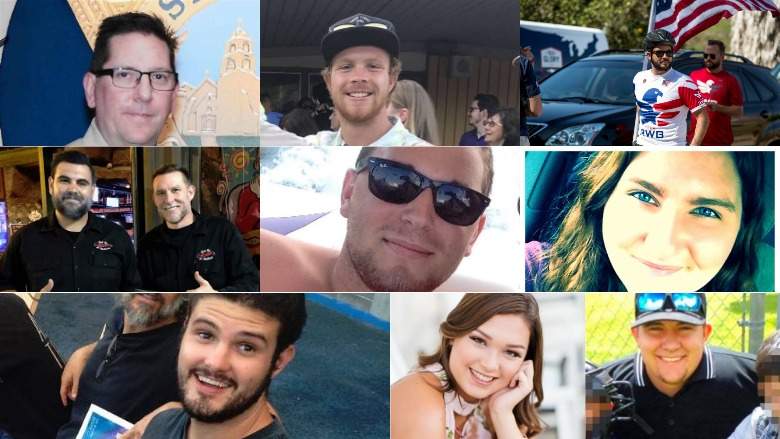 Thousand Oaks shooting victims identified at California's Borderline Bar and Grill nightclub following mass shooting by gunman, 

Ian David Long. A portrait of the fallen.
Authorities have released the identities of eleven of the twelve individuals killed at the hands of Thousand Oaks, California mass shooter, Ian David Long after the former vet entered the Borderline Bar and Grill, Wednesday night and fired off no less than 30 rounds into a packed venue of 200 individuals, mostly students.
Victims felled inside the bar included: Sean Adler, 48; Cody Coffman 22; Blake Dingman, 23; Jake Dunham, 21; Alaina Housley, 18; Justin Meek, 23; Daniel Manrique; Kristina Morisette; Telemachus Orfanos; and Noel Sparks.
Long then shot sheriff's sergeant Ron Helus, a 54-year-old, 29-year veteran who was one of the first on the scene. He died in the hospital of multiple gunshot wounds.
Between 10 and 15 people remain in hospital, some with severe injuries. The mayor has appealed for blood donations, and hundreds responded by turning out to donate.
"This is my firstborn child. I'm afraid he was the boy who went towards the gunman and not ran away. That's the kind of boy that he is," said Jason Coffman who is searching for his 22-year-old son, Cody. https://t.co/gcaxbEQp5z pic.twitter.com/rIPXKBUzFF

— NBCWashington (@nbcwashington) November 8, 2018
Cody Coffman
Cody Coffman's father Jason confirmed his 22-year-old son was among the 12 dead victims.
Talking to nbcnews, Cody's father said he'd talked to his son as he was heading out to work Wednesday night, imploring the son not to drink and drive.
'The first thing I said was 'Please don't drink and drive.' The last thing I said was 'Son, I love you',' he said.
Cody had plans to go into the military and was speaking with U.S. Army recruiters.  
HEARTBREAKING: Ventura County Sheriff's Sgt. Ron Helus had spoken to his wife before responding to the shooting, as he often did multiple times during his shift. He told her, "Hey, gotta go handle a call, I love you, I'll talk to you later." The latest: https://t.co/6RR4fLYxkW pic.twitter.com/ICKykNQhFw

— ABC7 Eyewitness News (@ABC7) November 8, 2018
#LASD deputies setting up along 101 Fwy from Ventu Park Rd to Pleasant Ville as we pay respects to our fallen brother Sgt. Ron Helus. The community in #ThousandOaks shows their support. #BorderlineBarShooting @VENTURASHERIFF pic.twitter.com/1oRHzI11uw

— LA County Sheriff's (@LASDHQ) November 8, 2018
Photo of Sgt. Ron Helus, Ventura County Sheriff's Deputy killed during Wednesday evening's mass shooting incident at Borderline Bar & Grill in Thousand Oaks, California. pic.twitter.com/ZzPlwXnNyr

— Matthew Keys (@MatthewKeysLive) November 8, 2018
Sheriff's Sgt. Ron Helus
Ventura County Sheriff's sergeant Ron Helus, 54, was first on the scene of the shooting on Wednesday night.
Helus was shot multiple times as he and a California Highway Patrol officer exchanged fire with the gunman inside the bar.
He was a 29-year veteran of the department. He was speaking to his wife Karen when he received the call about a mass shooting. 
The last thing he said to her was: 'Hon, I got to go, I love you. I gotta go on a call'. 
#BREAKING: Alaina Housley, niece of former Fox News reporter @adamhousley, among those missing in Borderline Bar mass shooting. pic.twitter.com/OnDxh497Qm

— Matthew Keys (@MatthewKeysLive) November 8, 2018
The world lost this amazing young woman last night. I look forward to seeing you in heaven Alaina Housley. pic.twitter.com/WdewVKkWFU

— Steve Rodriguez (@BaylorCoachRod) November 8, 2018
Alaina Housley
Alaina, the niece of actress Tamera Mowry-Housley and her husband Adam Housley, also died in the shooting.
Her suite-mate at Pepperdine University had earlier posted photos on Twitter saying that the freshman was missing. 
Alaina's Apple Watch and iPhone appeared to still show her location as inside the bar. She was at the bar with several friends who have all been accounted for.
'My heart breaks. I'm still in disbelief,' Mowry-Housley wrote in a tribute to her niece on Instagram. 
'It's not fair how you were taken and how soon you were taken from us. I was blessed to know you ever since you were 5. You stole my heart. I will miss our inside jokes, us serenading at the piano. 
'Thank you for being patient with me learning how to braid your hair, and I will never forget our duet singing the national anthem at Napa's soccer game. 
'I love you. I love you. I love you. You are gonna make one gorgeous angel.' 
We are saddened to hear of the passing of Justin Meek, 23, a Cal Lutheran & Coronado High School alumni. Meek played water polo for Coronado and was still active in the sport after college. Our thoughts are with his family & friends.https://t.co/g8GXhNOFnB via @coronadoisland

— USA Water Polo (@USAWP) November 8, 2018
#ThousandOaksShooting #Praying for friends from Coronado, CA – Justin Meek was the "bouncer" at the door, graduate of Coronado High and just graduated Cal Lutheran. He was a HERO saving multiple lives trying to get people out (witnesses say) after being shot first at the door pic.twitter.com/QY54PAMW6H

— Trail Media (@TrailMediaLLC) November 8, 2018
Justin Meek
Justin Meek was identified as one of the slain victims by his family and his former college.
The 23-year-old, who was a recent graduate of California Lutheran University, worked at the Borderline Bar and organized the college night event.
Meek is believed to have heroically saved lives as the shooting unfolded, according to university president Chris Kimball. 
During college, he worked in the school's veteran resource office and often worked with the Veterans Club to plan events and help veteran students.
Meek also loved singing in choir and took part in the school's Kingsmen Quartet.
He planned to join the US Coast Guard.
'Justin was a criminal justice and criminology major who had a passion for doing what was right,' Jenn Zimmerman, Cal Lutheran's veterans coordinator, said in a statement. 
'I'm not shocked he took action to protect the people at Borderline.' 
Another victim confirmed. Borderline bouncer Sean Adler died last night. He turned his passion into his dream coffee shop in Simi Valley. It opened 17 days ago. https://t.co/pjqlev6zBG pic.twitter.com/b7pWgl0RlX

— Samantha Cortese (@SamanthaCortese) November 8, 2018
Sean Adler was the security guard. Pictured here with Justin Meeks. pic.twitter.com/weujTaCDRM

— Shannon dB (@DodgerDamsel) November 8, 2018
Sean Adler
Sean Adler, 48, was working as a bouncer at the Borderline Bar & Grill when he was killed. 
He was a wrestling coach who had only recently opened a coffee shop in the local area.
United Methodist Church Westlake Village confirms Noel Sparks, a youth camp leader and Moorpark College student, was among the victims of last night's shooting at Borderline. pic.twitter.com/aLHIvm5NJe

— Samantha Cortese (@SamanthaCortese) November 8, 2018
Noel Sparks
Noel Sparks, a 21-year-old student at Moorpark College, was also confirmed dead. The United Methodist Church in Westlake Village, of which she was a member, posted condolences to her parents on Facebook.
Sparks' friends had been in tears throughout the day as they desperately searched for her in the aftermath of the shooting.
#rip #borderlinebarandgrill #thousandoaksshooting #borderlinebarshooting #borderlinebarandgrillshooting #blakedingham pic.twitter.com/qLQ4LWu7Qh

— ❤️ Banafshe ❤️ (@nedalivesalways) November 9, 2018
Blake Dingham
Blake Dingman, 21, was identified by his girlfriend as a victim of the mass shooting. 
Telemachus Orfanos, who went by Tel, was a survivor of the Route 91 Harvest music festival mass shooting in Las Vegas last year, his mother said. On Wednesday, he was killed at Borderline. https://t.co/9h9NcevNtF pic.twitter.com/VPy5NLTGNU

— Jon Passantino (@passantino) November 8, 2018
"I hope to God no one sends me anymore prayers. I want gun control. No more guns!" – mother of shooting victim Telemachus Orfanos. She says he survived the #LasVegasShooting but did not survive the #ThousandOaksMassacre. @ABC7 @ABCNewsLive pic.twitter.com/UMqTY1RATK

— Veronica Miracle (@ABC7Veronica) November 8, 2018
Telemachus Orfanos 
Borderline employee Telemachus Orfanos was also among those confirmed dead. 
Orfanos was an Eagle Scout who served in the Navy. Friends said that he was a survivor of the Route 91 Harvest Festival shooting massacre in Las Vegas last year, in which 58 died.
Survivors of the Las Vegas shooting regularly gathered in the Borderline bar for country music night as a way of offering mutual support and healing.
Orfanos' social media indicates he attended the local Thousand Oaks High School and Moorepark College. 
#BreakingNews: Family confirms Kristina Kaylee Morisette is among the 12 victims of the #BorderlineBarShooting. @nbcla pic.twitter.com/cTVJxJEqWu

— Mekahlo Medina (@MekahloNBCLA) November 8, 2018
Kristina Kaylee Morisette was working by the front door of #BorderlineBarandGrill when the shooter came in. Friends described her as one of the sweetest people they had ever met. She was just 20 years old. https://t.co/Ol9hQ1UJ4p pic.twitter.com/0iNYmnCFTY

— Erin Laviola (@ErinLaviola) November 9, 2018
Kristina Kaylee Morisette 
Morisette worked as the cashier at Borderline Bar and Grill. Family members confirmed that she died in the shooting.
She attended Simi Valley High School.
#BreakingNews: Family confirm
Daniel Manrique is among the 12 killed at the #BorderlineBarShooting; Daniel is a veteran and was a member of Team Red White Blue. @nbcla pic.twitter.com/TJ8wkYyZpO

— Mekahlo Medina (@MekahloNBCLA) November 8, 2018
Daniel Manrique 
Manrique, 33, was a Marine veteran. 
'He had spent his entire adult life, post military service, helping veterans readjust to civilian life and had just recently accepted a position with Team RWB as the Pacific Regional Program Manager,' family member Gladys Manrique Koscak wrote in a tribute on Facebook. 
'I have no doubt that he died a hero, shielding others from gunshots. He will forever be our hero, son, brother, and the best uncle anybody could ever ask for,' she said.
Thousand Oaks shooting victim's id: Dad told son, 'I love you' hours before.
Thousand Oaks gunman ex veteran highly decorated but mom lived in fear of him
Thousand Oaks gunman roommate: 'He wasn't violent-just a weirdo.'
Thousand Oaks shooting suspect identified. Gunman motives examined
Thousand Oaks shooting: Country music bar gunman killed with 12 others dead