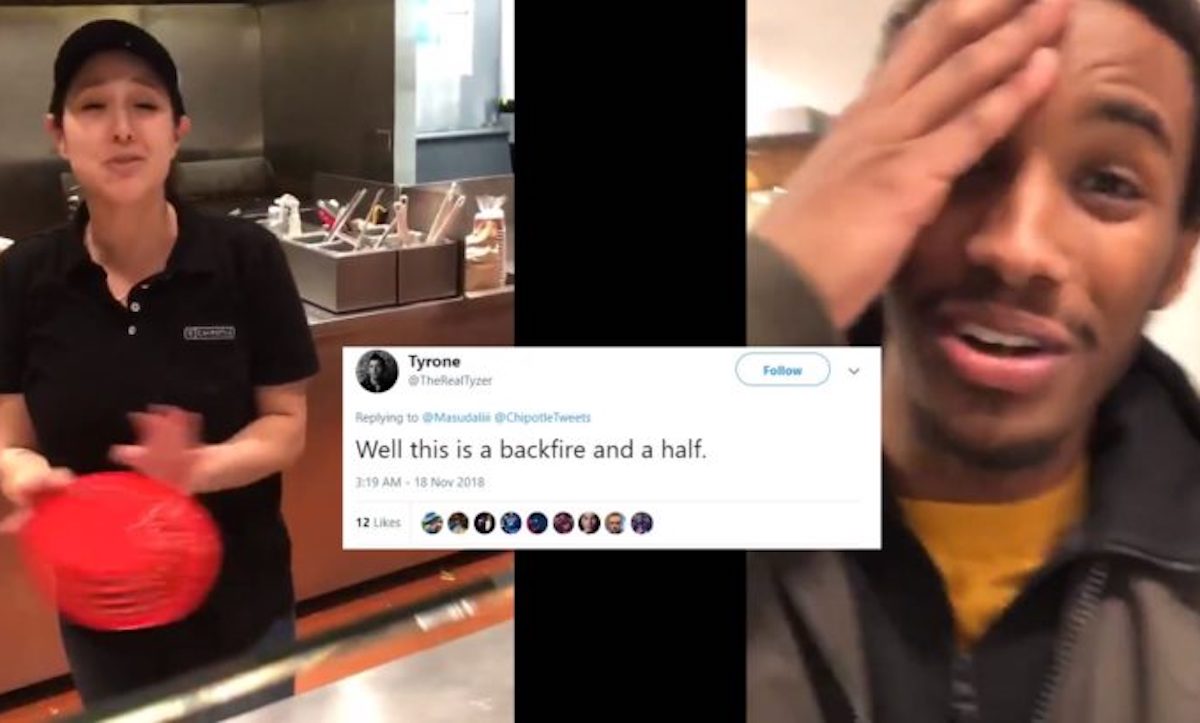 Minnesota Chipolte manager fired after refusing to serve black customers before paying following Masud Ali video- but previous tweets reveals user bragging about stealing and not paying. 
A St. Paul, Minnesota Chipolte restaurant has fired a manager at one of its local outlets following video showing the employee demanding black customers pay before being served.
Footage posted to twitter by of the five denied black men showed an ensuing confrontation with the manager and fellow employees who repeatedly demanded the youths prove they had 'the money to pay for their meals,' before placing their orders.
The video shared by Masud Ali, 21, who captioned the episode 'can a group of young well established African American get a bite to eat after a long workout session?' has since been viewed 4.33 million times. 
In the video, the manager of the St. Paul restaurant is recorded telling the customers 'you gotta pay because you never have money when you come in here.'
'Y'all are basically stereotyping us,' one of Ali's friends tells the staff, 'for what reason?'
A worker is heard saying that the group have never had money during previous visits to the outlet.
'So Chipotle gonna sit here and tell me I can't eat because they think I look like someone that stole from them before??' one of the youths is heard responding.
Social media users later tagged the location as 867 Grand Avenue Chipotle.
Can a group of young well established African American get a bite to eat after a long workout session. @ChipotleTweets ?? pic.twitter.com/Sj8RaeINj6

— Masud Ali 🍑 (@Masudaliii) November 16, 2018
Masud Ali Minnesota Chipolte incident: Playing off racial and media stereotypes? 
Speaking to the Star Tribune on Friday, Ali said what the manager said to them 'sounded really racist,' adding: 'She asked for proof of income as if I'm getting a loan.'
Responding to the fiasco, Chipotle released a statement saying 'what happened here is not how our employees should treat our customers.'
'We are committed to treating all of our guests fairly and with respect. The manager has been terminated and the restaurant has been retrained so this doesn't happen again. We'll be back in touch.'
The fast food outlet also added that the manager captured on camera has since been terminated along with staff undergoing re-training to prevent this incident from happening again. It wasn't clear whether staff were undergoing re-training at the Minnesota location or across all outlets in the US.
Come Saturday, Eyewitness News reported Chipolte saying that the fired manager had mistaken Thursday's guests for another group of individuals that were unable to pay for their meals earlier in the week.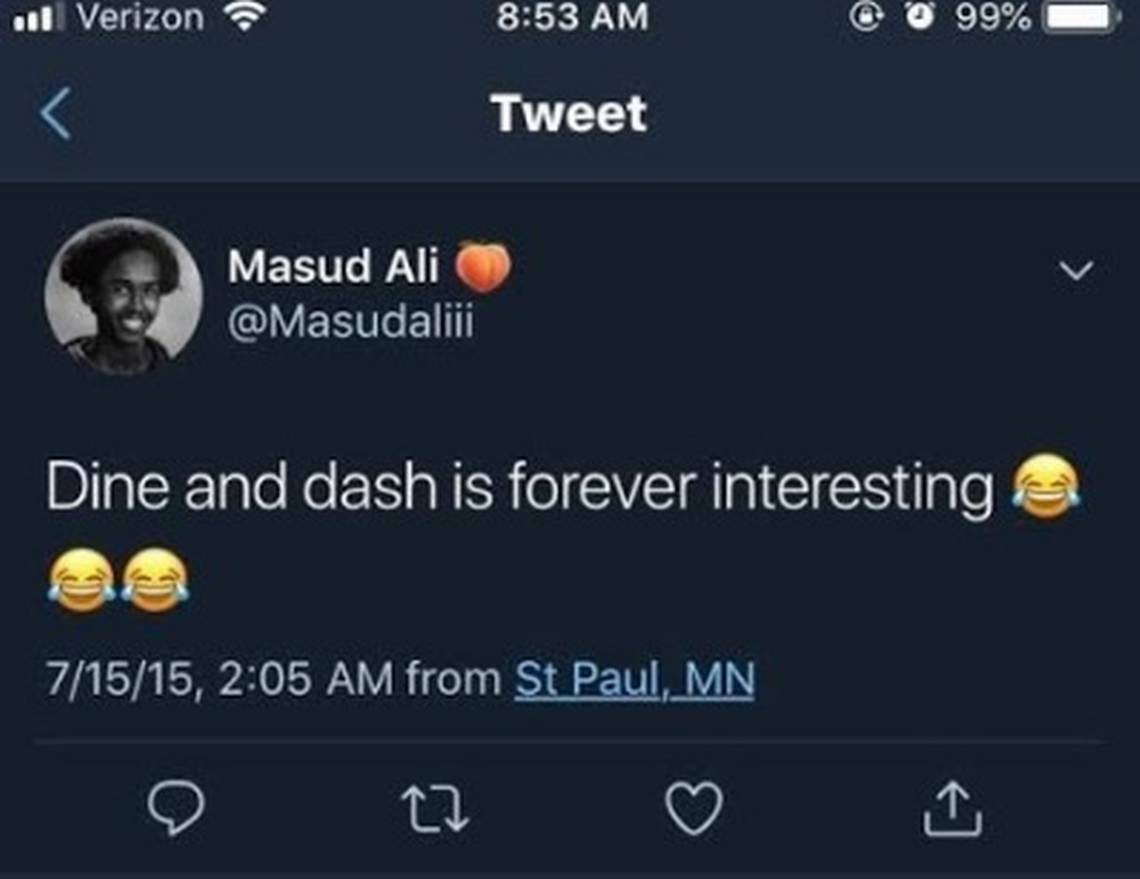 Masud Ali Minnesota Chipolte: A history of dash and dine?
Of intrigue, in the hours after the video went viral, social media users began to scour Masud's Twitter page, and posted photos of some of his previous tweets.
'Dine and dash is forever interesting,' Masud posted in 2015. He has since deleted the posts.
Another post read: 'Guys we're borrowing food… that's it. And if the lady tries to stop you at the door don't hesitate to truck the sh– out of that bi—.'
Masud, who records show is on probation for theft, refused to comment to overtures from scallywagandvagabond.com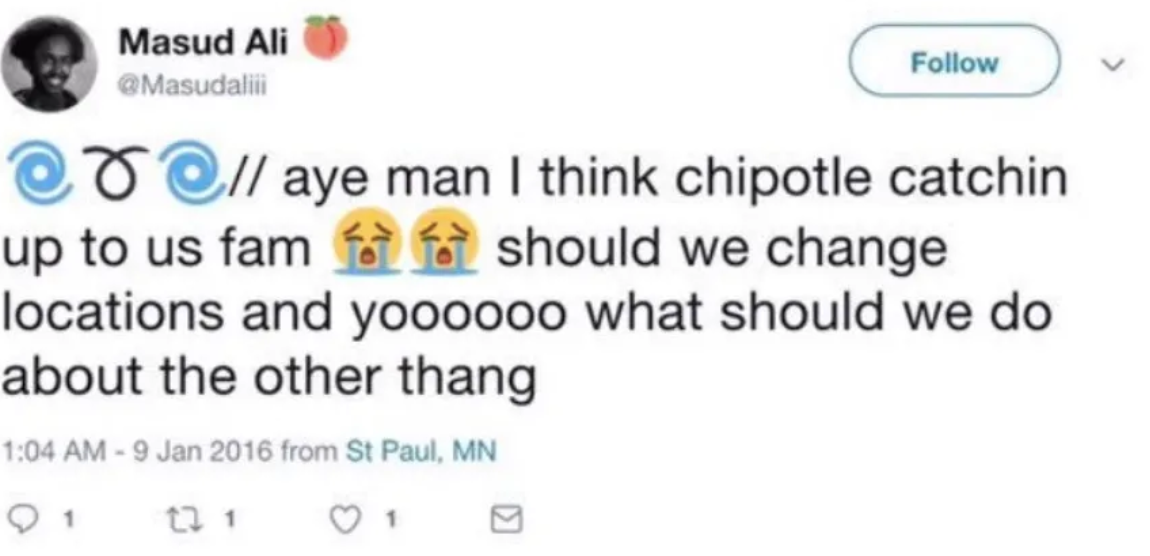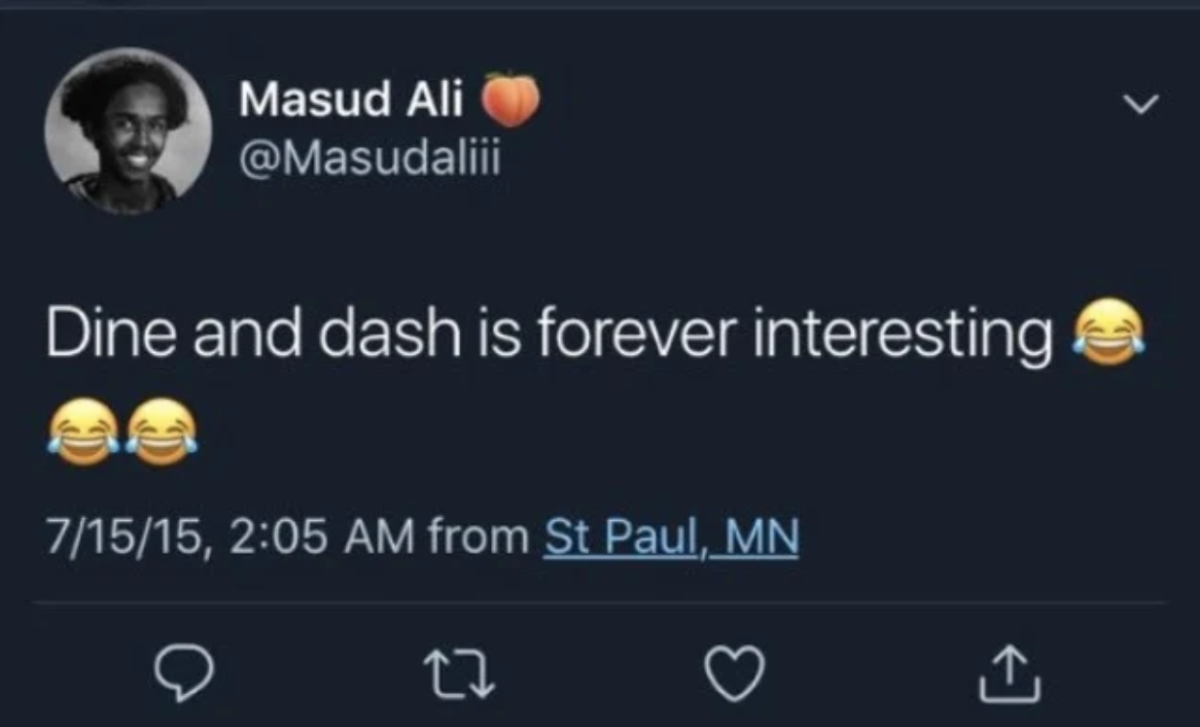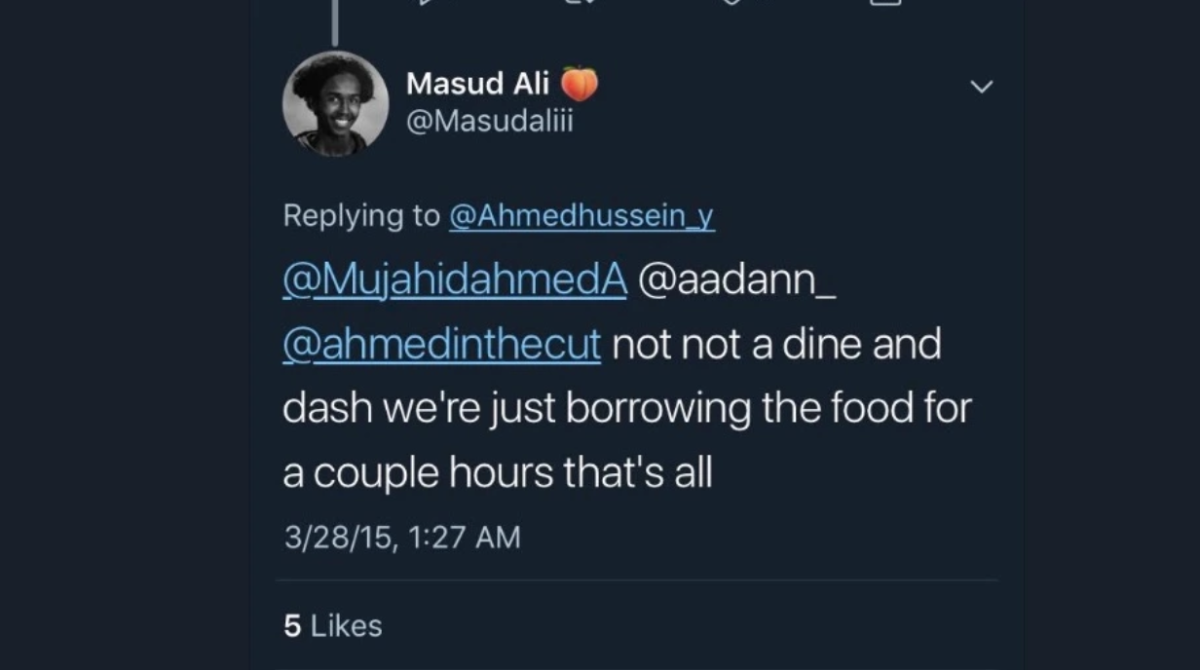 @lauren_dozier Lauren, I advise you and your team to look deeply into the character of Masud Ali before you or your team publishes any content on this. It appears he has a history of stealing from this location and of discriminating against other groups. pic.twitter.com/vakZRjTpMk

— Devan Allen (@DevanBevan) November 17, 2018
@ChipotleTweets you need to look deeper into this. That manager had obviously previously dealt with these guys who don't pay. They've bragged about STEALING from your business (and others) serveral times.

You should have your employees' backs instead of the immediate optics. pic.twitter.com/JkdLBMo7ep

— Tony (@SeriouslySerio) November 17, 2018
Have advised fired employee to get a lawyer. She has seen them get food and not pay before and she did her best judgment as to serve the company. Defamation suit coming. @Masudaliii and company will also be named in it! pic.twitter.com/K3aIB0JNjE

— ConcreteCrypto (@50cryptodev) November 17, 2018
How about a look at this kid's criminal record of theft? Oh and you can do it yourself, since you might think my screenshot is fake. https://t.co/VO95Aw5A2I First name: Masud Last name: Ali. DOB: 2/23/97. (All confirmable via his twitter.) pic.twitter.com/k3SzrpNJoW

— Kristen Keith (@trackris24) November 18, 2018
WAKE UP CHIPOTLE! U FIRED AN INNOCENT WOMAN! ONE OF YOUR OWN! YOU'VE HANDLED THIS TERRIBLY! THEY R PROVEN THIEVES! PUT GER BACK IN THE JOB ASAP! TERRIBLE KNEE JERK REACTION WITHOUT A *FULL* INVESTIGATION! TWITTER HAS SEEN PROOF THEY BRAG OF STEALING! GIVE HER JOB BK!

— Tom (@Miiiindyou) November 17, 2018