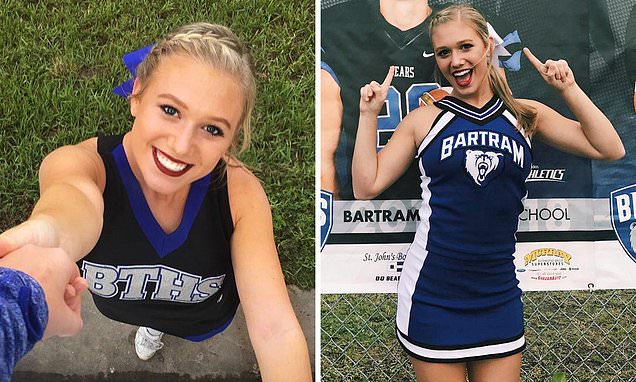 What led to an 'always healthy' Tallahassee Community College cheerleader freshman- Jessie Lauren Melcolm, dying a day after complaining of sudden flu like symptons? 
School officials are investigating the 'sudden' death of a 19-year-old cheerleader who died under mysterious circumstances.
Jessie Melcolm, a freshman at Florida's Tallahassee Community College, was found unresponsive Tuesday at her apartment hours after complaining about flu-like symptoms, WJAX reported.
The college student reportedly called her mother Monday night and said she had a headache and sore throat.
When her mom didn't hear from her the next morning, she called her daughter's friend to check on her. The athletic teen was discovered unconscious and later died, WJXT reported.
Tallahassee Police Department said they are now probing the freshman's death, but no foul play is suspected.
Impending autopsy results from Leon County Medical Examiner's Office were not expected to show anything untoward.
Family and friends remain baffled about what happened to the fit young lady who graduated from Bartram Trail High School in May.
The freshman's death has baffled friends, with Melcom staying active, as well as being a cheerleader at her high school, along with competing at state level in gymnastics at Jacksonville Academy of Gymnastics.
Jessie Lauren Melcome had only just graduated Batram Trail High School in May- where she was held the position of cheer captain. 
Social media posts included friends fondly remembering the fallen freshman- whose sudden unexpected death continues to sting.
'Jessie was such an influential individual in my life,' friend Kennedy Whitsell posted on Facebook. 'She had a way to brighten your day every time you saw her.'
Melcolm's family is set to hold a celebration of life ceremony for their daughter Nov. 17 in Jacksonville.
View this post on Instagram
View this post on Instagram
View this post on Instagram
View this post on Instagram
View this post on Instagram