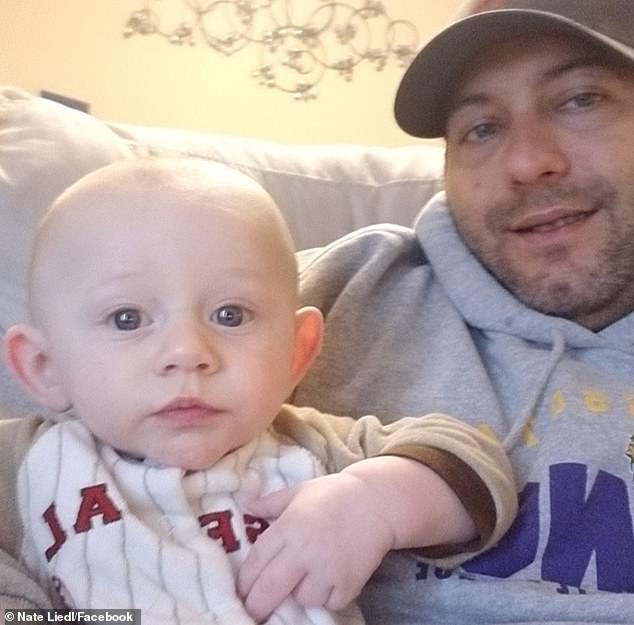 Jaxon Liedl Wisconsin baby stomped to death at Chippewa Falls daycare center by ten year old girl- as father Nate Liedl seeks justice over his son's death. 
The father of a six month old baby who died after a 10-year-old girl allegedly stomped on the child's head at a Wisconsin daycare center has called for the 'criminal' to be in handcuffs.
Jaxon Liedl was pronounced dead in hospital on November 1 – two days after he suffered severe injuries at the daycare center, which also serves as a foster home, in Chippewa Falls.
The 10-year-old girl is accused of dropping Jaxon on the floor before stomping on his head. 
The girl, who is charged with first-degree intentional homicide by someone age 10 or older, was brought into an adult courtroom November 5- in handcuffs. Judge James Isaacson ordered her held on a $50,000 cash bond and be placed in a secure detention center.
Jaxon's father, Nate Liedl, told ABC7 that he went to court and wanted the little girl to see his face.
'As opposed to seeing it as a 10-year-old girl, I saw it as the person who killed my son,' Liedl said. 
'She, in my opinion, deserved to be in shackles or handcuffs. She's a criminal.'
Liedl said he doesn't blame the daycare for his infant son's death. 
Local media identified the daycare center as Amber's Pals & Playmates Childcare as run and operated by Amber Sweeney.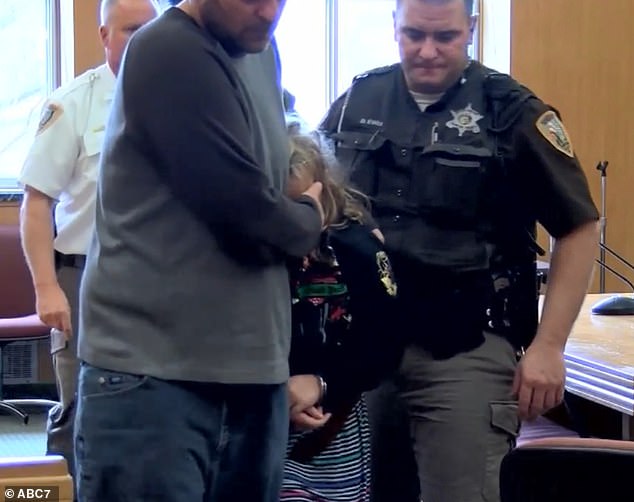 Jaxon Liedl left alone with troubled foster girl at daycare center:
Police said the girl, who is a foster child who lived at the daycare center, was alone in the house at the time and everyone else was outside playing. 
She told investigators that she had picked Jaxon up but then panicked when she dropped him. 
The girl allegedly told police she stomped on his head when Jaxon started crying.  
Paramedics arrived at the daycare center to find Jaxon unresponsive and bleeding from his head. 
His father was unaware of what had happened and coincidentally arrived at the daycare center as Jaxon was being rushed away in an ambulance.  
Liedl said he followed the ambulance to the hospital and said he never imagined it being as bad as it was.
'They had mentioned what are we going to do if his heart stops, and it caught me completely off guard. I had sent a couple messages out to family to let them know that Jaxon's not going to make it. I remember, I broke down out there pretty bad. Yeah, it really hit hard,' Liedl said.
'I waited 37 years for my own little baby boy. I was extremely lucky because he didn't cry, no fussing, he was happy smiles all the time.'
Jaxon's funeral was held on Thursday. 
Not immediately understood is how the girl came to be left alone with Jaxon and what culpability is attributable to the daycare center who some wonder ought to have known otherwise- particularly given the nature of the afflicted foster girl.
It remained unknown if there had been previous incidents at the Chippewa Falls daycare center.
The girl has since been charged with Jaxon's murder and is due to re appear in court, December 11. No decision has yet been made whether the case will be moved into juvenile court.