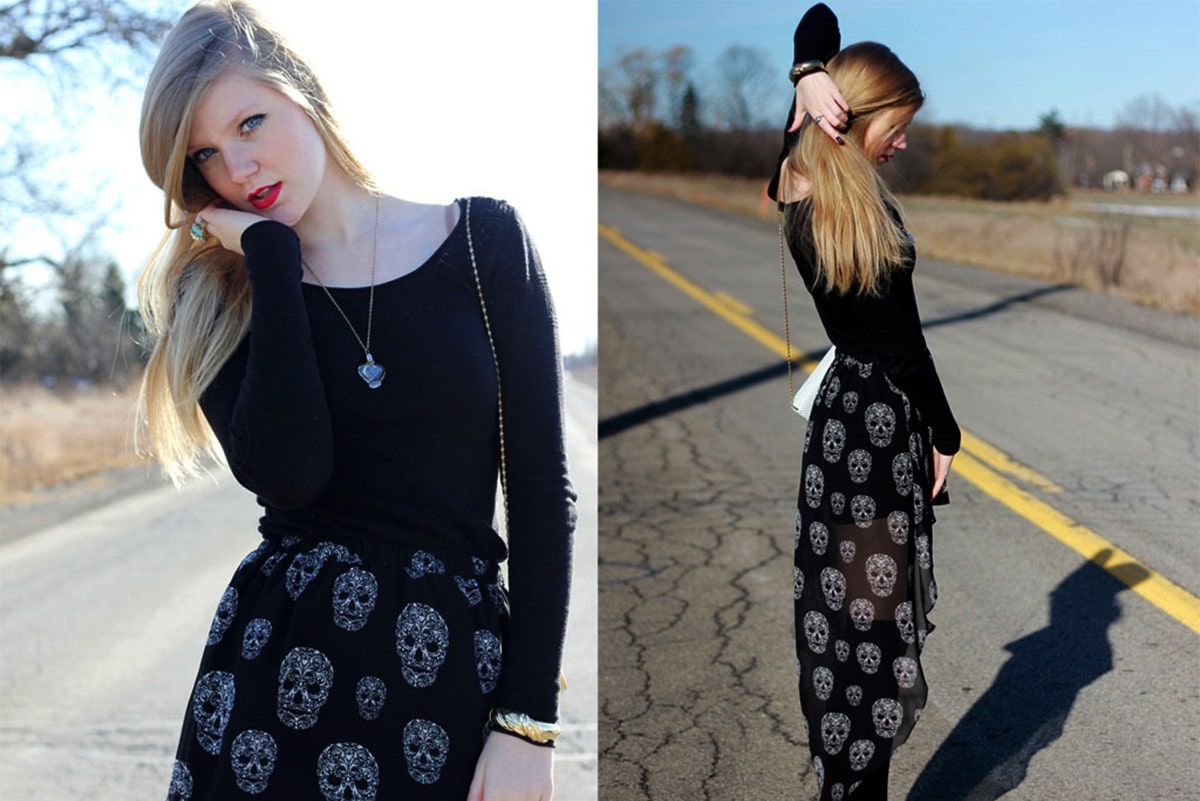 Style Guide to Skull Jewelry: The origin of one accessory piece and its ascent as a fashion trend among many groups and how to rock it. 
Clothes and accessories with skulls have long become a fashion trend. Empty eye sockets and a horrendous grin look at us from t-shirts, jackets, backpacks, belts, handbags, and even spectacular stilettos. Prints and accessories in the form of a skull are a good way to refresh your wardrobe.
Skull ornaments and accessories are a "hot" component in the image cocktail of modern youth (and not only) subcultures, and each group has a special symbolic interpretation of a skull.
The frightening image is, in fact, the reincarnation of Adam's head. This Christian signifier, which depicts a skull and crossbones, symbolizes the head of our progenitor, Adam. It is believed that Adam has been buried on Calvary. The blood of the crucified Christ washed the skull and cleansed the humanity from sin.
We are not going to delve into various symbolic interpretations of the skull that have developed over thousands of years of our history. Let's just dwell on those that are relevant today.
Skull Jewelry for Goths and Emo
The gothic subculture is closely related to the romance of the afterlife and vampire imagery. For Goths, black is of particular importance: clothing, nails, lips, eyeliner… they are all black. Their Images are complemented with characteristic metal ornaments: spike collars, thick chains, amulets, rivets, buckles, etc. Ornaments depicting a skull, the symbol of death, fit organically into a common canon, emphasizing the closed, melancholic, mysticism-inclined character.
Uninformed people consider Emos and Goths to be close subcultures. In fact, the black-pink world of Emo kids, full of expressed and unspoken experiences, has little to do with vampire romance. However, the meaning of the skull and bones, as a symbol of death, is also familiar to Emos. Skull ornaments organically complement the image of kids with long bangs.
Skull with bones – a symbol of punks, metallers, and bikers
Even before the appearance of Goths, the skull symbolism became very popular among informal musical movements of the 1970s – 80s such as punk rock, heavy metal, and others. By wearing skull rings, pendants and belt buckles, rockers challenged traditional values and stereotypes.
Skull outfits, jewelry, and accessories still remain relevant among the followers of these subcultures. Metal skull rivets look spectacular on leather wristbands and belts. From rockers, skulls migrated to the biker subculture. Here, a skull is not associated with death. For the "Harley knights", it is a symbol of fearlessness in the face of danger and a talisman that should frighten evil. The image of a skull is often complemented by a halo of flame or wings as a manifestation of love for freedom and speed.
A Pirates' Symbol
Ask any child what a skull and bones mean, the answer will simple: pirates! Thanks to Robert Louis Stevenson, an author of the Treasure Island, the laughing skull with crossed bones has become a typical symbol of pirates.
"Jolly Roger", a pirate's flag, served to intimidate the enemy. It raised just before an attack to instill the horror of imminent death if someone does not obey the will of the sea robbers.
The enchanting image of Jack Sparrow revived the interest in pirate themes in the 21st century. Weddings, parties, and corporate events in the pirate style have become mainstream. Metal skull ornament (just like this ring), as well as fabrics and appliqués with the Jolly Roger will become an excellent decoration for a pirate costume.
Adorn Your Clothes, Shoes and Accessories with Skull Jewelry
Do not be afraid to decorate your clothes with skulls. This is a great way to stand out from the crowd. Today you can find all kinds of skull accessories on the Internet: buttons, rivets, fasteners, buckles, clasps, necklaces, etc. GTHIC provides lot of skull necklaces, you can browse them.